The father of the young man who killed nine people at a college in Oregon has called for a change of America's gun laws – saying the deaths "would not have happened" if his son had not been able to buy so many weapons.
Police revealed they recovered 14 weapons registered to Christopher Harper-Mercer, six of which were found at the community college in Roseberg where he opened fire on student and teachers. All had been purchased legally.
"The only thing I would like to say is a question that I would like to ask is how on earth could he compound 13 guns? How could that happen," Ian Mercer told CNN.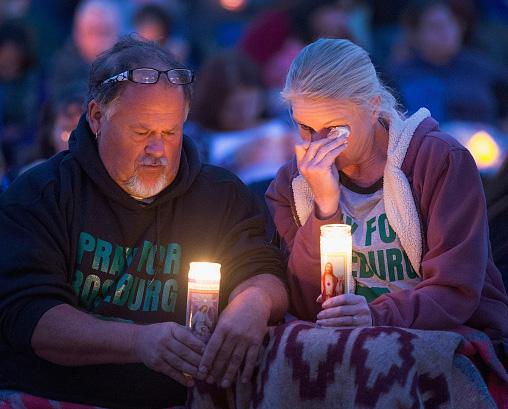 "I'm not trying to say that's to blame for what happened, but if Chris had not been able to get a hold of 13 guns, it wouldn't have happened."
Mr Mercer, who lives in Tarzana, California, said he had no idea his son had any guns, let alone an arsenal so vast. He said he would not comment on any psychological issues his son was facing, but added: "Obviously someone who goes and kills nine people has to have some kind of issue."
Mr Mercer spoke as officials in Oregon revealed the 26-year-old had killed himself following a shoot-out with police. Police have said they arrived at the Umpqua Community College five minutes after the alarm was raised last Thursday morning. Two minutes after that, they had engaged with him and a further two minutes after that he was dead.
Officials also revealed the suspected shooter apparently gave one student - whom who he called the "lucky one" - something to deliver to authorities. One law enforcement official told the Associated Press that officials have have recovered a "manifesto" of several pages.
Meanwhile, the mother of a student who survived the shooting, said her son told her the shooter had asked the victims about their religion and whether they believed in God, but not to specifically target Christians.
"The shooter would call a person 'You, stand up'," Stephanie Salas told the Oregonian, as she recounted her son's version of events.
"And then he would ask them if they were a Christian, knew God, or had religion. And it wasn't like it was stated on TV. It wasn't about that he was just trying to pinpoint Christians. The shooter asked about religion as a way of telling victims 'you're going to be meeting your maker'."
Reuse content