Oregon has once more thrown America's gun control laws into the spotlight, as the latest in a series of campus shootings over the last few years.
The worst recent killing spree in recent times came in April 2007, when 32 students were fatally shot before the gunman, Seung-Hui Cho, 23, turned the gun on himself.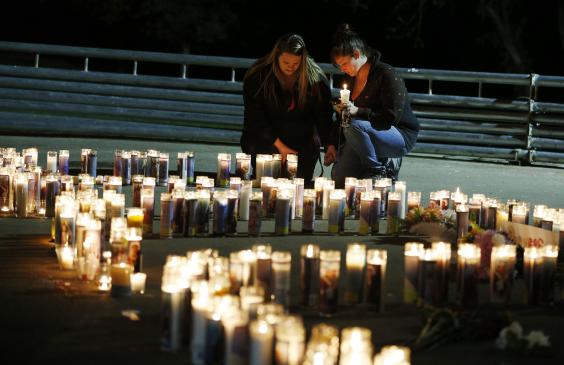 The shooting took place in a dorm and a classroom at Virginia Tech in Blacksburg, Virginia.
In April 2012, seven people died and three were injured as a 43-year-old former student, One Goh, opened fire at Oikos University in Oakland, California. It was later decided that Goh was unfit to stand trial, after psychiatric evaluations established he suffered from long-term paranoid schizophrenia. He had been charged with seven counts of murder and three counts of attempted murder.
In May last year, Elliot Rodger, a 22-year-old community college student, killed six people and injured 13 in shooting and stabbing attacks around the University of California campus in Santa Barbara. Authorities say he shot himself after exchanging fire with police.
A lecture hall at Northern Illinois University in Delkab, Illinois was fired upon in February 2008, as five students were killed and 18 were wounded. The gunman was a former student named Steven Kazmierczak who committed suicide. 
In June 2013, John Zawahri, 23, shot both his father and his brother before turning the gun on strangers in cars at Santa Monica College, California. Five people were killed and several others were wounded as students took their final exams. Zawahri was fatally shot in the college library by officers. 
School and University mass shootings in America
School and University mass shootings in America
1/12 Craghead County, Arkansas - 24 March, 1998

Students Mitchell Johnson,13, and Andrew Golden, 11, killed four students and one teacher, wounding ten others at Westside Middle School

Reuters

2/12 Springfield, Oregon - 21 May 1998

After killing his parents at home, 13- year-old Kip Kinkel drove to Thurston High School where he shot and killed two students and a teacher at a school dance, wounding 23 others.

Getty

3/12 Columbine, Colorado - 20 April 1999

Eric Harris, 18, and Dylan Klebold, 17, killed twelve students and one teacher at Columbine High School. They wounded 23 others before committing suicide.

Getty

4/12 Santee, California - 5 March 2001

Charles Andrew Williams, 15, opens fire on at Santana High School, killing two students and wounding thirteen others.

Getty

5/12 Red Lake, Minnesota - 24 September 2005

Jeffrey Weise, 16, kills his grandfather before driving to Red Lake Senior High School. He proceeded to shoot and kill five students, one teacher and security guard before committing suicide. Seven others were wounded.

Getty

6/12 Nickel Mines, Pennsylvania - 2 October 2006

Charles Carl Roberts IV,a 32-year-old milk truck driver, shot to death five Amish girls and wounded five more in an Amish school in the hamlet of Nickel Mines before committing suicide.

Getty

7/12 Blacksburg, Virginia - 16 April 2007

Seung-Hui Cho, 23, shot and killed 32 students and faculty members and wounded 17 others at Virgina Tech University. It is the deadliest attack by a lone gunman in US history.

Getty

8/12 DeKalb, Illinois - 14 February 2008

Steve Kazmierczak, 27, killed 6 and wounded 21 at Northern Illinois University before committing suicide.

Getty

9/12 Oakland, California - 2 April 2012

Gunman One L. Goh, 43, shot shot and killed seven students in a classroom at Oikos University, a small Christian college. Goh was deemed unfit for trial in January 2013 after being diagnosed with paranoid schizophrenia.

Getty

10/12 Newtown, Connecticut - 14 December 2012

Adam Lanza, 20, killed 26 people at Sandy Hook Elementary School. He first killed his mother before taking her guns and driving to the school. He killed 20 children in the first grade along with six adults before killing himself.

Getty

11/12 Santa Monica, California - 7 June 2013

John Zawahri, 23, shot and killed five people on, or near, the campus of Santa Monica College.

Getty

12/12 Isla Vista, California - 23 May, 2014

22 year-old-Elliott Rodger went on a stabbing and shooting rampage just outside of the main campus of University of California, Santa Barbara. He killed 7 people and wounded 13 more.

Getty
Reuse content