Several things were rather strange about the shark attack on surfer Joseph Tanner.
The first was that shark attacks off the Oregon coast are rare. The second, was that Mr Tanner, a trained trauma nurse, was able to direct his own medical treatment after emergency crews rushed to help him at Indian beach in the Ecola State Park.
"He directed his own first aid, what needed to be done, he asked us a lot of questions, what we were seeing, if we saw spurting blood," witness Jeff Rose told KGW-TV.
"He took a pretty big hit out there. Pretty gruesome injuries."
Stephen Craig was getting ready to go in the water when he saw a group of people bringing Mr Tanner up from the beach. 
"He was in a lot pain, obviously, and shock," said Mr Craig. "But he's going to be alright."
Mr Tanner, 29, was attacked on Monday afternoon. He told emergency crews that the shark was medium sized and may have been a great white.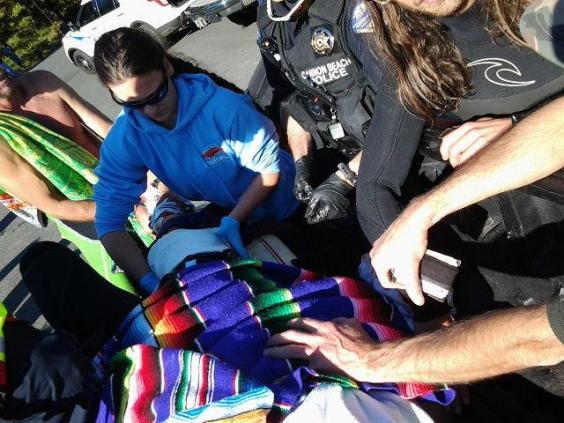 He said the creature pulled him from his surfboard, and that he then swam to shore.
Mr Tanner was stabilised at the scene and flown to a Portland hospital with serious injuries.
Mr Rose said that a friend of his saw a shark attack a seal in the same spot about three months. Authorities were investigating the incident.
Shark attacks in Oregon are rare. In 2011, a shark took a two-foot bite out of a surfboard after encountering a surfer off another Oregon beach.
Reuse content