A CEO leant his private jet to the mothers of three American men who stopped a potential terrorist on a French train last week, so that they could attend a ceremony honouring their sons, in Paris.
Tim Boyle, President and CEO of Columbia Sportswear carried out the good deed after receiving a call from his pilot Doug Perrill, who told him of the mothers'difficulties in reaching Paris.
One of the mothers didn't have a passport and last minute international flights can also prove difficult to arrange. So Perrill, with Boyle's blessing, worked with the US state department to have these issues sorted in time for take-off.
Boyle, whose net worth is allegedly around $1.95bn, told The Oregonian: "I was really intrigued with the story… these guys who were so brave as to do what they did, I just felt they deserved to have their moms present.
"And my wife felt the same way. We're fortunate to be in the position where we can help these families out. And so that's what we did."
Boyle and his wife, Mary, met the mothers (and one of the brothers) before they boarded the 11-seat Dassault Falcon 2000 at Portland International airport.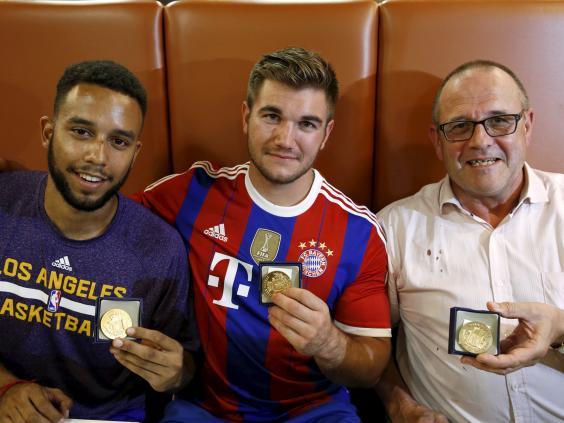 Alek Skarlatos, Spencer Stone and Anthony Sadler were honoured in the ceremony in Paris on Monday, receiving France's highest award: the Legion d'Honneur. French President Francois Hollande pinned the medals on the men in front of their families.
Chris Norman, the 62-year-old British citizen who was also involved in the heroic incident on board the high-speed Netherlands-France train also received, the medal; as did a French passenger who does not wish for his identity to be revealed.
The 26-year-old Moroccan gunman Ayoub El-Khazzani is currently detained in France. He is expected to face a trial for 'attempted murders in relation to a terrorist enterprise'.
Reuse content