Police in Philadelphia are on searching for a suspect caught on camera carrying out a brutal attack on a man as he bought food from a Chinese takeaway.
The footage - captured on CCTV cameras last Friday - shows the man, wearing a green hoodie, entering the restaurant in the north of the city before ordering a meal. Another man then enters the shop and places his own order.
After collecting his food, the new customer is confronted by the man in the green.
Warning: This video contains footage that some viewers may find disturbing
Standing with clenched fists, the man appears to act aggressively towards the new customer.
He launches into a furious attack on the victim, reigning down heavy blows on the man's head as he attempts to protect himself.
The attacker is then seen stamping and kicking the defenceless man in the head as he is knocked to the floor.
In total, the suspect is seen hitting the man over 20 times.
After finishing his brutal assault, the attacker picks up his meal and exits the shop.
Reports suggest the suspect was seen dropping a set of brass knuckles at the scene but this cannot be confirmed.
The victim is believed to have survived the attack but his condition has not yet been released to the media.
Police are now searching for the suspect and have released the video as part on an appeal to Philadelphia's residents for information.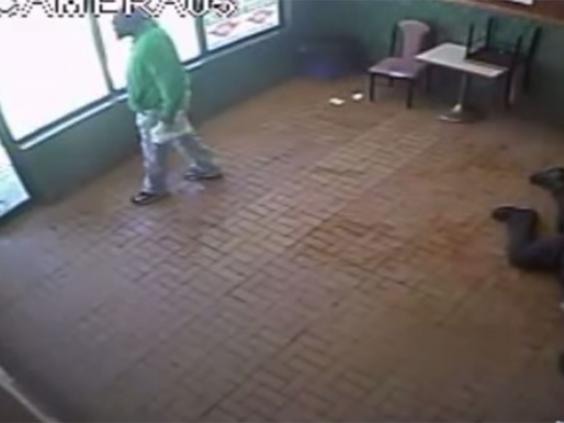 Speaking following the attack, Philadelphia Police Lt. John Stanford:  "From the way that he's throwing those blows, he looks like he has some experience in either boxing or working out in that fashion of boxing."
The suspect is described as 6ft black male in his 20s, who is missing two front teeth and has a teardrop tattoo under his eye.
Reuse content