A deadly storm dubbed the 'Pineapple Express' by meteorologists has pummelled California and the US Pacific northwest.
The storm, which struck on Thursday, caused power blackouts in tens of thousands of homes, disrupted transport, closed schools, and killed a man.
"In certain parts of the West Coast this could be the most significant storm in 10 years," National Weather Service meteorologist Eric Boldt said.
San Francisco saw major disruption due to the storm. The city's iconic tram system was shut down and replaced by shuttle buses, electrified trolley buses were stopped due to flooding, and a metro station was forced to close during rush hour after power was cut.
Pineapple Express: Pacific storm hits California
Pineapple Express: Pacific storm hits California
1/8 Pineapple Express

A bus passes through a flooded roadway in Mill Valley

2/8 Pineapple Express

The roof of a car is visible as it sits underwater in a flooded section of Ashby Avenue in Berkeley

3/8 Pineapple Express

Police tape is pictured on the Embarcadero, which is closed due to the weather, in San Francisco

4/8 Pineapple Express

Sandbags are brought in to help protect businesses in Santa Rosa

5/8 Pineapple Express

Wind-driven waves churn the surface of Lake Tahoe with the north shore and the Cal-Neva Lodge and Casino, right rear, at Crystal Bay

6/8 Pineapple Express

Aidan Stephenson,12, and Conor Stephenson,10, visiting from Phoenix, watch the waves break on Ocean View Blvd.in Pacific Grove, California

AP Photo/Monterey Herald, Vern Fisher

7/8 Pineapple Express

A wave crashes behind Todd Linehan on the 18th green at Pebble Beach Golf Links in Pebble Beach, California

REUTERS/Michael Fiala

8/8 Pineapple Express

Jerry Croissant, 77, places sandbags to protect his home from mudslides outside his home in Gelndra, California, below mountains burned over in widlfires

AP Photo/Nick Ut
Around 240 commercial flights were cancelled at San Francisco airport, one of the busiest in the United States. Ferries were also stopped, stranding some commuters. Parts of the iconic Route 101 were flooded.
In Santa Cruz an 11-year-old was pinned by a tree until emergency workers could cut him free.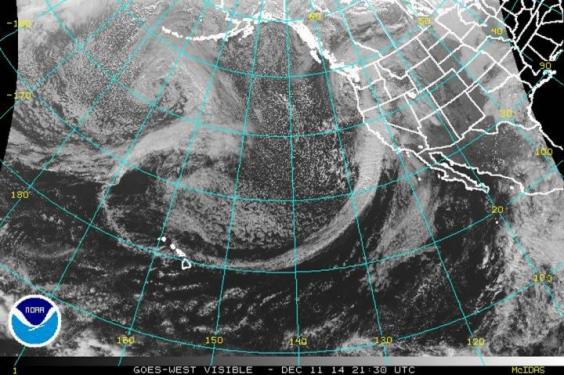 Further north in Washington state around 135,000 people were without power and a commuter rail service between the cities of Seattle and Everett was cancelled for two days due to a mudslide on the tracks.
In the state of Oregon a homeless man camping with his son on the Pacific Crest Trail was killed early on Thursday morning when a tree fell on their tent, according to the Jackson County Sheriff's Office.
Around 61,000 people were believed to be without power in the state, according to the Portland General Electric Co and Pacific Power.
Despite the record-breaking tempest, California is in the midst of a multi-year drought that scientists say has been worsened by climate change. In some areas the storm is expected to interact with hardened ground and cause flash flooding, while in others mud-slides could occur due to hill-sides hollowed out by wildfires.
The storm is heading south and will strike at some point on Friday morning.
A Pineapple Express is a non-technical term describing a continuous stream of weather that originates in the warm waters around Hawaii and strikes the Pacific coast of the North American continent.
Reuse content