A Pacific storm causing mudslides and severe flooding has claimed the life of another person while people were evacuated out of dozens of homes yesterday in southern California.
A body was found yesterday in a rain-filled flood-control channel in Garden Grove, and it is believed to be the third death since Thursday during the strongest storm on the West Coast for several years - through a meteorological phenomenon informally dubbed "Pineapple Express".
Rescue crews saved one person from the Los Angeles River near a homeless camp and have been searching for another that they believe could have been swept away after the Russian River overflowed.
The Ventura County Fire Department said it responded to 37 calls for assistance due to flooding, which has failed to fulfil hopes that it will alleviate a record drought in the region. The lack of water has caused irrigation supplies to farmers to be cut down amid drastic state rations.
Pineapple Express: Pacific storm hits California
Pineapple Express: Pacific storm hits California
1/8 Pineapple Express

A bus passes through a flooded roadway in Mill Valley

2/8 Pineapple Express

The roof of a car is visible as it sits underwater in a flooded section of Ashby Avenue in Berkeley

3/8 Pineapple Express

Police tape is pictured on the Embarcadero, which is closed due to the weather, in San Francisco

4/8 Pineapple Express

Sandbags are brought in to help protect businesses in Santa Rosa

5/8 Pineapple Express

Wind-driven waves churn the surface of Lake Tahoe with the north shore and the Cal-Neva Lodge and Casino, right rear, at Crystal Bay

6/8 Pineapple Express

Aidan Stephenson,12, and Conor Stephenson,10, visiting from Phoenix, watch the waves break on Ocean View Blvd.in Pacific Grove, California

AP Photo/Monterey Herald, Vern Fisher

7/8 Pineapple Express

A wave crashes behind Todd Linehan on the 18th green at Pebble Beach Golf Links in Pebble Beach, California

REUTERS/Michael Fiala

8/8 Pineapple Express

Jerry Croissant, 77, places sandbags to protect his home from mudslides outside his home in Gelndra, California, below mountains burned over in widlfires

AP Photo/Nick Ut
High winds tore down power lines and left 78,000 people without electricity after the storm moved in before dawn on Friday, utility officials said.
"In certain parts of the West Coast this could be the most significant storm in 10 years," National Weather Service meteorologist Eric Boldt said.
More thunderstorms, torrential rain and even tornadoes could be possible during the next week, The National Weather Service warned, after 18 homes were seriously damaged in Camarillo Springs, Los Angeles.
Mudslides and rivers swept through the hillsides of the neighbourhood in the Ventura County where wildfires had stripped the land of vegetation last year.
Meteorologist Mark Jackson, who was monitoring the situation from the National Weather Service office in nearby Oxnard, said a mountain of rocks piled up against one house to its roof, and that rain had been falling at a rate of nearly 2 inches an hour before the slide hit.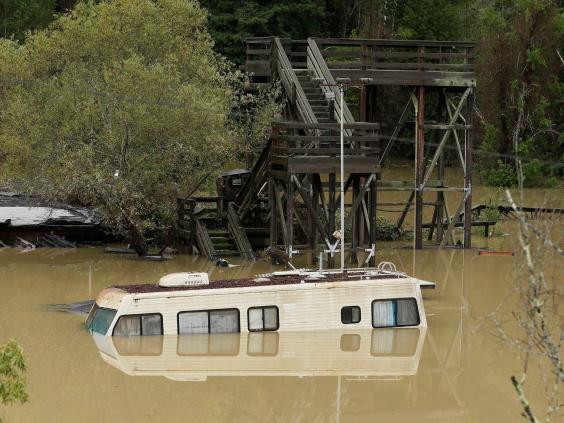 Authorities ordered people evacuated from 124 houses judged to be at risk.
About 1,000 homes were placed under evacuation orders in the Los Angeles suburb of Glendora, where mudslides from a wildfire-burned area there left several roads impassable overnight, police Lieutenant Matt Williams said.
Harsh weather also hit Washington state and Oregon, where more than 200,000 customers were without power as of early Friday, according to local utility companies.
In southern Oregon, a homeless man camping with his 18-year-old son was killed on Thursday morning when a tree toppled onto their tent. Portland police said a tree fell on a car that then swerved into another tree, killing the teenage passenger and seriously injuring the adult driver.
It was not known whether the body recovered in Garden Grove was a weather-related fatality or a victim who had died from some other cause and was washed into the flood channel, officials said.
Additional reporting by Associated Press
Reuse content