Witnesses at a US high school where 21 students were stabbed have described how the attacker went from classroom to classroom flailing wildly with a kitchen knife in each hand, until he was tackled and disarmed by an assistant principal.
One student said he thought nothing of it when two boys started grappling on the floor in the corridor, until one of them rolled away with blood gushing from his stomach.
The other then got up and began a rampage which sent students fleeing in a screaming stampede, and also saw a security guard wounded.
No one was killed in the attack that occurred just before classes were due to begin yesterday morning at Franklin Regional High School near Pittsburgh, but at least five of the victims were critically wounded and remained in a serious condition in hospital on Thursday.
Police said they had attested 16-year-old Alex Hribal, and after he was treated for a minor hand wound charged him – as an adult – with four counts of attempted murder and 21 counts of aggravated assault. He was jailed without bail.
The attack itself was over in no more than five minutes, thanks to the heroic intervention of assistant principal Sam King.
Nate Moore, 15, said he saw the attacker tackle and knife a freshman. He said he was going to try to break it up when the attacker got up and slashed Moore's face, opening a wound that required 11 stitches.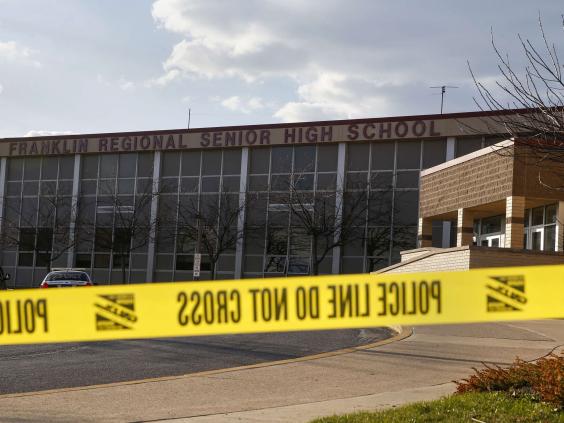 "It was really fast. It felt like he hit me with a wet rag because I felt the blood splash on my face. It spurted up on my forehead," Moore said.
He added that the "freakiest" part of the attack was the fact that the perpetrator "wasn't saying anything". Moore said: "He didn't have any anger on his face. It was just a blank expression."
Mia Meixner, 16, said the rampage touched off a "stampede of kids" yelling, "Run! Get out of here! Someone has a knife!"
The attacker had a "blank look," she said. "He was just kind of looking like he always does, not smiling, not scowling or frowning."
Mr King finally tackled the boy and disarmed him, and a police officer who is regularly assigned to the school handcuffed him, police said.
The teacher's son said that his father was treated at a hospital, though authorities said he was not knifed.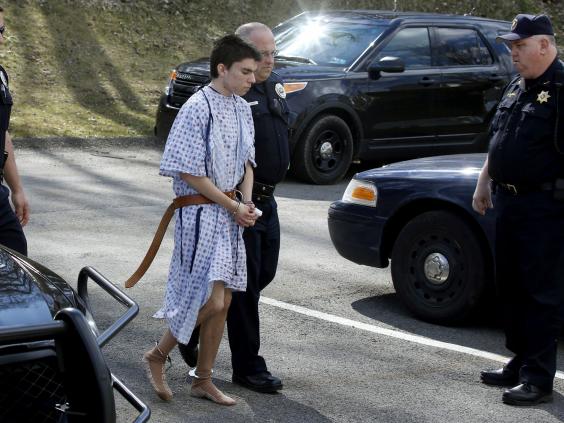 "He says he's OK. He's a tough cookie and sometimes hides things, but I believe he's OK," Zack King said. He added: "I'm proud of him."
In addition to the 22 stabbed or slashed, two people suffered other injuries, authorities said. The security guard, who was wounded after intervening early in the melee, was not seriously hurt.
"There are a number of heroes in this day. Many of them are students," Gov. Tom Corbett said during a visit to the stricken town. "Students who stayed with their friends and didn't leave their friends."
Meixner and Moore both described the suspect, Hribal, as a "quiet", shy boy who largely kept to himself, but added that he was not an outcast and they had no reason to think he might be violent.
Police and federal agencies investigated the house of the suspect, Hribal, and said they planned to confiscate and search his computer.
Murrysville Police Chief Thomas Seefeld said investigators were looking into reports of a threatening phone call between the suspect and another student the night before, though he didn't specify whether the suspect received or made the call.
Neighbour John Kukalis said Hribal came from "a very, very nice family... A great family". "We never saw anything out of the ordinary," he added.
Additional reporting by AP
Reuse content