A police officer, scout leader, Rabbi and paramedic are among more than 70 people arrested for possessing sexually explicit images of children in the largest operation of its kind in New York history.
Many held positions of trust that gave them access to unaccompanied children and one of the suspects is charged with making and distributing explicit footage of her own son, officials said.
Search terms like "real child rape" and "family sex" had been used to download thousands of disturbing images on computers inside suburban homes that many suspects shared with their families.
Officers from Homeland Security Investigations (HSI) in the US targeted "predators" possessing, producing or distributing the illegal material in Operation Caireen.
In addition to the 71 arrests, investigators seized nearly 600 devices, including desktop computers, laptops, tablets, smartphones and USB drives containing more than 175 terabytes of data and tens of thousands of files.
Libraries of images and videos numbering in the thousands were found in some raids.
The special agent in charge of HSI New York, James Hayes, said the sheer volume of exploitation uncovered was "shocking" and had reached "epidemic proportions".
"The professional background of many of the defendants is troubling," he added.
"We can no longer assume that the only people who would stoop to prey on children are unemployed drifters."
Several of the defendants facing charges held positions of public trust, including two police officers, two nurses, an au pair and the scout leader who was also a little league baseball coach.
Richard Brown, a prosecuting attorney for Queens District, said the haul was evidence of far wider abuse.
He added: "It must be remembered that the images involved in these cases are of real children being sexually abused and that each time an image is viewed, traded, printed or downloaded, the child in that image is being victimised again."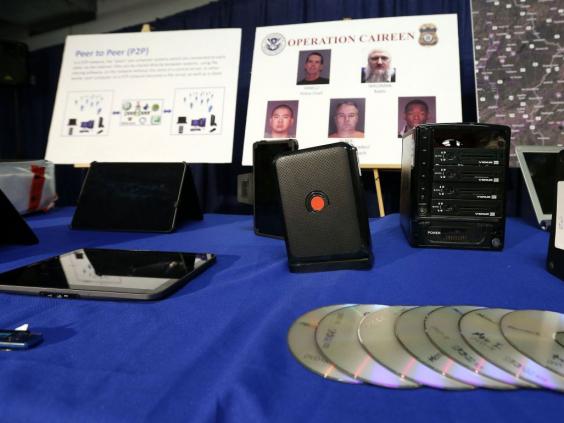 In the operation from 4 April to 15 May, detectives infiltrated peer-to-peer (P2P) file sharing networks to track down internet users in the New York City area trying to download images of child abuse.
Posing as paedophiles, they were given access to personal libraries of photos and videos and were able to identify the IP addresses of their sources.
Authorities gained court orders for internet service providers to hand over the names of people owning the addresses.
The operation was launched after a the police chief of Mount Pleasant in New York, Brian Fanelli, was arrested on suspicion of receiving and distributing child pornography.
Agents are still examining seized computers for evidence that could lead to more arrests and the National Centre for Missing and Exploited Children will review the images to see whether it can identify known victims of abuse.
Additional reporting by PA