His name was Judge and for seven years the German Shepherd had been a crucial part of a New Jersey police team. He was involved in making more than 150 arrests and helped recover thousands of dollars.
But after the nine-year was diagnosed with Cushings Disease, he went down hill fast, struggling with vomiting, hair loss and bleeding. His handler, Michael Franks decided there was only one humane thing to do.
On Friday, when a grim-faced Mr Franks walked Judge into a vets' surgery to have him put down, more than 20 officers turned out to provide an honour guard and to salute their canine colleague.
N.J. police pay last respects as retired K-9 put down R.I.P. Judge I Salute you too http://t.co/kxuwOAPlpp pic.twitter.com/IlOaLnzJPE

— linda (@HotNostrilsrFun) February 20, 2015
"Judge had gone under surgery, and was taking medication for the disease, but it quickly deteriorated, unfortunately," West Deptford Deputy Chief Sean McKenna, standing in the reception area of the St Francis Veterinary Centre, told the NJ.Com website.
"The doctors gave him several months to live. He hasn't been up in a few days. However, today, gave Judge his last bite."
That last bite involved Mr Franks putting on the K-9 department's protective arm sleeve and allowing Judge to fix his jaw onto his arm, one last time.  Judge was still holding the sleeve in his mouth as he and Mr Franks walked into the hospital.
Judge began his career in West Deptford in 2007, and served for seven years until problems with his teeth forced him into retirement in August 2014.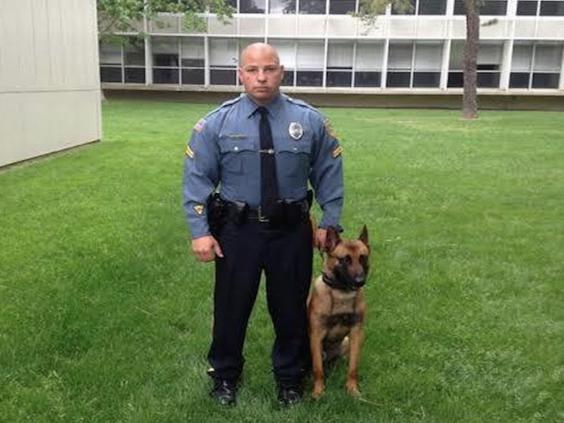 During his time as a police dog, Judge had been deployed 280 times, apprehending a total of 152 suspects. He also helped recover three stolen vehicles, three guns and almost 50,000 in alleged drug money.
The people of West Deptford had raised more than $10,000 to help Mr Franks with the cost of veterinary treatment.
"It's about showing respect, but also the people who are here wanted to thank Judge for his service to the community,"  said Sgt Dan Eliasen. "No one has forgotten what he's done — and that includes protecting his partner and his community."
A statement posted on the force's social media page said Judge's work on the street and in the community was second to none.
"He was a true asset to our department and will be forever missed," it added. "RIP Judge, gone but never forgotten."
Reuse content