Two politically opposed brothers in the US have shown you are never too old to be told off by your mother after being interrupted during a television show.
Dallas and Brad Woodhouse, known for their fiery debates, were appearing together on American channel C-SPAN debating Republican and Democrat policies when a member of the public called in.
Apparently unscripted, the host Steve Scully announced that "Joy from Raleigh, North Carolina" wanted to speak to them.
Dallas' excitement quickly evaporated when he realised the caller was his own mother, ringing to tell them off for arguing.
"Oh God, it's mum," he said, as both brothers sunk their heads into their hands.
Brad, the former communications director for the Democratic National Committee and Dallas, the founder of right-wing group Carolina Rising, apparently take their work home with them.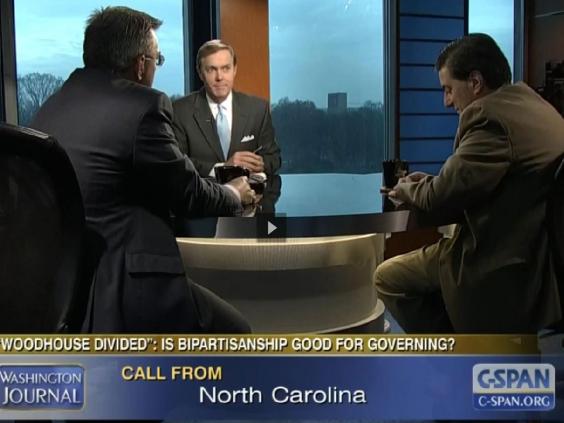 Mrs Woodhouse told her sons off for being so aggressive with each other, saying she wants a "peaceful Christmas" after heated Thanksgivings.
"I don't know many families that are fighting at Thanksgiving," she said. "I was very glad that this Thanksgiving was the year that you two were supposed to go to your in-laws', and I'm hoping you'll have some of this out of our system when you come here for Christmas.
"I would really like a peaceful Christmas," she continued. "And I love you both."
The host made the most out of the unexpected guest appearance, interviewing Mrs Woodhouse about what it was like raising the two pundits, whose political careers have put them in direct opposition with each other.
"Well, it hasn't been easy (raising them)," she said. "No truer words had ever been said," joked Brad, now president of several liberal advocacy groups. "We love you mom!"
"And I love politics," Mrs Woodhouse responded.
Although she admires her sons' conviction, Mrs Woodhouse said she hopes they get their politics "out of their system" on the programme before going home.
 "I don't know if that happens," Dallas replied, with his brother calling it "wishful thinking".
In 2009, Mrs Woodhouse told the New York Times that at times her sons' televised arguments get so personal  that she can barely stand to watch.
"I'm always nervous, and I tell them to be nice to each other," she said. "And they're not always nice."
Reuse content