The evening ritual at the Porcupine Festival deep in the White Mountains of New Hampshire, includes a drum circle, plumes of marijuana smoke, shared bottles of whiskey and spirited debate. There are also guns: lots of guns.
Colt 45s, Smith & Wessons and Rugers hang on hips. A bearded man clings to an AK-47, and a gentleman with a mohawk has a shotgun with flowers coming out of the barrel strapped to his back. This is not your typical bacchanal. This is libertarianism, US-style. "It's great to be around people who understand," a campfire discussion goes. "I don't get how the left won't just admit that income tax is theft. Who cares if it's for a good cause? If I held you at gunpoint to pay for my mother's cancer treatment, wouldn't that still be theft?" Once a year for the past 11 years, this campground in the northern part of the Granite State turns into a libertarian utopia. And this year, roughly 2,000 people – mostly white men – have paid $45-$100 to experience for one week what life would be like without the onerous mechanisms of laws. Want to sell moonshine, shop at an unregulated market that accepts Bitcoin and silver, or listen to a seminar called "How the Collapse of the State is Inevitable"? Then this is the place for you.
It certainly is the place for Pete Eyre, standing off to the side of the fire. At one point he wanted to be a police officer, enforcing the rules people at the festival have come here to disregard. He found the system too reactionary, he says.
Eyre is the closest thing to an authority figure. Porcfest is put on by the Free State Project (FSP), a group dedicated to recruiting 20,000 libertarians to move to New Hampshire. The idea – that a group of this size can make a difference in a state with a low population – came from an essay in 2001 by Jason Sorens, a Dartmouth College lecturer. The FSP has got nearly 16,000 people to sign a "statement of intent" to move. The plan is that when 20,000 people sign, it will "trigger" a large migration. Some 1,500 people have moved already.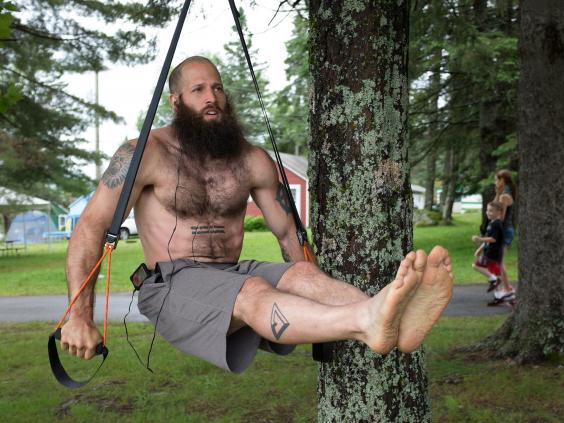 The ideological motivations that Free Staters discuss are easy to understand. The US government suffers from low approval ratings, it has been fighting wars for years without a satisfying result in sight, and privacy is seemingly slipping away. Why not just dissolve it and live as individuals? In other words, live like the porcupine: let your lifestyle not encroach on others, but if someone comes at you, don't hesitate to protect yourself with quills. Or your weapon.
"If we concentrate together, we can effect change," says Carla Gericke, president of the Free State Project. By most counts, more than 20 Free Staters have been elected to the New Hampshire House of Representatives with many others serving in municipal government. They helped repeal New Hampshire's knife laws, blocked implementation of a national ID system in the state and helped allow jurors to acquit defendants, not because they think they are innocent but because they believe the law is unjust.
"In most places, if you try to go to a libertarian event, you're probably going to get three people," says Kamil Markowicz, an attendee from Indiana. "And one is going to be a Tea Party guy and the other a conspiracy theorist."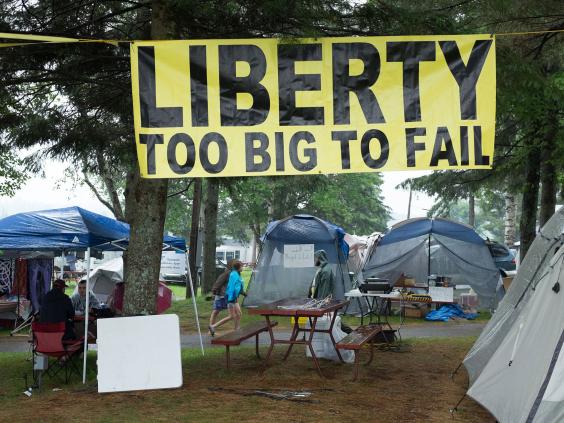 Members of the "Church of the Sword" – a group that does not focus on worship but does start its meetings with a "ritual of combat" involving foam swords – constitute the only organised group. There are not many rules, but violence and bigotry can get you banned. At Agora Valley, the unregulated market, a group sells silver that its members minted. Across from its stand, a food vendor (without permit or safety inspection) sells hamburgers for Bitcoin, Dogecoin or, if you must, dollars.
Just past the booth where a man sells make-your-own-firearms blueprints there is a series of tents hosting seminars. A former army officer named Bill Buppert is talking about how "we shouldn't think of secession as a four-letter word". Puns are everywhere: the most popular T-shirt reads: "Kill the Precedent."
But the biggest party at Porcfest took place near the end of the week-long gathering last weekend. It is Buzz's Big Gay Dance Party, put on by Buzz Webb, 47, the "Duchess of Dykedom," who says when she first came to Porcfest in 2009, she could not find another gay person. Instead of leaving, she threw a party, one that both celebrated and poked fun at gay culture. "It's a real community, and one open to you doing what you want to do," she says. "People here believe in live and let live."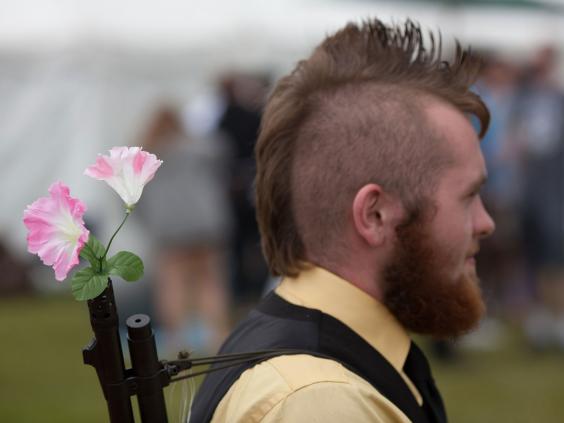 Most of the time, anyway. In 2012, according to Free State Project president Gericke, a group from Connecticut set up a tent serving Polish food. To attract customers, the vendors would rev-up a chain saw. The next year organisers let them know the chainsaw would not be welcome.
The festival is a free society unless you break the rules. There are no real police, unless you get on the wrong side of the Church of the Sword. The griddles may be unregulated, but the eggs are USDA-approved. A true libertarian utopia will always remain a hypothetical, even on a small scale. But perhaps for believers, it's better that way. For as long as it remains the mystery solution, who can ever refute that it would work?
© Washington Post