Melinda McQuigg may be stoic and strong – it's the Indian in her – but sometimes she just has to cry, like last week when her husband got the flu and the prescription alone came to $170. Then there's not knowing how long he will be laid up for. Every day he doesn't work at his construction job is another day with no money coming in.
It's never a good time for sickness, but still. Unrelenting north winds have blasted the landscape all around a canvas-brown and the McQuiggs – Melinda, Charlie and their two nearly grown-up children – must all squeeze into the only two rooms of their dilapidated trailer home in the woods that have any insulation. Recently, a venomous copperhead snake got into the bathroom. Food has to be stored at her mother's or the mice will eat it. A cousin, a meth addict, recently had a claw hammer fight with another man and lost; it cost him part of his brain.
She might almost forget she is diabetic and that her daughter, Breanne, has been almost totally deaf since birth. Things could be worse, she says.
"So long as we've got food in our mouths and a roof over our heads, we should be thankful. Because there are some people who don't even have that. We just struggle from day to day, you know."
Her final, and financially crushing, problem is that her 1999 Chevy died two years ago. Without a car she can't work. She is partly right to feel lucky. Ms McQuigg, 48, belongs to the Choctaw Nation – her native blood is from her grandfather – which occupies an 11-county swathe of south-eastern Oklahoma larger than Vermont. This month, the Nation was selected by President Barack Obama to be one of five first-time "promise zones", areas blighted with exceptional poverty which for 10 years will be targeted for special federal assistance, including tax breaks to spur investment and programmes to improve education, fight crime and help people train for jobs.
The launching of the effort – 10 more zones are to be picked shortly – came on the 50th anniversary of Lyndon Johnson's War on Poverty and is a reminder that there are parts America where that battle is far from won. For the Choctaws that means an average poverty rate of 22.6 per cent, seven points above the national average. In some areas, even close to the main town of Durant, where the tribe runs a glittering casino and resort, more than 50 per cent of the population are living below the poverty line.
"It's tough out there," says John Jackson, who runs an array of social programmes for the tribe's members with dollars from grants, government and above all the gaming operations. But it's not enough, especially to combat rural isolation. Some Choctaws must drive 50 miles just to shop for food. "We have so many infrastructure needs, whether it's water, sewers or bridges. We have a lot of communities that don't have public water supplies". As for the roads, even over the five miles from Durant to where the McQuigg trailer sits, asphalt quickly gives way to gravel, potholes and stray dogs.
That the Nation has been picked for the new programme elicits more pride here than shame, and some even see it as Washington paying partial and belated recompense for past crimes against their ancestors. They cheered when Chief Greg Pyle attended its White House unveiling alongside mayors, senators and congressmen from the four other areas selected – sections of Los Angeles, San Antonio and Philadelphia and the coal-mining region of south-east Kentucky.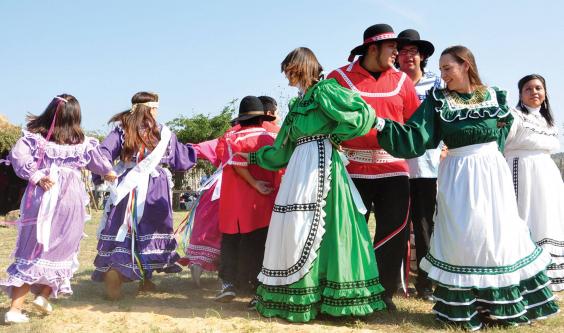 Though this is not a true sovereign reservation – there are 310 in the US for tribes like the Sioux and the Blackfoot – the Choctaws have their own government that employs nearly 7,000 people. It will be in charge of running the project, collaborating with assorted federal, state and local agencies, even though only about a third of the 250,000 people in the 11 counties are actually of Indian descent. "We are going to show everyone how you do a federal programme," says Vonna Shults, web director for the Nation. "We are going to set the bar real high."
"This could be huge because so many of our people are still dealing with issues like crime, alcohol abuse, bad eating habits and obesity," says Ryan Spring, 25, who each Thursday coaches children's stickball. Related to lacrosse and once at the heart of Choctaw society, the high-contact game involves two teams of 30 players battling to strike 12-foot wooden poles at each end of the field using short sticks of hemlock with small leather-strung cups at one end.
By day, Mr Spring researches and draws maps to show the history of the Choctaw, the first of the Indian tribes to be removed from their ancestral lands. In the case of the Choctaw these were mostly in Mississippi. In 1831 they were driven out and forced to take the "Trail of Tears" all the way to the so-called Indian Territories here, long before Oklahoma existed. While his stickball volunteering is partly about encouraging exercise it also fits with his belief that reacquainting the Choctaw with a culture that over decades of forced assimilation has almost vanished is as important as any new bridges or sewer pipes.
"If you don't know where you are from, how do you know where you are going to?" agreed James Parrish, director of the Nation's new language school, which is dedicated to saving the Choctaw tongue from extinction by adding it to the school curriculum. Today, only about a thousand, mostly older, people still speak Choctaw as their first language. Among them is Theresa Billy, 61, who works at the school. "Assimilation was always the government's plan for us," she said during a break in classes taught by a two-way video link from her office to classrooms across the Nation. "We were stripped of our dignity and we were made to feel ashamed of who we were. We are working to change that."
"They have come from a century of repression, isolation and manipulation," said Mr Jackson, who is not Choctaw himself. "The purpose of the federal government in that time was to take the Indian out of the people." He too believes that recovering the tribe's pride and sense of identity will be a vital part of the anti-poverty effort.
Mrs McQuigg, meanwhile, has just found out about the promise zone and she dares to be excited. "I was like, hey, look at that, this could be awesome," she says, allowing herself a sweet smile.
She hopes this might just be the leg-up she needs to start her own business, providing fresh groceries to the homebound elderly.
Reuse content