Powerful images emerging from across the United States demonstrate the scale of the anger taking hold in many communities in the wake of events surrounding the deaths of Michael Brown and now Eric Garner.
Demonstrations occurred in central New York City for a second night, while in Denver, Chicago, Washington and Boston protesters also walked the streets, holding 'die-ins' and stopping traffic.
On Wednesday a Grand Jury decided not to indict New York police officer Daniel Pantaleo after the death of 44-year-old Eric Garner.
Mr Garner, a father of six, died after being placed into a choke hold – despite the NYPD banning such a move – and in footage capturing the event can be heard repeatedly stating to officers: "I can't breath".
That cry was taken up by protesters in New York, where an estimated 1,500 to 2,000 people marched across the Brooklyn Bridge and into the centre. Many carried banners reading: "Black Life Matters",  "Racism Kills" or "This stop today".
Meanwhile, in Washington hundreds of protesters marched chanting: "no justice, no peace, no racist police," as they passed the Justice Department.
Protests have continued to sporadically flare in parts of the US since another Grand Jury chose not to indict Ferguson police officer Darren Wilson after the death of unarmed 18-year-old teenager Michael Brown.
His death and the Grand Jury's subsequent decision ignited violent protests across Ferguson, Missouri, which spread to pockets of America.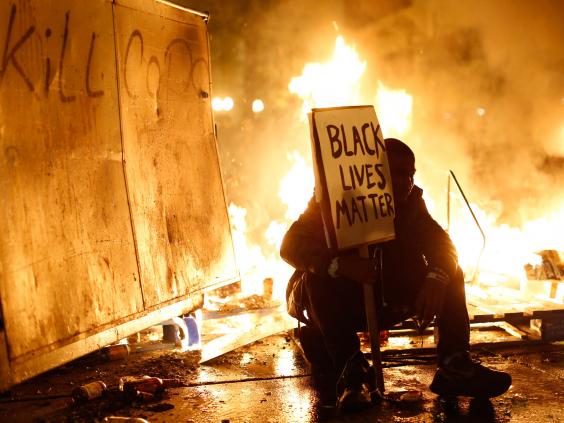 UN human rights experts have claimed there are "legitimate concerns" over the decisions not to bring Mr Wilson and Mr Pantaleo to trial. Instead, Attorney General Eric Holder has promised "an independent, thorough, fair and expeditions" federal investigation into concerns over the case.
Reuse content