A pregnant mother who drove into rough seas in Florida with her three children in the car is to plead insanity, her lawyer has said.
Ebony Wilkerson, 33, of South Carolina, was captured on camera in March driving her van into the water at Daytona Beach.
Officers and bystanders helped pull her and her children, aged three, nine and 10, out of the car as it was almost submerged.
Ms Wilkerson, who was 28 weeks pregnant at the time - and has now given birth to her fourth child, in jail - claimed that low blood sugar led directly to her actions, which included trying to fight off her rescuers.
She had been facing charges of attempted murder and child abuse in relation to each of her three children.
But the state doctor agreed she was suffering from a mental breakdown at the time of the incident, and prosecutors are believed to be dropping the attempted murder charges, according to NBC News.
Court spokeswoman Ludi Lelis said Ms Wilkerson is expected to plead not guilty by reason of insanity to three charges of child abuse. If the judge accepts the deal, which was reached after a psychologist hired by prosecutors agreed with a defence psychologist that she had had a psychotic break, she may either be released or sent to a psychiatric hospital for treatment.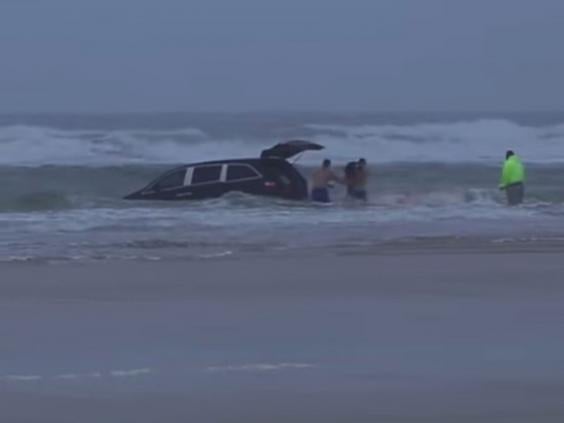 In September, her lawyer, Craig Dyer, blamed her behaviour on low blood sugar. He said she was severely disorientated, with a blood sugar level of 44, which was measured by paramedics on the beach. The normal range, Mr Dyer said, was between 70 and 100. She was given an injection on the beach which tripled her blood sugar levels within half an hour.
Ms Wilkerson had reportedly been stopped in her minivan by officers two hours before she drove into the ocean. Her sister had called the police because she was talking about demons, but they found her lucid and let her go.
She said at the time of the event that she was seeing angels and spots in front of her eyes, and her children were reported to have said it seemed as though she was sleepwalking and that she had said she was taking them to the beach "so we could die."
Ms Wilkerson was released from prison in May on the condition that she have no contact with her three older children, who have been taken into care. Her baby boy is living with her husband. Ms Wilkerson is said to be receiving regular outpatient treatment and Mr Dyer said she has had "absolutely no problems since she's given birth".
Reuse content