The immigration campaigners were gathered outside the Metropolitan Detention Centre in Los Angeles, where undocumented immigrants detained by the US authorities are housed while awaiting trial.
As Barack Obama prepared to address the nation, those on the street exchanged hopeful waves with the detainees in the windows several floors up, as they all waited to hear the President unveil the executive orders that could change their lives and the lives of their loved ones.
There are thought to be more than 11 million undocumented immigrants currently living in the US, and more in California than in any other state. Mr Obama's new directive will protect around five million from the threat of deportation, and permit many to work legally. Among that number are approximately 3.7 million parents of US-born children.
In 2012, Mr Obama used his executive power to issue a memorandum, known as Deferred Action for Childhood Arrivals (Daca), which offered a reprieve from deportation to around 1.2 million young, undocumented immigrants. His latest action expands that protection to at least 300,000 more who arrived in the country illegally as children.
In pictures: Midterms 2014
In pictures: Midterms 2014
1/14 Red Oak, Iowa

Voters get an 'I VOTED TODAY' sticker after casting their ballots in Red Oak, Iowa

Getty Images

2/14 Washington, DC

A pollling station in Washington, DC. Most signs point toward President Barack Obama's party suffering crippling election setbacks.

3/14 Jamestown

Local resident Marybeth Davenport casts her ballot at a polling place at the Jamestown Town Hall

4/14 Red Oak, Iowa

Voters fill in their ballots at the Red Oak Fire Department in Red Oak, Iowa

Getty Images

5/14 Michelle Nunn

Democratic U.S. Senate candidate Michelle Nunn hugs phone bank volunteers on the eve of the mid-term election at her campaign headquarters in Atlanta, Georgia. Nunn is in a tight race against Republican opponent David Perdue.

6/14 Get Out the Vote Rally

Democrats hold a "Get Out the Vote Rally" for US Senator Mark Warner, Democrat of Virginia, who is up for reelection, and other Democratic candidates, at Old Town Alexandria Market Square in Alexandria, Virginia, on the night before midterm elections.

SAUL LOEB/AFP/Getty Images

7/14 Kids Vote

A father helps his son vote in a special "Kids Vote" while Kentucky voters cast their votes at Northside Elementary School in Midway, Kentucky. The "Kids Vote" is designed to encourage children to exercise their right to vote when they reach legal voting age.

8/14 Searsmont, Maine

A handmade sign stuck in a snowbank on a rural road urges citizens to vote in Searsmont, Maine

AP

9/14 Madbury, New Hampshire

Voters cast their ballots at Madbury Town Hall in Madbury, New Hampshire. There is a tight race for a U.S Senate seat between incumbent U.S. Senator Jeanne Shaheen and former Massachusetts U.S. Senator Scott Brown.

10/14 Albany, New York

Voters fill out their ballots in a gym on election day in Albany, New York

AP

11/14 Clay Aiken

Clay Aiken, Democratic candidate for U.S. Congress in North Carolina's Second District, jokes with members of the media as he waits in line to vote

12/14 Louisville, Kentucky

Voters cast their ballots in the midterm elections at Bellarmine University in Louisville, Kentucky.

13/14 Mitch McConnell

Senate Minority Leader U.S. Sen. Mitch McConnell holds his ballot after placing his vote at Bellarmine University in Louisville, Kentucky.

14/14 Alexandria, Virginia

A dog waits for its owner to vote at the polling station in the Lyles-Crouch Traditional Academy in Alexandria, Virginia
Among the campaigners in downtown LA was Luis Ojeda, 24, an organiser with the California Immigrant Youth Justice Alliance. Mr Ojeda was born in Mexico, arrived in California aged four and finally gained legal status thanks to Daca last year. His teenage sister was born in the US, meaning his parents are eligible for the new programme.
"This is a moment to celebrate. We're glad that up to five million people are going to benefit," he said. "But another six million are still going to live with the threat of deportation: anyone charged with a felony; anyone who doesn't have siblings who are US citizens; anyone from the LGBT community and in a same-sex marriage but who doesn't have children. Those people are going to be targeted in very unique ways."
Mr Obama was due to appear at a rally in Las Vegas to roll out his plan yesterday. In his televised address the previous evening, he employed the oratorical skill for which he became known on the campaign trail, but which has scarcely been on display in the White House. "Are we a nation that tolerates the hypocrisy of a system where workers who pick our fruit and make our beds never have a chance to get right with the law?" he asked.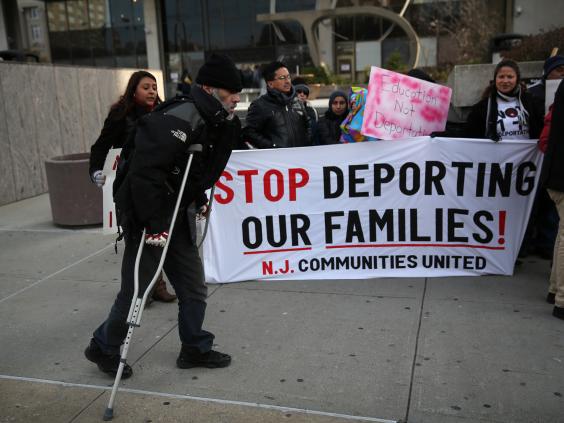 The President had long promised to take executive action on immigration enforcement, after lawmakers in Congress failed to agree on comprehensive legislation. Republicans were quick to criticise Mr Obama's strategy, with California congressman Kevin McCarthy, the House majority leader, describing it as a "brazen power grab".
House Speaker John Boehner said in a statement after the President's speech that "by ignoring the will of the American people, President Obama has cemented his legacy of lawlessness and squandered what little credibility he had left". Some Republicans threatened to strike back by staging a government shutdown, like the one sparked last year by the President's healthcare reforms.
Yet while the GOP may be united in opposition to Mr Obama, the party remains divided on an alternative approach to immigration reform.
In his speech, Mr Obama quote his Republican predecessor, George W Bush, saying immigrants "are a part of American life". He went on: "The actions I'm taking are not only lawful, they're the kinds of actions taken by every single Republican president and every Democratic president for the past half-century. To those members of Congress who question my authority to make our immigration system work better, or question the wisdom of me acting where Congress has failed, I have one answer: Pass a bill."