The family's nightmare began before dawn Thursday.
It was already pouring outside when the husband woke around 4 a.m. The rain wouldn't stop for hours. It would end up as the wettest March 10 ever recorded in Vicksburg, Miss.
The husband swung his legs out of bed. He picked up his 5-year-old son. Then he walked toward the garage to start his wife's car.
That's when Rafael McCloud slipped out of the shadows with a knife.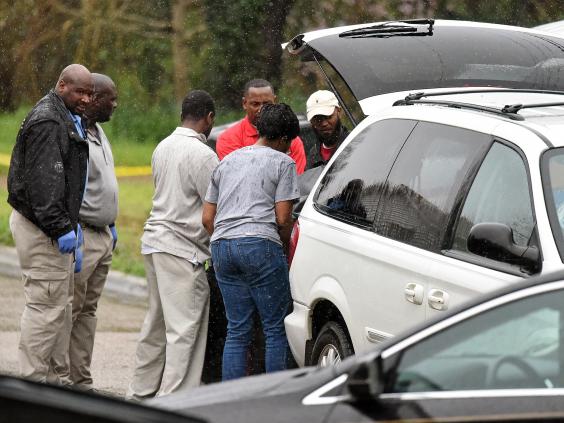 McCloud had escaped from a nearby jail, where the 34-year-old was held on charges of raping and murdering a woman more than twice his age. For eight days, he had evaded authorities by shuttling between abandoned properties. Now he had found a new home.
Never mind that it was already occupied.
McCloud tied up the man as his wife and their son watched in terror.
Three hours later, police would receive a 911 call from the residence.
They would race through the rain to the yellow brick house on Fort Hill Drive.
And there, in the bathtub, they would find a dead body — just not the one they feared.
A real-life American horror story
The past nine months have tested the residents of Vicksburg, a city so far south its nickname is the Gibraltar of the Confederacy. It sits on the edge of the Mississippi River, within sight of Louisiana.
It is a place haunted by its past: by slavery, by lynchings and by more recent horrors.
Few are as fearsome as the tale of Rafael McCloud.
It is a real-life American horror story, involving rape, murder, kidnapping and a haunted house.
And like many horror stories, it begins and ends with a corpse.
The first body appeared last summer.
On June 29, 2015, a group of ghost hunters sneaked inside the Kuhn Memorial State Hospital. The abandoned hospital had long been considered haunted, drawing supernatural thrill-seekers from across the country. It was even the scene for a locally produced horror flick, featuring an evil clown.
But the blood that the ghost hunters spotted on the hospital floor was all too genuine. They followed the trail of gore through the collapsing hospital, down a flight of stairs and outside. In a patch of tall grass, they found the body of a woman.
She had been raped, beaten and shot in the head, a coroner would later determine.
Earlier that day, police in Leland, an hour north of Vicksburg, pulled over a stolen car. Inside sat Rafael McCloud, his 20-year-old nephew and a stolen gun.
When police ran the car's plates, they realized it belonged to Sharen Wilson, a 69-year-old woman in Vicksburg. They called Vicksburg police, who found Wilson's house ransacked.
"We checked, and she was not there," Vicksburg Police Chief Walter Armstrong told the Clarion-Ledger.
Under questioning, Rafael McCloud admitted to robbing Wilson, but said he left her near the side of the road, according to CBS.
Cops were searching for Wilson when the ghost-hunters found her body.
Rafael McCloud was charged with capital murder, rape, burglary and attempted arson, among other crimes. His nephew was released without charge.
The case shocked the city of 23,000. It was the fourth murder so far that year in a town that rarely saw one.
But Wilson's gruesome murder set it apart.
"It was shocking and devastating and horrifying and certainly what we heard here today only adds to that horror," Rev. Beth Palmer, a close friend of Wilson's, told MS News Now. "I think that some of our worst fears were realized in hearing the preliminary evidence."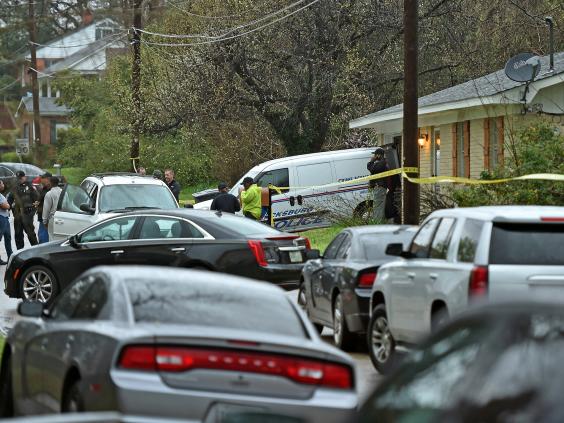 The case also stirred racial animus in the region, as Wilson was white and McCloud black.
"So, capital murder, rape, sexual battery, arson, home invasion, and burglary … and a dead 69-year-old White woman found lying in a pool of her own blood on Martin Luther King Boulevard in Vicksburg, MS," wrote a "Pro-White, Pro-South and Pro-Independence" website. "Oh wait, this is something we are not supposed to talk about, right?"
The trial was expected to draw intense media coverage. If convicted, McCloud could face the death penalty.
There would be no trial, yet McCloud would not escape punishment.
Jailbreak
The Warren County Jail looks more like a schoolhouse than the place to hold an accused murderer. It's built of red brick with large windows. Its decorative fence is about two feet tall.
When Rafael McCloud ran out of the jail on March 2, 2016, therefore, there was nothing and no one to stop him.
McCloud had escaped from his cell by taking a night shift jail employee hostage with a homemade knife, an investigator with the Warren County Sheriff's Department told CNN. The accused murderer forced the jailer to hand over his pants, jacket, keys and radio. Then he fled.
For more than a week, McCloud managed to evade authorities, despite sticking to a mere one-mile radius.
Meanwhile, Armstrong made the rounds, stopping by the city's senior center to show photos of McCloud and to warn that he was armed and extremely dangerous.
"He is very capable of killing, holding someone hostage and kidnapping," the police chief told CNN.
One of the first places McCloud went was the abandoned hospital where he had allegedly raped, beaten and killed Wilson eight months earlier.
There, cops would later find his stolen prison pants, according to the Associated Press.
He was also reportedly spotted near the McNutt House, a historic home on First East Street.
According to several 911 callers, however, McCloud was also seen about a mile away, in the area around Fort Hill Drive.
A downpour, a desperate fugitive and a dramatic end
The record rainfall began around 2:30 in the morning. It would continue for more than 12 hours straight, flooding roadways and swelling streams.
Maybe it was the torrential downpour that drove McCloud inside the garage on Fort Hill Drive. Or maybe he was already there, hiding from authorities.
Either way, the fugitive was waiting when the husband and his son entered the garage at around 4 a.m., according to the AP.
McCloud pounced. Armed with a knife, he forced the family back inside the home. Then he tied up the husband and held all three hostage inside the bathroom.
If the stage seemed set for a sequel to the hospital slaying, then the family had other ideas.
After several hours of captivity, the husband suddenly slipped his bonds and attacked the intruder.
World news in pictures
World news in pictures
1/30 27 May 2016

An aerial picture shows firefighters spraying foam at the engine of a Korean Air Lines plane after smoke rose from it at Haneda airport in Tokyo, Japan

Reuters

2/30 26 May 2016

A man walks his donkey and its load through flooded streets Beledweyne, north of Mogadishu. Hundreds of families have been forced out of their homes following flash floods in Beledweyne after torrential rains pounded the area in the last few days. The heavy rains led to the bursting of River Shabelle which caused massive floods in residential areas along the river

Getty Images

3/30 26 May 2016

A worker checks a mask of U.S. Republican presidential candidate Donald Trump at Jinhua Partytime Latex Art and Crafts Factory in Jinhua, China

Reuters

4/30 26 May 2016

Estonia's olympic team female marathon runners triplets (L-R) Leila, Liina and Lily Luik pose for a picture after a training session in Tartu

Reuters

5/30 25 May 2016

Lightning from a severe storm fills the sky behind a grain elevator in Bellevue, Kansas

AP

6/30 25 May 2016

Riot police stand guard behind a fire as refinery workers hold a blockade of the oil depot of Douchy-Les-Mines to protest against the government's proposed labour reforms

Getty

7/30 25 May 2016

Vehicles are stuck in a sinkhole near Ponte Vecchio. A sinkhole measuring about 200 meters long and seven meters wide opened up in central Florence

EPA

8/30 24 May 2016

Protesters picket outside the event site before Republican U.S. presidential candidate Donald Trump begins a rally with supporters in Albuquerque, New Mexico

Reuters

9/30 24 May 2016

An Indian policeman uses a baton to disperse demonstrators during a protest by government employees demanding their long pending arrears and a regularisation of their temporary jobs, according to protesters, in Srinagar

Reuters

10/30 23 May 2016

Confiscated rare and protected wildlife products such as these stuffed Sumatran tiger skins are burned and destroyed during a ceremony by government forestry and wildlife officials in Banda Aceh, Indonesia

Reuters

11/30 23 May 2016

A woman leads a school pupil away from tear gas and a burning barricade in Kibera slum, during a demonstration of opposition supporters protesting for a change of leadership ahead of a vote due next years in Nairobi

Getty Images

12/30 23 May 2016

A crane destroys over one million pirated music, movie and software CDs and DVDs in a campaign against piracy organised by the government in Algiers, Algeria

Reuters

13/30 23 May 2016

Shi'ite fighters forces launch a rocket towards Islamic State militants on the outskirts Falluja, Iraq

Reuters

14/30 22 May 2016

Yemenis take part in celebrations marking the 26th anniversary of Yemen's 1990 reunification in the capital Sanaa

Getty Images

15/30 22 May 2016

Indonesian soldiers carry resident's belongings as they aid in evacuation efforts from a village impacted by the Mount Sinabung eruption at Gamber Village in North Sumatra. At least six people were killed and two others were seriously wounded after the Mount Sinabung volcano in North Sumatra province of western Indonesia erupted

EPA

16/30 21 May 2016

Demonstrators clash with riot police in the surroundings of the Congress in Valparaiso, while Chilean President Michelle Bachelet delivers her annual message to the nation

Getty Images

17/30 21 May 2016

The Egyptian military spokesman released pictures of debris that the search teams found in the sea after the EgyptAir Airbus A320 crashed in the Mediterranean

Getty Images

18/30 21 May 2016

Sri Lankan flood victims push a trishaw through floodwaters in the Kolonnawa suburb of Colombo

Getty Images

19/30 20 May 2016

A protester write on the facade of the Ministry of Justice building with color spray during an anti-government protest in Skopje, in a series of protests dubbed Colourful Revolution. Crisis-hit Macedonia postponed elections due next month, after the European Union called on Skopje to delay the polls to ensure they could take place freely and fairly

Getty Images

20/30 20 May 2016

Members of the Ukrainian national guard "Azov" regiment and activists of the Azov civil corp take part in a protest against local elections in pro-Russian rebel-held areas of eastern Ukraine under the Minsk peace agreement, in Kiev

Reuters

21/30 19 May 2016

Families of passengers who were flying in an EgyptAir plane that vanished from radar en route from Paris to Cairo react as they wait outside a services hall at Cairo airport

Getty Images

22/30 18 May 2016

A man clashes with policemen during a protest against new emergency powers decreed this week by President Nicolas Maduro in Caracas. Public outrage was expected to spill onto the streets of Venezuela, with planned nationwide protests marking a new low point in Maduro's unpopular rule

Getty Images

23/30 18 May 2016

A police car explodes after being set on fire during an unauthorized counter-demonstration against police violence in Paris, as Police across France demonstrate today against the "anti-cop hatred" they say they have endured during a wave of anti-government protests since early March

Getty Images

24/30 18 May 2016

Sri Lankan military personnel take part in relief and rescue efforts following a landslide in the village of Bulathkohupitiya. Rescue workers recovered the bodies of 17 villagers buried in landslides in Sri Lanka after three days of torrential rain. The disaster hit two small villages in Kegalle, a mountainous area northeast of Colombo, and takes the overall death toll from flooding and landslides in recent days to 36

Getty Images

25/30 18 May 2016

A protester against visiting Zhang Dejiang, the chairman of China's National People's Congress, confronts police in Hong Kong

Reuters

26/30 18 May 2016

Chicks dyed to draw attention are offered for sale at a small poultry market in Jakarta, Indonesia

Reuters

27/30 17 May 2016

A man throws a fire extingusher at Parliamentary security behind a closed door after members of Julius Malema's Economic Freedom Fighters (EFF) were evicted from Parliament during President Jacob Zuma's question and answer session in Cape Town, South Africa

Reuters

28/30 17 May 2016

Supporters of Federal Alliance, a coalition of Madhes-based parties and other ethnic political parties and organizations, protest against the constitution near the Prime Minister's official residence in Kathmandu, Nepal

Reuters

29/30 17 May 2016

Members of a Sri Lankan Army rescue team carry a woman to safety through floodwaters in the suburb of Kaduwela in capital Colombo. Emergency workers in Sri Lanka found the bodies of a woman and two children killed in a landslide, taking the toll from two days of heavy rain to 11, with thousands more forced to flee their homes

Getty Images

30/30 16 May 2016

Protesters light flares and wave flags marching through a street, during an anti-government protest in Skopje, in series of protests dubbed "Colorful Revolution". Macedonia has been politically gridlocked for two years but the crisis rose a notch on 12 April when President Gjorge Ivanov halted a probe into more than 50 public figures suspected of involvement in corruption and a wire-tapping scandal. The move triggered street protests against Ivanov and the ruling party's leader, Nikola Gruevski. Fresh demonstrations drew several thousand, mostly young people who demanded Ivanov resignation

Getty Images
McCloud stabbed the man in the back of his shoulder, then tied him back up again.
But the wife somehow persuaded McCloud to let her leave the bathroom.
When she returned, she was holding the family's handgun.
She shot McCloud.
Then she cut loose her husband, who promptly fired several more bullets into the intruder, police said.
The family ran outside into the rain and flagged down a passing car, whose driver called 911.
When police arrived, they found the fugitive slumped over the bathtub, Warren County Deputy Coroner Kelda Bailess told the AP.
He had been killed by his own hostages.
"This is absolutely not the outcome we had all hoped for," Warren County Sheriff Martin Pace told the AP. "We had wanted to capture him and have him stand before the judge. But he chose this, and I am so personally relieved that this family was not injured more than they were and they were able to protect themselves."
Authorities have not named the hostages.
"I hate that they had to go through that, but I'm very grateful and I thank God that no one was killed," Armstrong told the Clarion-Ledger.
The police chief said he suspected McCloud may have had help during his time on the lam.
"He had on tennis shoes; nice, white tennis shoes and a pair of blue jeans, so there is some indication someone has been helping him or he stole those items," Armstrong told the Vicksburg Post. "But the shoes looked to be the exact size he wears."
Neighbours said they were startled to learn McCloud hadn't fled from town.
"It makes you want to make sure you know where all your guns and knives are," Terry Kleinman, a neighbour, told the Clarion-Ledger, adding that it was "eerie" his family could have been targeted just as easily.
"I was kind of surprised he was still in the area," another neighbour, Mike Keck, told the AP. "I thought he would've tried to get as far away as possible.
"I'm glad to see it's finally over. We can be at ease now."
© Washington Post