The family's nightmare began before dawn Thursday.
It was already pouring outside when the husband woke around 4 a.m. The rain wouldn't stop for hours. It would end up as the wettest March 10 ever recorded in Vicksburg, Miss.
The husband swung his legs out of bed. He picked up his 5-year-old son. Then he walked toward the garage to start his wife's car.
That's when Rafael McCloud slipped out of the shadows with a knife.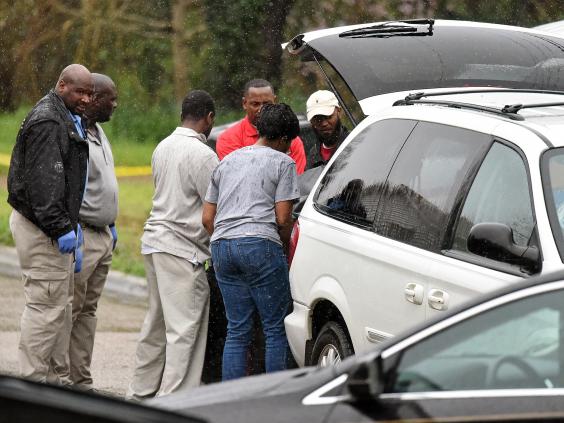 McCloud had escaped from a nearby jail, where the 34-year-old was held on charges of raping and murdering a woman more than twice his age. For eight days, he had evaded authorities by shuttling between abandoned properties. Now he had found a new home.
Never mind that it was already occupied.
McCloud tied up the man as his wife and their son watched in terror.
Three hours later, police would receive a 911 call from the residence.
They would race through the rain to the yellow brick house on Fort Hill Drive.
And there, in the bathtub, they would find a dead body — just not the one they feared.
A real-life American horror story
The past nine months have tested the residents of Vicksburg, a city so far south its nickname is the Gibraltar of the Confederacy. It sits on the edge of the Mississippi River, within sight of Louisiana.
It is a place haunted by its past: by slavery, by lynchings and by more recent horrors.
Few are as fearsome as the tale of Rafael McCloud.
It is a real-life American horror story, involving rape, murder, kidnapping and a haunted house.
And like many horror stories, it begins and ends with a corpse.
The first body appeared last summer.
On June 29, 2015, a group of ghost hunters sneaked inside the Kuhn Memorial State Hospital. The abandoned hospital had long been considered haunted, drawing supernatural thrill-seekers from across the country. It was even the scene for a locally produced horror flick, featuring an evil clown.
But the blood that the ghost hunters spotted on the hospital floor was all too genuine. They followed the trail of gore through the collapsing hospital, down a flight of stairs and outside. In a patch of tall grass, they found the body of a woman.
She had been raped, beaten and shot in the head, a coroner would later determine.
Earlier that day, police in Leland, an hour north of Vicksburg, pulled over a stolen car. Inside sat Rafael McCloud, his 20-year-old nephew and a stolen gun.
When police ran the car's plates, they realized it belonged to Sharen Wilson, a 69-year-old woman in Vicksburg. They called Vicksburg police, who found Wilson's house ransacked.
"We checked, and she was not there," Vicksburg Police Chief Walter Armstrong told the Clarion-Ledger.
Under questioning, Rafael McCloud admitted to robbing Wilson, but said he left her near the side of the road, according to CBS.
Cops were searching for Wilson when the ghost-hunters found her body.
Rafael McCloud was charged with capital murder, rape, burglary and attempted arson, among other crimes. His nephew was released without charge.
The case shocked the city of 23,000. It was the fourth murder so far that year in a town that rarely saw one.
But Wilson's gruesome murder set it apart.
"It was shocking and devastating and horrifying and certainly what we heard here today only adds to that horror," Rev. Beth Palmer, a close friend of Wilson's, told MS News Now. "I think that some of our worst fears were realized in hearing the preliminary evidence."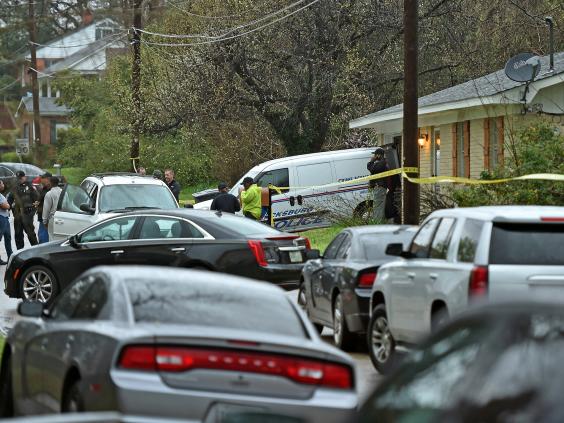 The case also stirred racial animus in the region, as Wilson was white and McCloud black.
"So, capital murder, rape, sexual battery, arson, home invasion, and burglary … and a dead 69-year-old White woman found lying in a pool of her own blood on Martin Luther King Boulevard in Vicksburg, MS," wrote a "Pro-White, Pro-South and Pro-Independence" website. "Oh wait, this is something we are not supposed to talk about, right?"
The trial was expected to draw intense media coverage. If convicted, McCloud could face the death penalty.
There would be no trial, yet McCloud would not escape punishment.
Jailbreak
The Warren County Jail looks more like a schoolhouse than the place to hold an accused murderer. It's built of red brick with large windows. Its decorative fence is about two feet tall.
When Rafael McCloud ran out of the jail on March 2, 2016, therefore, there was nothing and no one to stop him.
McCloud had escaped from his cell by taking a night shift jail employee hostage with a homemade knife, an investigator with the Warren County Sheriff's Department told CNN. The accused murderer forced the jailer to hand over his pants, jacket, keys and radio. Then he fled.
For more than a week, McCloud managed to evade authorities, despite sticking to a mere one-mile radius.
Meanwhile, Armstrong made the rounds, stopping by the city's senior center to show photos of McCloud and to warn that he was armed and extremely dangerous.
"He is very capable of killing, holding someone hostage and kidnapping," the police chief told CNN.
One of the first places McCloud went was the abandoned hospital where he had allegedly raped, beaten and killed Wilson eight months earlier.
There, cops would later find his stolen prison pants, according to the Associated Press.
He was also reportedly spotted near the McNutt House, a historic home on First East Street.
According to several 911 callers, however, McCloud was also seen about a mile away, in the area around Fort Hill Drive.
A downpour, a desperate fugitive and a dramatic end
The record rainfall began around 2:30 in the morning. It would continue for more than 12 hours straight, flooding roadways and swelling streams.
Maybe it was the torrential downpour that drove McCloud inside the garage on Fort Hill Drive. Or maybe he was already there, hiding from authorities.
Either way, the fugitive was waiting when the husband and his son entered the garage at around 4 a.m., according to the AP.
McCloud pounced. Armed with a knife, he forced the family back inside the home. Then he tied up the husband and held all three hostage inside the bathroom.
If the stage seemed set for a sequel to the hospital slaying, then the family had other ideas.
After several hours of captivity, the husband suddenly slipped his bonds and attacked the intruder.
World news in pictures
World news in pictures
1/30 17 August 2016

Indonesian students play traditional drums called "Dol" from Bengkulu province as they participate in the Indonesian Independence day ceremony in Jakarta

AFP/Getty Images

2/30 17 August 2016

A woman attempts to cover a tear gas canister fired by police at a crowd in Srinagar protesting against the recent killings in Kashmir

REUTERS

3/30 17 August 2016

Participants struggle to reach the prizes on the top of greasy slippery poles in Jakarta, as part of Indonesia's celebrations to mark its 71st independent day anniversary

AFP/Getty Images

4/30 16 August 2016

An air tanker drops fire retardant on the Blue Cut wildfire in Lytle Creek, California. The fire is currently 9,000 plus acres, with 700 personnel on scene. Fifty-seven engines, 8 crews, 8 air tankers, 2 Very Large Air Tankers (VLATS), with additional firefighters and equipment on order

AFP/Getty Images

5/30 16 August 2016

Free Syrian army fighters stand atop of a hill as the moon is seen in the background in the south of Nawa city, in Deraa Governorate, Syria

REUTERS

6/30 16 August 2016

A Palestinian youth is being evacuated after he was wounded during clashes with Israeli soldiers conducting searches in the Palestinian al-Fawwar refugee camp, south of the West Bank city of Hebron

AFP/Getty Images

7/30 16 August 2016

AFP/Getty Images

8/30 16 August 2016

Mine workers sing as they wait for the commemoration to get under way near Marikana in Rustenburg, South Africa. On 16 August 2012 police shot and killed 34 Lonmin striking miners, apparently while trying to disperse them and end their strike. Ten people, including two police officers and two Lonmin security guards, were killed in the preceding week

AP

9/30 16 August 2016

People look at a crater caused by a Saudi-led coalition air strike at the yard of a hospital operated by Medecins Sans Frontieres in the Abs district of Hajja province, Yemen

REUTERS

10/30 15 August 2016

People cool off at a swimming pool in Daying county, China

REUTERS

11/30 15 August 2016

Turkish soldiers from a military guard of honor carry coffins during a mass burial ceremony for Turkish Cypriots who went missing in 1974 and whose remains have been found by the Committee on missing people in Cyprus (CMP), at a cemetery in the village of Tashkent (Vouno) in the self-declared Turkish Republic of Northern Cyprus. More than 30 Turkish Cypriots, who had disappeared in Tochni near the coastal southern city of Limassol in August 1974 and were found in 2014 in a mass grave in the village, were buried during the ceremony

AFP/Getty Images

12/30 15 August 2016

Indian paramilitary soldiers hug each other as they react to the news of killing of two suspected rebels in a gun-battle in the Nowhatta neighborhood of Srinagar, Indian controlled Kashmir. Suspected separatist rebels and government troops were engaged in two gun battles in Indian-controlled Kashmir despite a complete security lockdown in the disputed region as India celebrated its independence from British rule

AP

13/30 14 August 2016

A spectator poses ahead of the Women's Marathon during the athletics event at the Rio 2016 Olympic Games at Sambodromo in Rio de Janeiro

AFP/Getty Images

14/30 14 August 2016

Family members of Sylville Smith gather where he was shot and killed by police in Milwaukee. Police say a black man whose killing touched off arson and rock-throwing, was shot by a black officer after turning toward him with a gun in his hand

AP

15/30 14 August 2016

Men carry a dog, wearing a costume and seated on a stool, as a form of respect as they believe that dogs found water for their ancestors, during a local festival for the Miao ethnic minority in Jianhe county, Guizhou Province, China

REUTERS

16/30 14 August 2016

A truck burns in the town of Lower Lake, California. A wildfire destroyed at least four homes and forced thousands of people in two Northern California towns to flee as flames jumped a road and moved into populated areas

AP

17/30 14 August 2016

Kurdish Peshmerga forces fire a rocket toward Islamic State militants on the southeast of Mosul , Iraq

REUTERS

18/30 14 August 2016

An armed boy walks as he attends a gathering held by tribesmen loyal to the Houthi movement to show support to a political council formed by the movement and the General People's Congress party to unilaterally rule Yemen by both groups in Sanaa

REUTERS

19/30 13 August 2016

A jockey takes part in a traditional cattle race or "Pacu Jawi", to mark the end of the rice harvest in Tanah Datar, West Sumatra, Indonesia

REUTERS

20/30 13 August 2016

Rescue workers carry a survivor on a stretcher, after he was extracted from a collapsed wall in an informal settler house, just beside the city jail building in Manila

AFP/Getty Images

21/30 13 August 2016

Revellers take part in the Monsoon Holi Madrid festival in Madrid, Spain

REUTERS

22/30 13 August 2016

Revellers chat on Havana's Malecon seafront before performing at a carnival parade, Cuba

REUTERS

23/30 13 August 2016

A man fights against the active front of a forest fire near Arouca, Portugal

REUTERS

24/30 12 August 2016

A meteor streaks past stars in the night sky above medieval tombstones in Radmilje near Stolac, south of Sarajevo, Bosnia and Herzegovina

REUTERS

25/30 12 August 2016

An injured man receives first aid after two bombs exploded in the Thai seaside resort of Hua Hin

Reuters

26/30 12 August 2016

Children try to push an injured and weak dolphin back into the water after it washed ashore during bad weather and high tide on a beach in Cilacap, Central Java, Indonesia

REUTERS

27/30 12 August 2016

A man collects coconuts and other items thrown as offerings by worshippers in the Sabarmati river, a day after the "Dashama" festival in Ahmedabad, India

REUTERS

28/30 11 August 2016

An injured riot policeman is helped by comrades during clashes with independent miners against Bolivia's President Evo Morales' government policies, in Mantecani near La Paz, Bolivia

REUTERS

29/30 11 August 2016

A team equipped with anti mosquito spray packs walks through the Koumassi district of Abidjan during an operation aimed at preventing the spread of the zika virus in Côte d'Ivoire

AFP/Getty Images

30/30 11 August 2016

An Indian policeman uses a slingshot during clashes with demonstrators following a protest in Srinagar against the recent killings in Kashmir

REUTERS
McCloud stabbed the man in the back of his shoulder, then tied him back up again.
But the wife somehow persuaded McCloud to let her leave the bathroom.
When she returned, she was holding the family's handgun.
She shot McCloud.
Then she cut loose her husband, who promptly fired several more bullets into the intruder, police said.
The family ran outside into the rain and flagged down a passing car, whose driver called 911.
When police arrived, they found the fugitive slumped over the bathtub, Warren County Deputy Coroner Kelda Bailess told the AP.
He had been killed by his own hostages.
"This is absolutely not the outcome we had all hoped for," Warren County Sheriff Martin Pace told the AP. "We had wanted to capture him and have him stand before the judge. But he chose this, and I am so personally relieved that this family was not injured more than they were and they were able to protect themselves."
Authorities have not named the hostages.
"I hate that they had to go through that, but I'm very grateful and I thank God that no one was killed," Armstrong told the Clarion-Ledger.
The police chief said he suspected McCloud may have had help during his time on the lam.
"He had on tennis shoes; nice, white tennis shoes and a pair of blue jeans, so there is some indication someone has been helping him or he stole those items," Armstrong told the Vicksburg Post. "But the shoes looked to be the exact size he wears."
Neighbours said they were startled to learn McCloud hadn't fled from town.
"It makes you want to make sure you know where all your guns and knives are," Terry Kleinman, a neighbour, told the Clarion-Ledger, adding that it was "eerie" his family could have been targeted just as easily.
"I was kind of surprised he was still in the area," another neighbour, Mike Keck, told the AP. "I thought he would've tried to get as far away as possible.
"I'm glad to see it's finally over. We can be at ease now."
© Washington Post
Reuse content