The family's nightmare began before dawn Thursday.
It was already pouring outside when the husband woke around 4 a.m. The rain wouldn't stop for hours. It would end up as the wettest March 10 ever recorded in Vicksburg, Miss.
The husband swung his legs out of bed. He picked up his 5-year-old son. Then he walked toward the garage to start his wife's car.
That's when Rafael McCloud slipped out of the shadows with a knife.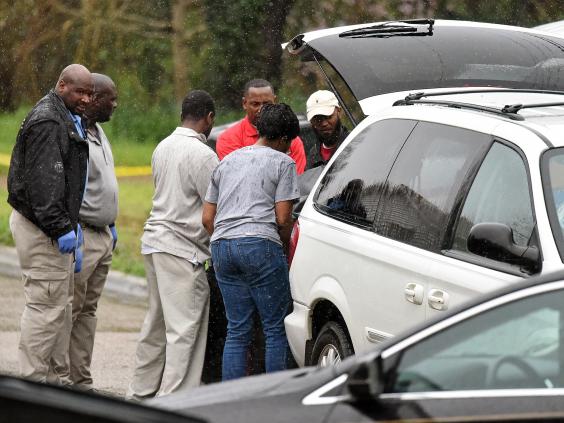 McCloud had escaped from a nearby jail, where the 34-year-old was held on charges of raping and murdering a woman more than twice his age. For eight days, he had evaded authorities by shuttling between abandoned properties. Now he had found a new home.
Never mind that it was already occupied.
McCloud tied up the man as his wife and their son watched in terror.
Three hours later, police would receive a 911 call from the residence.
They would race through the rain to the yellow brick house on Fort Hill Drive.
And there, in the bathtub, they would find a dead body — just not the one they feared.
A real-life American horror story
The past nine months have tested the residents of Vicksburg, a city so far south its nickname is the Gibraltar of the Confederacy. It sits on the edge of the Mississippi River, within sight of Louisiana.
It is a place haunted by its past: by slavery, by lynchings and by more recent horrors.
Few are as fearsome as the tale of Rafael McCloud.
It is a real-life American horror story, involving rape, murder, kidnapping and a haunted house.
And like many horror stories, it begins and ends with a corpse.
The first body appeared last summer.
On June 29, 2015, a group of ghost hunters sneaked inside the Kuhn Memorial State Hospital. The abandoned hospital had long been considered haunted, drawing supernatural thrill-seekers from across the country. It was even the scene for a locally produced horror flick, featuring an evil clown.
But the blood that the ghost hunters spotted on the hospital floor was all too genuine. They followed the trail of gore through the collapsing hospital, down a flight of stairs and outside. In a patch of tall grass, they found the body of a woman.
She had been raped, beaten and shot in the head, a coroner would later determine.
Earlier that day, police in Leland, an hour north of Vicksburg, pulled over a stolen car. Inside sat Rafael McCloud, his 20-year-old nephew and a stolen gun.
When police ran the car's plates, they realized it belonged to Sharen Wilson, a 69-year-old woman in Vicksburg. They called Vicksburg police, who found Wilson's house ransacked.
"We checked, and she was not there," Vicksburg Police Chief Walter Armstrong told the Clarion-Ledger.
Under questioning, Rafael McCloud admitted to robbing Wilson, but said he left her near the side of the road, according to CBS.
Cops were searching for Wilson when the ghost-hunters found her body.
Rafael McCloud was charged with capital murder, rape, burglary and attempted arson, among other crimes. His nephew was released without charge.
The case shocked the city of 23,000. It was the fourth murder so far that year in a town that rarely saw one.
But Wilson's gruesome murder set it apart.
"It was shocking and devastating and horrifying and certainly what we heard here today only adds to that horror," Rev. Beth Palmer, a close friend of Wilson's, told MS News Now. "I think that some of our worst fears were realized in hearing the preliminary evidence."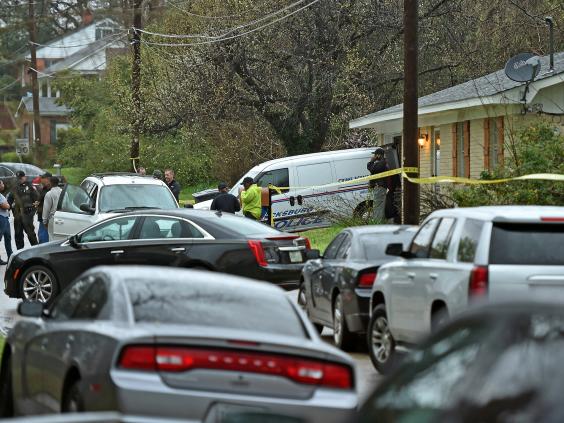 The case also stirred racial animus in the region, as Wilson was white and McCloud black.
"So, capital murder, rape, sexual battery, arson, home invasion, and burglary … and a dead 69-year-old White woman found lying in a pool of her own blood on Martin Luther King Boulevard in Vicksburg, MS," wrote a "Pro-White, Pro-South and Pro-Independence" website. "Oh wait, this is something we are not supposed to talk about, right?"
The trial was expected to draw intense media coverage. If convicted, McCloud could face the death penalty.
There would be no trial, yet McCloud would not escape punishment.
Jailbreak
The Warren County Jail looks more like a schoolhouse than the place to hold an accused murderer. It's built of red brick with large windows. Its decorative fence is about two feet tall.
When Rafael McCloud ran out of the jail on March 2, 2016, therefore, there was nothing and no one to stop him.
McCloud had escaped from his cell by taking a night shift jail employee hostage with a homemade knife, an investigator with the Warren County Sheriff's Department told CNN. The accused murderer forced the jailer to hand over his pants, jacket, keys and radio. Then he fled.
For more than a week, McCloud managed to evade authorities, despite sticking to a mere one-mile radius.
Meanwhile, Armstrong made the rounds, stopping by the city's senior center to show photos of McCloud and to warn that he was armed and extremely dangerous.
"He is very capable of killing, holding someone hostage and kidnapping," the police chief told CNN.
One of the first places McCloud went was the abandoned hospital where he had allegedly raped, beaten and killed Wilson eight months earlier.
There, cops would later find his stolen prison pants, according to the Associated Press.
He was also reportedly spotted near the McNutt House, a historic home on First East Street.
According to several 911 callers, however, McCloud was also seen about a mile away, in the area around Fort Hill Drive.
A downpour, a desperate fugitive and a dramatic end
The record rainfall began around 2:30 in the morning. It would continue for more than 12 hours straight, flooding roadways and swelling streams.
Maybe it was the torrential downpour that drove McCloud inside the garage on Fort Hill Drive. Or maybe he was already there, hiding from authorities.
Either way, the fugitive was waiting when the husband and his son entered the garage at around 4 a.m., according to the AP.
McCloud pounced. Armed with a knife, he forced the family back inside the home. Then he tied up the husband and held all three hostage inside the bathroom.
If the stage seemed set for a sequel to the hospital slaying, then the family had other ideas.
After several hours of captivity, the husband suddenly slipped his bonds and attacked the intruder.
World news in pictures
World news in pictures
1/29 27 March 2017

A Greenpeace activisit throws molasses on the Total logo at the French oil giant headquarters in La Defense district, western Paris to protest against a drilling project at the mouth of the Amazon where coral reef was discovered

Getty Images

2/29 27 March 2017

Greenpeace activisits pour molasses in front of French oil giant Total Total headquarters

Getty Images

3/29 27 March 2017

Kashmiri villagers watch the funeral procession of suspected rebel Shahbaz Shafi, also known as Rayees Kachroo, at Belov village in Pulwama, south of Srinagar. Two suspected rebels were killed during an ambush by Indian government forces. Several rebel groups have spent decades fighting Indian soldiers deployed in the disputed territory, demanding independence or a merger with Pakistan which also claims the Himalayan region in its entirety

Getty Images

4/29 27 March 2017

Kashmiri villagers carry the body of suspected rebel Shahbaz Shafi, also known as Rayees Kachroo, at Belov village in Pulwama, south of Srinagar

Getty Images

5/29 27 March 2017

Rescue workers carry victims after an avalanche hit a group of high school students and teachers climbing near a ski resort in Nasu town, north of Tokyo, Japan

Reuters

6/29 27 March 2017

Supporter of South Korea's impeached ex-president Park Geun-Hye stand in front of a wall displayed with rose and pictures of Park outside the former leader's residence in Seoul

Getty Images

7/29 27 March 2017

Police officers stand guard outside the residence of South Korea's impeached ex-president Park Geun-Hye in Seoul

Getty Images

8/29 26 March 2017

French presidential election candidate for the En Marche movement Emmanuel Macron holds a child as he is greeted upon his arrival in Dzaoudzi, on the French Indian Ocean island of Mayotte, as part of a campaign trip

Getty Images

9/29 26 March 2017

A member of the Libyan National Army (LNA) fires a machine gun mounted on the back of a Toyota pickup truck against jihadists in district of Suq al-Hut in the eastern coastal city of Benghazi

Getty Images

10/29 26 March 2017

Opposition supporters rally against corruption in central Saint Petersburg

Getty Images

11/29 26 March 2017

Opposition supporters with a cutout figure depicting Prime Minister Dmitry Medvedev participate in an anti-corruption rally in central Saint Petersburg

Getty Images

12/29 26 March 2017

Police officers detain a man during an unauthorised anti-corruption rally in central Moscow

Getty Images

13/29 25 March 2017

People hold banners and flags during a demonstration against Erdogan dictatorship and in favour of democracy in Turkey, in Bern, Switzerland

Reuters

14/29 24 March 2017

Local government have decided to rename the island's main airport after the Madeira-born footballer Cristiano Ronaldo. The official inauguration ceremony is due to take place on 29 March

Getty Images

15/29 24 March 2017

Workers began the renaming works of the Madeira International Airport in Funchal, Madeira, Portugal. Local government have decided to rename the island's main airport after the Madeira-born footballer Cristiano Ronaldo

Getty Images

16/29 24 March 2017

Turkish rescue workers and medics work next to the bodies of migrants laid out near an ambulance in Kusadasi, Turkey

AP

17/29 23 March 2017

Russia's President Vladimir Putin and Maly Theatre Artistic Director Yuri Solomin talking ahead of the Last Sacrifice play at the Maly Theatre

Getty Images

18/29 23 March 2017

The Brandenburg Gate is illuminated with the colours of the British flag to show solidarity with the victims of the recent attack in London, in Berlin, Germany

Reuters

19/29 23 March 2017

US President Donald Trump sits in the drivers seat of a semi-truck as he welcomes truckers and CEOs to the White House in Washington, DC

Getty Images

20/29 22 March 2017

James Harris Jackson is escorted out of a police precinct in New York. Police said Jackson, accused of fatally stabbing a black man in New York City, told investigators he travelled from Baltimore specifically to attack black people

AP

21/29 20 March 2017

High-rise buildings are partly covered by heavy fog at Hong Kong's Victoria Harbour

AP

22/29 20 March 2017

Libyan fishermen rescue migrants from a sinking dinghy off the Libyan coastal town of Zawiyah, east of the capital, as they attempted to cross from the Mediterranean to Europe

Getty Images

23/29 20 March 2017

Migrants wait to be rescued from a sinking dingey off the Libyan coastal town of Zawiyah, east of the capital

Getty

24/29 19 March 2017

Lebanese activists from the Civilian motionless, and from various parties wave national flags during a protest against new high taxes in front of the Lebanese government palace in Beirut , Lebanon

EPA

25/29 19 March 2017

People march to protest the regional Catalan government's push to break away from the rest of Spain, in Barcelona, Spain

AP

26/29 19 March 2017

An activist lays half-naked with fake blood in a cage during a protest for animal rights, against the suffering and murdering of animals and against animal testing in Athens, Greece

EPA

27/29 18 March 2017

Passengers wait at Orly airport southern terminal after a shooting incident near Paris, France

Reuters

28/29 16 March 2017

Wearing Coyote masks and business suits and waving signs against Canada Goose and their use of fur, PETA members gather outside the New York Stock Exchange

Getty Images

29/29 16 March 2017

View of the Tocqueville high school after a shooting has taken place injuring at least eight people, in Grasse, southern France

Reuters
McCloud stabbed the man in the back of his shoulder, then tied him back up again.
But the wife somehow persuaded McCloud to let her leave the bathroom.
When she returned, she was holding the family's handgun.
She shot McCloud.
Then she cut loose her husband, who promptly fired several more bullets into the intruder, police said.
The family ran outside into the rain and flagged down a passing car, whose driver called 911.
When police arrived, they found the fugitive slumped over the bathtub, Warren County Deputy Coroner Kelda Bailess told the AP.
He had been killed by his own hostages.
"This is absolutely not the outcome we had all hoped for," Warren County Sheriff Martin Pace told the AP. "We had wanted to capture him and have him stand before the judge. But he chose this, and I am so personally relieved that this family was not injured more than they were and they were able to protect themselves."
Authorities have not named the hostages.
"I hate that they had to go through that, but I'm very grateful and I thank God that no one was killed," Armstrong told the Clarion-Ledger.
The police chief said he suspected McCloud may have had help during his time on the lam.
"He had on tennis shoes; nice, white tennis shoes and a pair of blue jeans, so there is some indication someone has been helping him or he stole those items," Armstrong told the Vicksburg Post. "But the shoes looked to be the exact size he wears."
Neighbours said they were startled to learn McCloud hadn't fled from town.
"It makes you want to make sure you know where all your guns and knives are," Terry Kleinman, a neighbour, told the Clarion-Ledger, adding that it was "eerie" his family could have been targeted just as easily.
"I was kind of surprised he was still in the area," another neighbour, Mike Keck, told the AP. "I thought he would've tried to get as far away as possible.
"I'm glad to see it's finally over. We can be at ease now."
© Washington Post
Reuse content