The family's nightmare began before dawn Thursday.
It was already pouring outside when the husband woke around 4 a.m. The rain wouldn't stop for hours. It would end up as the wettest March 10 ever recorded in Vicksburg, Miss.
The husband swung his legs out of bed. He picked up his 5-year-old son. Then he walked toward the garage to start his wife's car.
That's when Rafael McCloud slipped out of the shadows with a knife.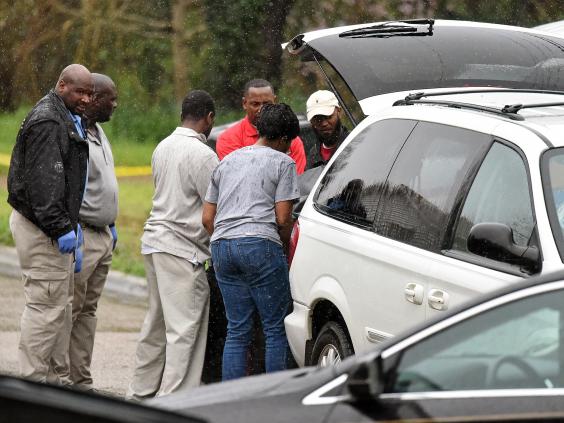 McCloud had escaped from a nearby jail, where the 34-year-old was held on charges of raping and murdering a woman more than twice his age. For eight days, he had evaded authorities by shuttling between abandoned properties. Now he had found a new home.
Never mind that it was already occupied.
McCloud tied up the man as his wife and their son watched in terror.
Three hours later, police would receive a 911 call from the residence.
They would race through the rain to the yellow brick house on Fort Hill Drive.
And there, in the bathtub, they would find a dead body — just not the one they feared.
A real-life American horror story
The past nine months have tested the residents of Vicksburg, a city so far south its nickname is the Gibraltar of the Confederacy. It sits on the edge of the Mississippi River, within sight of Louisiana.
It is a place haunted by its past: by slavery, by lynchings and by more recent horrors.
Few are as fearsome as the tale of Rafael McCloud.
It is a real-life American horror story, involving rape, murder, kidnapping and a haunted house.
And like many horror stories, it begins and ends with a corpse.
The first body appeared last summer.
On June 29, 2015, a group of ghost hunters sneaked inside the Kuhn Memorial State Hospital. The abandoned hospital had long been considered haunted, drawing supernatural thrill-seekers from across the country. It was even the scene for a locally produced horror flick, featuring an evil clown.
But the blood that the ghost hunters spotted on the hospital floor was all too genuine. They followed the trail of gore through the collapsing hospital, down a flight of stairs and outside. In a patch of tall grass, they found the body of a woman.
She had been raped, beaten and shot in the head, a coroner would later determine.
Earlier that day, police in Leland, an hour north of Vicksburg, pulled over a stolen car. Inside sat Rafael McCloud, his 20-year-old nephew and a stolen gun.
When police ran the car's plates, they realized it belonged to Sharen Wilson, a 69-year-old woman in Vicksburg. They called Vicksburg police, who found Wilson's house ransacked.
"We checked, and she was not there," Vicksburg Police Chief Walter Armstrong told the Clarion-Ledger.
Under questioning, Rafael McCloud admitted to robbing Wilson, but said he left her near the side of the road, according to CBS.
Cops were searching for Wilson when the ghost-hunters found her body.
Rafael McCloud was charged with capital murder, rape, burglary and attempted arson, among other crimes. His nephew was released without charge.
The case shocked the city of 23,000. It was the fourth murder so far that year in a town that rarely saw one.
But Wilson's gruesome murder set it apart.
"It was shocking and devastating and horrifying and certainly what we heard here today only adds to that horror," Rev. Beth Palmer, a close friend of Wilson's, told MS News Now. "I think that some of our worst fears were realized in hearing the preliminary evidence."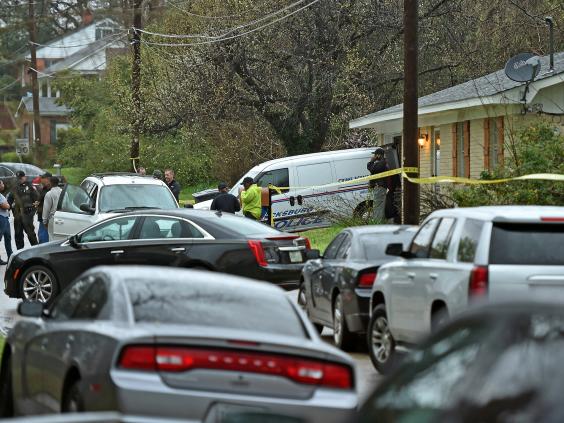 The case also stirred racial animus in the region, as Wilson was white and McCloud black.
"So, capital murder, rape, sexual battery, arson, home invasion, and burglary … and a dead 69-year-old White woman found lying in a pool of her own blood on Martin Luther King Boulevard in Vicksburg, MS," wrote a "Pro-White, Pro-South and Pro-Independence" website. "Oh wait, this is something we are not supposed to talk about, right?"
The trial was expected to draw intense media coverage. If convicted, McCloud could face the death penalty.
There would be no trial, yet McCloud would not escape punishment.
Jailbreak
The Warren County Jail looks more like a schoolhouse than the place to hold an accused murderer. It's built of red brick with large windows. Its decorative fence is about two feet tall.
When Rafael McCloud ran out of the jail on March 2, 2016, therefore, there was nothing and no one to stop him.
McCloud had escaped from his cell by taking a night shift jail employee hostage with a homemade knife, an investigator with the Warren County Sheriff's Department told CNN. The accused murderer forced the jailer to hand over his pants, jacket, keys and radio. Then he fled.
For more than a week, McCloud managed to evade authorities, despite sticking to a mere one-mile radius.
Meanwhile, Armstrong made the rounds, stopping by the city's senior center to show photos of McCloud and to warn that he was armed and extremely dangerous.
"He is very capable of killing, holding someone hostage and kidnapping," the police chief told CNN.
One of the first places McCloud went was the abandoned hospital where he had allegedly raped, beaten and killed Wilson eight months earlier.
There, cops would later find his stolen prison pants, according to the Associated Press.
He was also reportedly spotted near the McNutt House, a historic home on First East Street.
According to several 911 callers, however, McCloud was also seen about a mile away, in the area around Fort Hill Drive.
A downpour, a desperate fugitive and a dramatic end
The record rainfall began around 2:30 in the morning. It would continue for more than 12 hours straight, flooding roadways and swelling streams.
Maybe it was the torrential downpour that drove McCloud inside the garage on Fort Hill Drive. Or maybe he was already there, hiding from authorities.
Either way, the fugitive was waiting when the husband and his son entered the garage at around 4 a.m., according to the AP.
McCloud pounced. Armed with a knife, he forced the family back inside the home. Then he tied up the husband and held all three hostage inside the bathroom.
If the stage seemed set for a sequel to the hospital slaying, then the family had other ideas.
After several hours of captivity, the husband suddenly slipped his bonds and attacked the intruder.
World news in pictures
World news in pictures
1/30 27 September 2016

A woman eats and struggles with her umbrella against powerful gusts of wind generated by typhoon Megi across the the island in Taipei, Taiwan. Schools and offices have been closed on Taiwan and people in dangerous areas have been evacuated as a large typhoon with 162 kilometers- (100 miles-) per-hour winds approaches the island

AP

2/30 27 September 2016

Alstom employees stage a protest in front of its headquarters in St Ouen, north of Paris, asking not to close a plant in Belfort, eastern France, which employs 400 people. Alstom's situation is considered by many French politicians as symbolic of France's difficulty of keeping a strong industry at home

AP

3/30 26 September 2016

A man poses as he gathers with others at Bogota's Bolivar main square, to celebrate the historic peace agreement between the Colombian government and the Revolutionary Armed Forces of Colombia (FARC). Colombia will turn the page on a half-century conflict that has stained its modern history with blood when the FARC rebels and the government sign a peace deal. President Juan Manuel Santos and the leader of the FARC, Rodrigo Londono, better known by his nom de guerre, Timoleon "Timochenko" Jimenez, are set to sign the accord at 2200 GMT in a ceremony in the colorful colonial city of Cartagena on the Caribbean coast

AFP/Getty Images

4/30 26 September 2016

Tourists pose in front of the illuminated Eiffel Tower during an event to mark the Breast Cancer Awareness month in October in Paris

AFP/Getty Images

5/30 26 September 2016

A nail house is seen in the middle of an area covered by a dust screen in Hangzhou, Zhejiang province, China

REUTERS

6/30 26 September 2016

Students at the Durban University of Technology march as countrywide protests demanding free tertiary education continue, in Durban, South Africa

REUTERS

7/30 26 September 2016

Palestinian women throw sweets at the militants from the al-Nasser Brigades, an armed wing of the Popular Resistance Committees (PRC), while marching on their vehicles during a rally to commemorate the 16th anniversary of their group in Gaza

AP

8/30 26 September 2016

A supporter of Awami Ittihad Party (AIP), a pro-India party, is detained by Indian police during a protest demanding to hold a plebiscite, in Srinagar

REUTERS

9/30 25 September 2016

A dog wipes out during the Surf City Surf Dog competition in Huntington Beach, California

REUTERS

10/30 25 September 2016

Indian folk dancers from the Panghat Group of Performing Arts perform during a dress rehearsal for an event to mark the forthcoming Hindu festival 'Navaratri', or the Festival of Nine Nights, in Ahmedabad

AFP/Getty Images

11/30 25 September 2016

An artisan hangs decorative pieces at a pandal, or a temporary platform, for the upcoming Hindu festival of Durga Puja, in Kolkata, India

REUTERS

12/30 25 September 2016

Runners take the start of the 43rd Berlin Marathon in Berlin

AFP/Getty Images

13/30 25 September 2016

The Five-hundred-metre Aperture Spherical Radio Telescope (FAST) is seen on its first day of operation in Pingtang, in southwestern China's Guizhou province. The world's largest radio telescope began operating in southwestern China, a project which Beijing says will help humanity search for alien life

AFP/Getty Images

14/30 25 September 2016

Australian knight Philip Leitch (R) has a floral basket on his helmet smashed by an opponent at the St Ives Medieval Fair in Sydney, one of the largest of its kind in Australia

REUTERS

15/30 25 September 2016

A security guard working at the Cascade Mall places flowers at a makeshift memorial in Burlington, to the five victims killed in a shooting at the mall. The 20-year-old man suspected of killing the five people with a rifle at a Macy's makeup counter had a string of run-ins with the law in recent years, including charges he assaulted his stepfather

AP

16/30 25 September 2016

A man works in a rice field where rice crop is planted in a shape which looks like a map of China, ahead of China's National Day, in Shanghai, China

REUTERS

17/30 25 September 2016

Law enforcement officials inspect a boat overturned on a jetty, off Miami Beach. Authorities said that Miami Marlins starting pitcher Jose Fernandez was one of three people killed in the boat crash the day before. Fernandez was 24

AP

18/30 24 September 2016

Syrians await to receive treatment at a make-shift hospital following air strikes on rebel-held eastern areas of Aleppo. Heavy Syrian and Russian air strikes on rebel-held eastern areas of Aleppo city killed at least 25 civilians, the Britain-based Syrian Observatory for Human Rights said, overwhelming doctors and rescue workers

AFP/Getty Images

19/30 24 September 2016

A fire broke out on a tanker belonging to the Mexican state oil company PEMEX, causing no injuries, according to a company official, in the Gulf of Mexico off the coast of Boca del Rio in Veracruz state, Mexico

AFP/Getty Images

20/30 24 September 2016

Participants attend a competition of the 2016 XTRAIL Expedition at Kanas National Geological Park in Altay, China's Xinjiang Uygur Autonomous Region

REUTERS

21/30 23 September 2016

Protesters march in the streets during another night of protests over the police shooting of Keith Scott in Charlotte, North Carolina

REUTERS

22/30 23 September 2016

Campaigners pose on a 'United To Stop Trump' cardboard wall in front of the Brandenburg Gate to urge Americans living abroad to register and vote in Berlin, Germany

REUTERS

23/30 23 September 2016

A man rests on his cart after unloading plastic jugs near a shop at a main market in Colombo, Sri Lanka

REUTERS

24/30 23 September 2016

Staff inspect the presentation before the Swiss Cheese Awards competition in Le Sentier, Switzerland. One hundred and fourty-two experts have to choose the best out of 777 cheeses from 353 producers competing in 28 categories

REUTERS

25/30 23 September 2016

Israeli settler bride Yael Levi (C) is surrounded by friends and relatives during her wedding ceremony at the plaza outside the Cave of the Patriarchs also known as the Ibrahimi Mosque, which is a holy shrine for Jews and Muslims, in the heart of the divided city of Hebron in the southern West Bank

AFP/Getty Images

26/30 22 September 2016

A South Korean army special forces soldier breaks bottles with his hand during the Naktong River Battle re-enactment in Waegwan, South Korea. South Korean Defense Ministry reenacted one of the important battles as part of commemoration events for the 66th anniversary of the Korean War

AP

27/30 22 September 2016

Women wait on a street in Pyongyang, North Korea

AFP/Getty Images

28/30 22 September 2016

A general view shows buildings destroyed during Saudi-led air strikes in the rebel-held Yemeni port city of Hodeida the previous day. Saudi-led coalition air strikes have killed 20 civilians in a rebel-held port city in Yemen, a government official said in a rare admission of a possible "error" by the alliance. The strikes came as Riyadh faces mounting international scrutiny over civilian casualties in its 18-month campaign against rebels in Yemen

AFP/Getty Images

29/30 22 September 2016

An Indian woman carries her belongings as she wades through flood waters following heavy rain in the low-lying area of Quthbullapur on the outskirts of Hyderabad. Rains that have caused heavy flooding around Hyderabad are expected to continue in the coming days, Indian meteorological officials said

AFP/Getty Images

30/30 21 September 2016

A protester, center, is taken into custody by Charlotte-Mecklenburg police officers in Charlotte. Authorities in Charlotte tried to quell public anger after a police officer shot a black man, but a dusk prayer vigil turned into a second night of violence, with police firing tear gas at angry protesters and a man being critically wounded by gunfire. North Carolina's governor declared a state of emergency in the city

AP
McCloud stabbed the man in the back of his shoulder, then tied him back up again.
But the wife somehow persuaded McCloud to let her leave the bathroom.
When she returned, she was holding the family's handgun.
She shot McCloud.
Then she cut loose her husband, who promptly fired several more bullets into the intruder, police said.
The family ran outside into the rain and flagged down a passing car, whose driver called 911.
When police arrived, they found the fugitive slumped over the bathtub, Warren County Deputy Coroner Kelda Bailess told the AP.
He had been killed by his own hostages.
"This is absolutely not the outcome we had all hoped for," Warren County Sheriff Martin Pace told the AP. "We had wanted to capture him and have him stand before the judge. But he chose this, and I am so personally relieved that this family was not injured more than they were and they were able to protect themselves."
Authorities have not named the hostages.
"I hate that they had to go through that, but I'm very grateful and I thank God that no one was killed," Armstrong told the Clarion-Ledger.
The police chief said he suspected McCloud may have had help during his time on the lam.
"He had on tennis shoes; nice, white tennis shoes and a pair of blue jeans, so there is some indication someone has been helping him or he stole those items," Armstrong told the Vicksburg Post. "But the shoes looked to be the exact size he wears."
Neighbours said they were startled to learn McCloud hadn't fled from town.
"It makes you want to make sure you know where all your guns and knives are," Terry Kleinman, a neighbour, told the Clarion-Ledger, adding that it was "eerie" his family could have been targeted just as easily.
"I was kind of surprised he was still in the area," another neighbour, Mike Keck, told the AP. "I thought he would've tried to get as far away as possible.
"I'm glad to see it's finally over. We can be at ease now."
© Washington Post
Reuse content