There is no record of what Rahm Emanuel said when he learned that he had failed to win the 50 per cent of votes he needed to avoid a run-off in his bid for re-election as mayor of Chicago. It surely wasn't pretty – he is known for his purple language.
Sending a dead fish to each of the thousands of Chicagoans who spurned him – the stunt he is alleged to have committed when a pollster angered him during his days as President Barack Obama's chief of staff – is not an option. He was back on the streets yesterday trawling for votes. The early April run-off will pitch Mr Emanuel, who won his first term in 2011, against a county alderman, Jesus "Chuy" Garcia, who was second in a field of five.
Mr Emanuel's disappointing 45 per cent tally on Tuesday against Mr Garcia, who had 33 per cent, is a humiliation – he massively outspent his opponents and last week Mr Obama came through Chicago to endorse him.
Addressing supporters, Mr Emanuel said: "We have come a long way, and we have a little bit further to go. We will get back out there talking to our friends and families and neighbours as they make a critical choice about who has the strength, who has the leadership, who has the ideas to move this great city forward." If love is lacking for the mayor, it is best tracked back to a decision to close 50 struggling schools in 2012, triggering a teachers' strike. The schools were mostly in the heavily African-American and already deprived south and west sides of the city.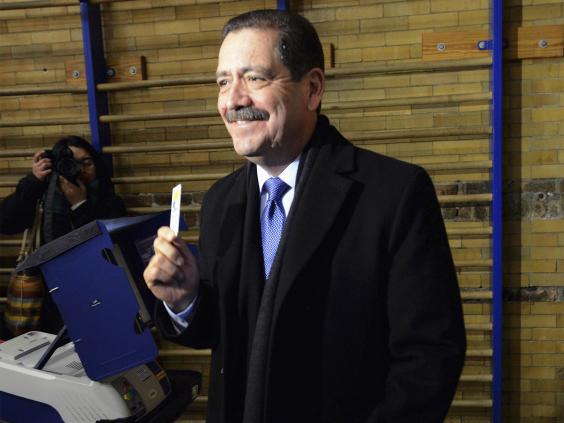 Chicago is also struggling with high rates of violent crime, even though homicides that spiked in 2013 fell to 407 in 2014, the lowest yearly toll in decades.
Mr Emanuel was accused by the left of working harder for the so-called "1 per cent" than for the city's dispossessed. It is a complaint based in part on his focus on luring new corporations to the city and reinforced by a Chicago Tribune report alleging that more than half of his donors had received some sort of benefits in return from his administration. Mr Emanuel spent more than $10m (£6.5m) on his campaign.
"Rahm Emanuel's millions of dollars weren't enough to whitewash his record of siding with big-money corporate interests over regular people," Ilya Sherman, executive director of the progressive activist group MoveOn, said. "The fact that a majority of Chicagoans voted for change is a clear rejection of his policies that have left too many behind."
Born in Mexico, Mr Garcia – Chuy is a slang name for Jesus – is presenting himself as the champion of Chicago's poorest. He has been boosted in the race by an endorsement from the city's main teachers' union and had strong support from community organisers. 
"We have something to say, we want change," he told supporters on Tuesday night. "This city deserves a mayor who will put people first, not big money, special interests. I will be that mayor."
He recently quipped that his facial hair had different shades for a reason. "My moustache has a rainbow of colours that represent our city's great diversity," he said. "Even Harold Washington [Chicago's first black mayor in the mid-1980s] didn't have the moustache credentials I do. His was mostly black and white. He couldn't boast having strands of brown, red and white and black in his moustache."
Reuse content