Raynette Turner, a 43-year-old black woman, died in police custody while waiting for her arraignment on a shoplifting charge in a jail cell in Mount Vernon, New York.
As reported by the New York Daily News, Ms Turner was arrested on 25 July on suspicion of shoplifting at a restaurant supply store.
Two days later, while waiting to be read her charges in court, she died.
Her husband, Herman Turner told the paper that he waited all day in the court waiting for his wife's arraignment, and was told to come back the next day when the court closed.
Raynette Turner, mother of 8, becomes fifth black woman to die in police custody this month http://t.co/HeDefEmMr4 pic.twitter.com/saJwegqJgp

— NewsOne (@newsone) July 29, 2015
He returned home, and the next day two detectives arrived to tell him his wife had died.
Ms Turner, a mother of eight, was transported to the nearby Monteifore Mount Vernon Hospital from the jail when she told officers that she felt ill.
Shortly after she was returned to the holding cell, she was found dead.
Mount Vernon Deputy Commissioner Richard Burke said that "no foul play" was suspected in Ms Turner's death.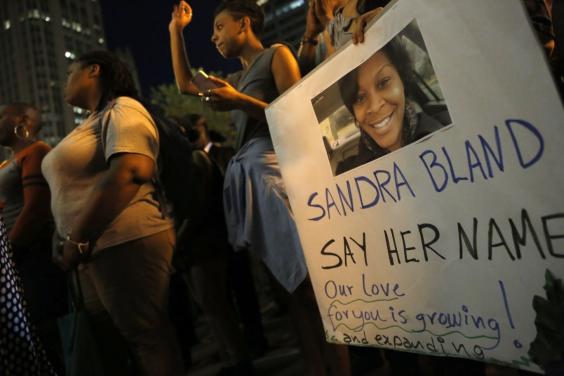 An autopsy has been scheduled, but Mr Turner said: "Somebody didn't do their job and my wife died for it."
Speaking at a press conference, Mayor of Mount Vernon, Ernie Davis, gave his condolences to Ms Turner's family, and said the cause of her death would be "ferreted out" by investigators.
Ms Turner had bariatric surgery last year and suffered from hypertension, according to Burke.
She is the fifth black woman to die in police custody in America this month, along with Sandra Bland, 28, Kindra Chapman, 18, Joyce Curnell, 50, and Ralkina Jones, 37.
Reuse content