He is a real-life Forrest Gump, but Jamie McDonald will finally stop running on Monday, after travelling more than 5,000 miles from one coast of Canada to the other, attracting dozens of people to jog along with him on the way.
On the epic journey, which began in St John's, Labrador, in March last year and ends in Vancouver, he nearly lost his nose to frostbite, was beaten up and robbed, and permanently damaged one of his feet. When he dives into the Pacific Ocean, he will become the first person in history to run from Canada's east to west coast without a support team.
In the process Mr McDonald, 27, from Gloucester, has raised more than £100,000 for hospitals in the UK and Canada – his way of paying back the children's hospital medical staff who saved him from a life-threatening illness. The condition, syringomyelia, had caused serious problems with his spine.
He set off on his Canada trip – in fancy dress as superhero the Flash – despite the fact he'd "never really run before" and "didn't do any training".
"I just can't believe it's over," Mr McDonald, a former tennis coach, said as he prepared for the final 35 miles.
"I really want to get the message across that if you just try, you can do anything. There's one drug that's better than any medicine... and that's inspiration."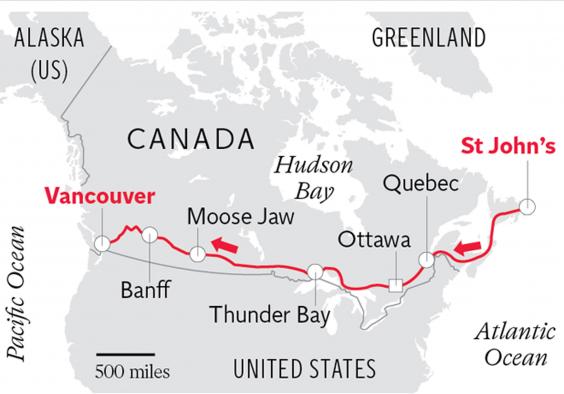 He spent most of the first nine years of his life in hospital. "Sometimes I wouldn't be able to move my legs. At nine years old, I started to move my body again. I'm really, really lucky the symptoms disappeared – I love to move," he said. "This [running across Canada] is my way of trying to give back to the hospital."
But Mr McDonald, who in 2012 cycled 14,000 miles from the Thai capital, Bangkok, to Gloucester, getting shot at and arrested on the way, may pay a high price for his latest adventure. At Winnipeg, after running 140 marathons, he developed chronic tendonitis. He was advised to stop, but after a week's break, he ran on in "agony for day after day, month after month, every single step".
With the finish in sight, he said he was "so happy I got through that". However, he said a bone-spur had grown over the inflammation, noting stoically: "I might not be able to run again. Who knows?
"I'm ecstatic that I have finished," he said, but added: "I'm sad that it's over, as it's been such a big part of my life and I'm uncertain about what happens next."
When he was robbed in Banff, a ski resort west of Calgary, he lost most of his possessions but they were returned, minus some cash, after a public outcry. He paid for the run out of money he had saved for a mortgage, but said he "felt like Canada was right behind me, every step of the way".
"Thinking about all the people that have helped me, whether it was offering a bed, or handing me a coffee," he said, "it brings a tear to my eye." And, as for Forrest Gump, Mr McDonald, who hopes to become a motivational speaker, said: "I love it. I've watched it about 10 times. It's one of the best films in the world."
Reuse content