The city of  Vernon, California is little more than five square miles of flat industrial plain, where railway tracks and power lines run between the factories and warehouses.
Its most prominent landmark is a water tower and its residents numbered 114 in 2013. Its history, however, is riddled with enough corruption to suit a far larger community.
If this all sounds familiar to viewers of a certain US television crime drama, that is no coincidence. The second series of HBO's acclaimed True Detective stars Colin Farrell and Vince Vaughn as a corrupt cop and the crook who turned him in in a rotten industrial city named Vinci, at the heart of South Los Angeles.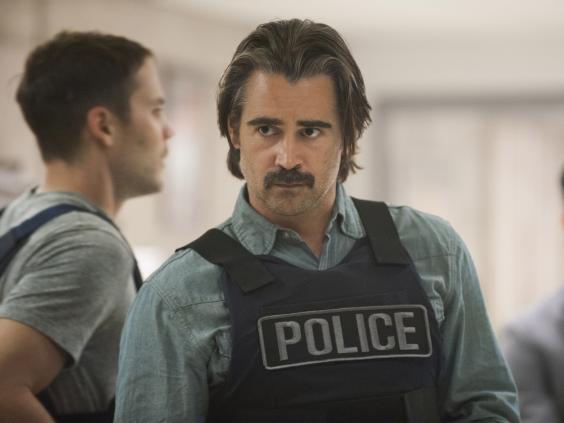 The show's creator, Nic Pizzolatto, has said in interviews that Vinci was loosely based on Vernon – and some of the series was filmed there.
Though it may not look like one in the traditional sense, Vernon has been officially a city since 1905, when it was founded by John Baptiste Leonis. Vernon has since developed its own business-friendly tax code, its own water and power agency, and a police force of more than 40.
The city's seal describes Vernon as "exclusively industrial" and it is home to approximately 1,800 businesses, including Tapatio Hot Sauce and a Whole Foods distribution centre, employing 50,000 people.
One of the biggest employers in Vernon is a Farmer John's meat-packing facility. It is wrapped in a rustic mural of farm animals frolicking in fields. Inside is a vast slaughterhouse.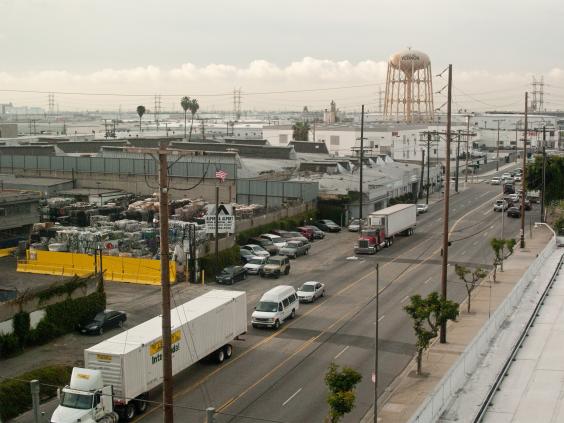 As mayor of Vernon, Mr Leonis was said to operate like a "feudal lord". Worth millions by his death in 1953, he left his fortune to his grandson Leonis Malburg, who subsequently served as mayor of Vernon for several decades. Malburg was convicted of voter fraud in 2009 after it was found that he lived not in Vernon, but in a mansion in the Hancock Park neighbourhood, which he had inherited from his grandfather.
In 2010, The Los Angeles Times published an exposé citing critics of the city's administration, who denounced Vernon as "a fiefdom run by a small cabal who controlled the population of about 100 people and used the city's coffers to lavish themselves with huge salaries and expensive meals and trips".
The newspaper found that the city enjoyed an annual budget of more than $300m (£190m), greater than that of Beverly Hills.
The following year, Bruce Malkenhorst, a former Vernon city administrator, pleaded guilty to misusing public funds, after earning a salary of $911,000 (£593,000) and a pension worth more than $500,000 per year – the largest of any public official in California.
His successor, Eric Fresch, was paid a salary of $1.6m in 2008. In 2012, Mr Fresch's body washed up on the Northern California coast, shortly after he was subpoenaed by the state to answer questions about Vernon's finances.
Officials in Marin County concluded that his death was accidental, and that he had slipped and hit his head while walking on slippery rocks in San Francisco Bay. The incident that sets in motion the plot of True Detective's latest run is the gruesome murder of Vinci's city manager, whose body is found at a point overlooking the Pacific.
In 2011 state legislators threatened to dissolve Vernon into Greater Los Angeles. The city narrowly avoided a death sentence by agreeing to sweeping reforms, including capping the salaries and limiting the terms of its council members. A private developer was also brought in to build 45 new low-income homes – thus doubling the city's population, and greatly diluting its electorate.
The development, Vernon Village Park, is due to open shortly before this series of True Detective concludes.
Frederic MacFarlane, a spokesman for the reformed City of Vernon, said: "Until Vernon Village Park opens and is fully leased, Vernon's other housing is still owned by the city. The argument made in the past was that City of Vernon officials were picking the people who lived there, and thereby having undue influence over how those residents might vote."
Why, though, would Vernon allow True Detective to shoot in the city, knowing the drama's subject matter?
The city has changed its stripes, Mr MacFarlane said, and wanted to do its part to keep film jobs in Los Angeles County. Besides, he added: "True Detective is fiction. The Vernon of 2015 is not the city in the show. If you actually made a multi-series programme on the real Vernon, I don't know whether people would find it entertaining."
Reuse content