The struggle in the United States over reproductive healthcare for women has flared in an unexpected fashion as a candidate for the White House delved publicly into his past sex life just hours after a first – but surely not the last – effort by Republicans to cancel all federal funding for Planned Parenthood failed.
New Jersey Governor Chris Christie startled some of the breakfast crowd at Blake's Restaurant in Manchester, New Hampshire, by volunteering that he has used contraceptive assistance in the past. He and most of the other Republicans had participated in a televised forum in Manchester where bashing Planned Parenthood was a favourite theme.
"I'm a Catholic but I've used birth control – and not just the rhythm method," Mr Christie said. What point he was trying to illuminate wasn't quite clear. But as one voter buried his head in his hands, the Governor continued: "My church has a teaching against birth control. Does that make me an awful Catholic? Because I believe and practised that function during part of my life? I don't think so."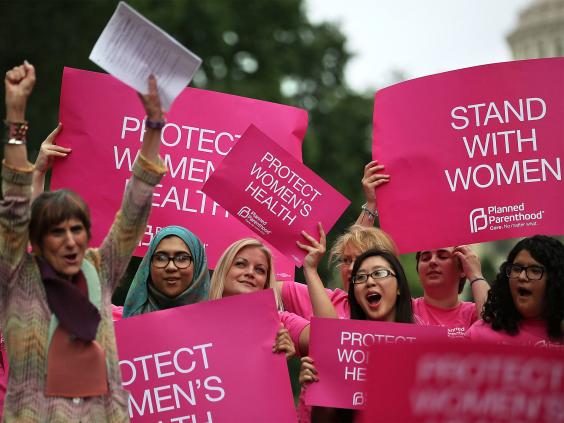 Republicans on Capitol Hill and in the race for the White House have unleashed the dogs on Planned Parenthood, which operates about 700 women's health clinics across the country (abortions accounting for only 10 per cent of its services), after an anti-abortion group began releasing video clips puporting to show executives of the organisation discussing harvesting fetal tissue and selling it for profit to medical research laboratories.
The videos have triggered a fresh campaign from the right to have the roughly $500m (£320m) in annual funding for the group eliminated even though the federal dollars do not go to abortion services. Planned Parenthood has insisted that while some clinics may provide fetal tissues for research, any charges involved have been to cover costs only and are not aimed at generating profits, which would be illegal.
Senators Marco Rubio, Ted Cruz and Rand Paul, all candidates for 2016, were licking their wounds after a first effort to bring a defunding bill to the floor failed late Monday thanks to Democratic opposition. But they may attempt to attach amendments targeting Planned Parenthood to a general government spending bill next month, complete with threats to close down the government if they don't get their way.
Monday's shortfall at least gave Planned Parenthood a breather. "While some extreme Republicans may continue to insist on shutting down the government in order to deny healthcare, including birth control, to millions of women, that is a fight the American people have zero appetite for and a fight these extremists will not win," Cecile Richards, Planned Parenthood's president, said.
In Louisiana, Governor Bobby Jindal – another Republican hopeful – announced he was cancelling the state's Medicare contract with Planned Parenthood immediately. Separately, a formal investigation is under way in New Orleans after a suspicious fire at a site where a new Planned Parenthood clinic is under construction. Officials with the group have suggested it was deliberately set.
As Republicans fall over themselves to demonise an organisation that one in five adult American women have used at some point in their lives for medical help, Democrats are defending it – and demonising Republicans.
"I'm proud to stand with Planned Parenthood, I'll never stop fighting to protect the ability and right of every woman in this country to make her own health decisions," Hillary Clinton said in a video release by her campaign on Monday. "If this feels like a full-on assault on women's health, that's because it is."
Reuse content