Rescuers in Nicaragua are working to reach miners still trapped in a gold mine 24 hours after it collapsed.
The first 11 workers were freed on Friday night, walking out to cheers from relatives and fellow miners, but 13 are still underground.
Part of the El Comal gold and silver mine in the town of Bonanza collapsed on Thursday, cutting off men in a shaft.
One of the rescued miners, Marvin Urbina, said they saw an avalanche of mud and rock hurtling towards them and clung onto the walls of the mine as several colleagues were crushed.
"I asked God to let me live and he listened to me and now I will serve Him," the 34-year-old told US Channel 6.
Nicaragua's Interior Vice Minister, Carlos Najar, said the miners were dehydrated but in good health.
"They are coming out little by little, it's a slow process but we want to make sure they can get out safely," he said.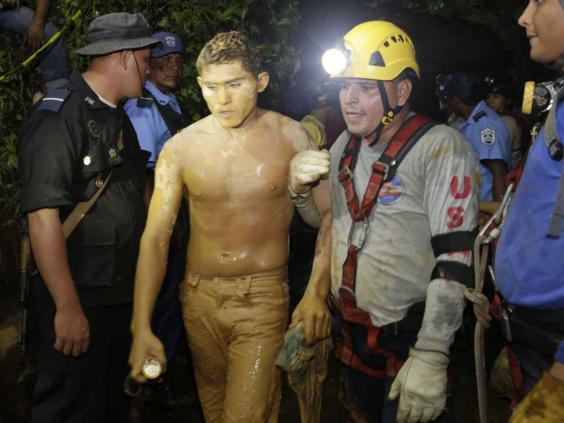 Earlier, authorities said 20 of the 24 miners had been located and had communicated with rescuers.
Hundreds of relatives and fellow miners had gathered to pray outside the mine as rescuers lined up ladders along a 60-metre long tunnel leading towards where the men were trapped.
The mine cuts into the side of a mountain and tunnels move upwards into the rock.
Javier Amaya, a commander of the rescue operation, said the rescue plan involved groups "of five or 10 miners entering the mine on wooden ladders, tying themselves off and going in until they reach them".
Outside the mine, Jorge Hernandez, 25, said he learned his brother was one of the miners on television.
"We're praying to God with all of our souls so that my brother and the other men can be rescued alive and well," he said.
It was unclear if he was one of the 11 miners rescued.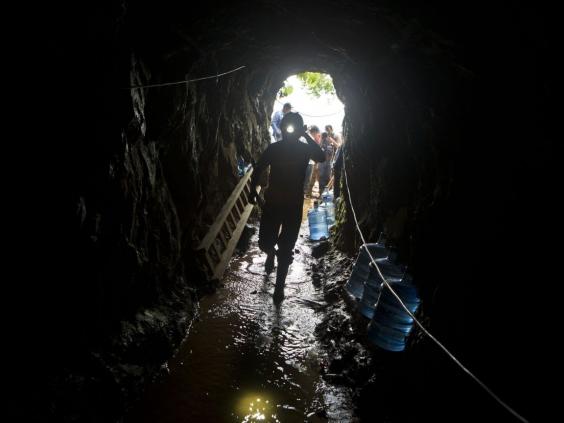 The gold and silver mine is operated by Colombian company Hemco but the trapped miners are freelancers allowed to work in the company's concession if they sell any gold they find to the firm.
A company spokesperson said they had been warned about the danger of working in the El Comal area, especially after two miners died in a landslide caused by rain last month.
"We live by extracting minerals from Hemco. They told us digging here was risky, but sometimes one is willing to risk it for a few more cents," said Absalon Toledo, leader of the freelancers.
Hemco has mined in area since 1995, according to its website, and employs 532 workers who process 700 tonnes of material a day.
The company says it produces more than 1,150 kilograms of gold a year and is Nicaragua's 12th largest exporter.
Additional reporting by AP
Reuse content