Richard Rockefeller, the great-grandson of Standard Oil co-founder John D. Rockefeller, has died in a plane crash outside New York City, a family spokesman confirmed on Friday.
The 65-year-old was the only person on board the single-engine aircraft when it took off from Westchester County Airpor, in the US state of New York, just after 8am on Friday.
Spokesman Fraser Seitel described Mr Rockefeller as an experienced pilot whose death left the family in shock.
Weather was foggy and visibility was about a quarter-mile (400 meters) at the time of the crash, police and airport officials said at a news conference. Pilots of private planes make the decision about whether to fly in such conditions, officers said.
They added there was no indication of a mayday or problem before the plane went down.
The aircraft narrowly missed colliding with a house in the hamlet of Purchase to the west of the airstrip. The plane then hit some pine trees and crashed in a garden where it broke into many pieces upon impact. Chunks of the plan were strewn about the property, with some parts lodged in the surrounding vegetation.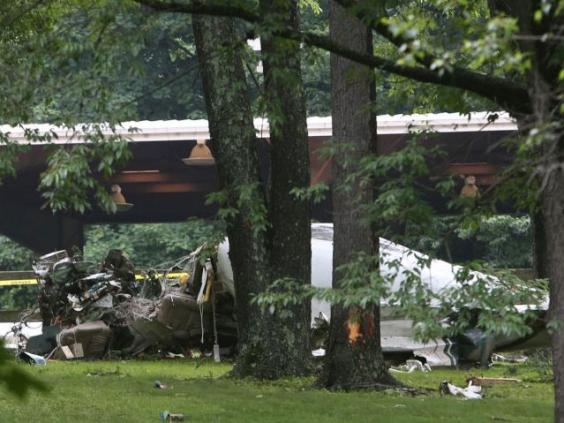 An emergency response was initiated after an FAA control tower was notified that the aircraft was missing from their radar.
The airport in Purchase was closed for a short time after the crash, with representatives from the Federal Aviation Administration and the National Transportation Safety Board expected to investigate the area.
Rockefeller is survived by his wife, Nancy, and their children, Clayton and Rebecca.
The father of two had been working on a way to treat post-traumatic stress disorder in wounded war victims before he died, said Mr Seitel.
"It's a terrible tragedy," Mr Seitel said.
"Richard was a wonderful cherished son, brother, father and grandfather."
Mr Rockefeller was the son of David Rockefeller –the former chairman and chief executive of Chase Manhattan Bank, now JPMorgan Chase. His father was a well-known philanthropist, and nephew of former Vice President Nelson A. Rockefeller, who also was governor of New York from 1959 to 1973.
Richard Rockefeller had eaten dinner with his father, David, in Westchester on Thursday, to celebrate the family patriarch's 99th birthday, Seitel said.
Reuse content