At least one person has died and seven people have been injured when a tornado slammed into northern Illinois on Thursday evening, destroying buildings and structures in its path.
The tornado was produced by supercell thunderstorms and flattened the small town of Fairdale. The Illinois Department of Emergency Management said at least one person died.
"The whole town was gone," witness Daniel Prothero told NBC. "It was one of the worst things I've ever seen in my life. It was heartbreaking."
The Rockford Fire Department said at least seven people were injured. Rockford Fire Department division chief Matthew Knott said every structure in Fairdale had been damaged by the tornado, adding: "The town is absolutely devastated".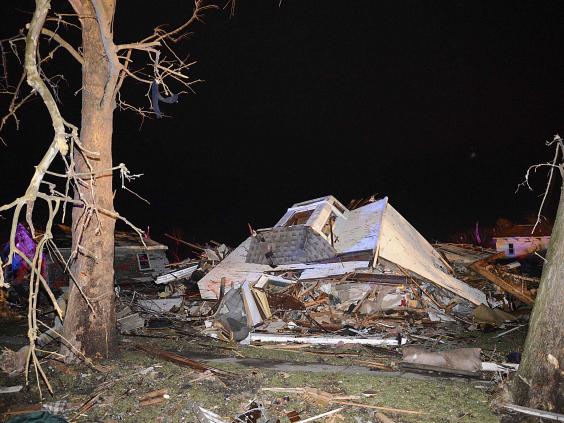 The deadly storm saw more than 850 flights at Chicago's O'Hare International Airport cancelled, along with dozens of other flights at the Midway International Airport, according to the Associated Press.
The National Weather Service tweeted around that a tornado was on the ground in nearby Rochelle at 7pm on Thursday evening and urged residents to seek shelter immediately.
13Wrex said an entire restaurant in Rochelle collapsed when the tornado hit and fire chiefs had to pull 12 people from the debris.
Confirmed: 12 people pulled from restaurant. Hear from a waitress, trapped when tornado hit. @13WREX pic.twitter.com/1WlZoIqbd2

; Lindsey Clark (@LindseyClarkk) April 10, 2015
Rescue teams were also pulling people from their homes.
The Ogle County Sheriff's dispatchers told CNN there has already been multiple reports of injuries and damage. A spokeswoman for the Rochelle Community Hospital said it was in "disaster mode" and preparing for casualties.
The tornado was part of a storm that tracked across at least five counties, according to the Weather Service.
Radar and reports from trained spotters also show the storms produced "at the very least" one other tornado in northern Illinois.
The Emergency Management Agency Director Kevin Lalley confirmed Lee County also had a tornado rip through it. He could not confirm the extent of the damage.
A severe thunderstorm watch is running for parts of eastern Ohio, West Virginia, eastern Kentucky and eastern Tennessee, according to the Weather Channel.
Additional reporting by AP
Reuse content