A local official in Colorado who has spent the last month giving out gay marriage licences – even though the state is yet to decide its position on the practice – has been ordered to stop.
Hillary Hall, who runs Boulder County's register office, started issuing the licences to same-sex couples when an appeals court in the neighbouring state of Utah ruled in their favour.
Voters in Colorado itself passed a constitutional amendment in 2006 that defined marriage as between one man and one woman, and the state has yet to have this position tested by the US Supreme Court.
As a result, gay marriages in Colorado remain illegal – but that wasn't going to stop Ms Hall.
She argued that because Boulder sat within the jurisdiction of the Utah federal appeals court, the decision on a case in that (also conservative) state should apply to her county.
The clerk went on to issue 202 marriage certificates to gay couples, and was joined in her stance by the county clerks of Denver and Pueblo.
But Colorado's state Attorney General, the Republican John Suthers, accused Ms Hall of wilfully misinterpreting the Utah verdict.
Mr Suthers has launched several legal bids to get her to stop in the past month, and on Tuesday the Colorado Supreme Court agreed to his request.
It ruled that the clerk shouldn't issue any more of the permits until the issue had been ultimately resolved, and a similar block has also been applied to Denver County's clerk Debra Johnson.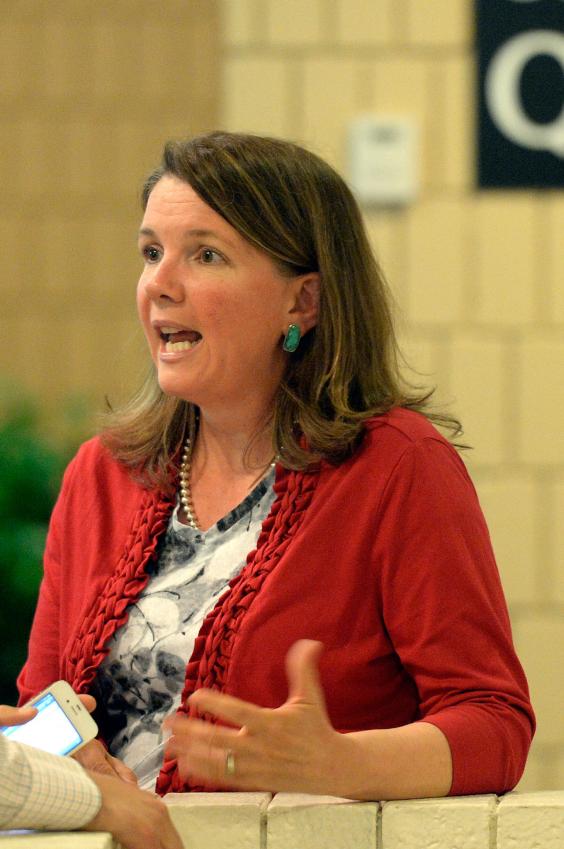 Ms Hall said she was disappointed by the ban, but said it was inevitable that the US Supreme Court would find in favour of gay marriages in Colorado.
She said: "Given the avalanche of recent cases determining that same-sex marriage bans are unconstitutional, I am hopeful the stay will be short-lived and that we will be able to resume issuing licenses soon."
Mr Suthers said the decision restored order to Colorado's legal process by making it clear that all clerks and recorders should comply with existing state law.
"We are pleased that the focus may now return to the important constitutional issues posed by the same-sex marriage cases pending in Colorado and around the country," he said.
Pueblo County's clerk also said the ban would be observed there, and Mr Suthers said the ruling should be seen as applying to all 64 counties to avoid "legal chaos".
Last year the US Supreme Court ruled that the government must extend benefits to all legally married couples, gay or straight.
Since then, each of the 20 higher state or federal court that has taken up the issue has ruled that it is unconstitutional to ban same-sex marriage.
The most recent of these decisions came on Monday this week, when judges in a Virginia federal appeals court decided that the state's ban had "impermissibly infringe[d] on its citizens' fundamental right to marry".
Lawyers for Colorado have conceded that the state's own prohibition on same-sex marriage is unlikely to withstand constitutional scrutiny, but said that the behaviour of county clerks should be governed by the law as it stands – for now.
Reuse content