After a long day at work, 42-year-old black seamstress Rosa Parks boarded a bus in Montgomery, Alabama. She went to the back and took a seat in the section designated for black ("coloured") people. Rosa's subsequent refusal to give up her seat to a white passenger, as demanded by the white bus driver, resulted in her being arrested, tried and convicted for civil disobedience.
That was 1955, and 1 December marks the anniversary of that small, yet monumental, act by Parks. Her actions led to a year-long bus boycott by Montgomery's black residents and – ultimately – the US Supreme Court ruling that bus segregation was unconstitutional.
Meanwhile, in 1956, less than a year after Parks triggered the Montgomery bus boycott, Rob Williams took over the leadership of the Monroe (North Carolina) chapter of the National Association for the Advancement of Coloured People (NAACP). Significantly, he was the first civil rights leader to advocate against non-violence.
In 1959, after a jury in Monroe aquitted a white man of the attempted rape of a black woman, Williams pronounced on the court steps:
"It is time for Negro men to stand up and be men and if it is necessary for us to die we must be willing to die. If it is necessary for us to kill we must be willing to kill."
Civil Rights legacy
The civil rights movement which Parks, who died in 2005, helped kickstart led to great change in US society through the dismantling of Jim Crow (racial segregation) laws. She went on to become an iconic figure renowned throughout the world as a pioneer of the freedom of movement.
In comparison, Williams' story has largely been erased from history. His insistence that black people bear arms in order to defend themselves against violent racism led to his falling out of favour with the national leadership of the NAACP. On the run from the FBI between 1961 and 1969, Williams found himself in exile at the height of the struggle, first in Cuba and then China.
Culture news in pictures
Culture news in pictures
1/30 30 September 2016

An employee hangs works of art with "Grand Teatro" by Marino Marini (R) and bronze sculpture "Sfera N.3" by Arnaldo Pomodoro seen ahead of a Contemporary Art auction on 7 October, at Sotheby's in London

REUTERS

2/30 29 September 2016

Street art by Portuguese artist Odeith is seen in Dresden, during an exhibition "Magic City - art of the streets"

AFP/Getty Images

3/30 28 September 2016

Dancers attend a photocall for the new "THE ONE Grand Show" at Friedrichstadt-Palast in Berlin, Germany

REUTERS

4/30 28 September 2016

With an array of thrift store china, humorous souvenirs and handmade tile adorning its walls and floors, the Mosaic Tile House in Venice stands as a monument to two decades of artistic collaboration between Cheri Pann and husband Gonzalo Duran

REUTERS

5/30 27 September 2016

A gallery assistant poses amongst work by Anthea Hamilton from her nominated show "Lichen! Libido!(London!) Chastity!" at a preview of the Turner Prize in London

REUTERS

6/30 27 September 2016

A technician wearing virtual reality glasses checks his installation in three British public telephone booths, set up outside the Mauritshuis museum in The Hague, Netherlands. The installation allows visitors a 3-D look into the museum which has twenty-two paintings belonging to the British Royal Collection, on loan for an exhibit from 29 September 2016 till 8 January 2017

AP

7/30 26 September 2016

An Indian artist dressed as Hindu god Shiva performs on a chariot as he participates in a religious procession 'Ravan ki Barat' held to mark the forthcoming Dussehra festival in Allahabad

AFP/Getty Images

8/30 26 September 2016

Jean-Michel Basquiat's 'Air Power', 1984, is displayed at the Bowie/Collector media preview at Sotheby's in New York

AFP/Getty

9/30 25 September 2016

A woman looks at an untitled painting by Albert Oehlen during the opening of an exhibition of works by German artists Georg Baselitz and Albert Oehlen in Reutlingen, Germany. The exhibition runs at the Kunstverein (art society) Reutlingen until 15 January 2017

EPA

10/30 24 September 2016

Fan BingBing (C) attends the closing ceremony of the 64th San Sebastian Film Festival at Kursaal in San Sebastian, Spain

Getty Images

11/30 23 September 2016

A view of the artwork 'You Are Metamorphosing' (1964) as part of the exhibition 'Retrospektive' of Japanese artist Tetsumi Kudo at Fridericianum in Kassel, Germany. The exhibition runs from 25 September 2016 to 1 January 2017

EPA

12/30 22 September 2016

Jo Applin from the Courtauld Institute of Art looks at Green Tilework in Live Flesh by Adriana Vareja, which features in a new exhibition, Flesh, at York Art Gallery. The new exhibition features works by Degas, Chardin, Francis Bacon and Sarah Lucas, showing how flesh has been portrayed by artists over the last 600 years

PA

13/30 21 September 2016

Performers Sean Atkins and Sally Miller standing in for the characters played by Asa Butterfield and Ella Purnell during a photocall for Tim Burton's "Miss Peregrines Home For Peculiar Children" at Potters Field Park in London

Getty Images

14/30 20 September 2016

A detail from the blanket 'Alpine Cattle Drive' from 1926 by artist Ernst Ludwig Kirchner is displayed at the 'Hamburger Bahnhof - Museum for Contemporary Arts' in Berlin. The exhibition named 'Ernst Ludwig Kirchner - Hieroglyphen' showing the complete collection of Berlin's Nationalgallerie works of the German artist Ernst Ludwig Kirchner and will run from 23 September 2016 until 26 February 2017

AP

15/30 20 September 2016

A man looks at portrait photos by US photographer Bruce Gilden in the exhibition 'Masters of Photography' at the photokina in Cologne, Germany. The trade fair on photography, photokina, schowcases some 1,000 exhibitors from 40 countries and runs from 20 to 25 September. The event also features various photo exhibitions

EPA

16/30 20 September 2016

A woman looks at 'Blue Poles', 1952 by Jackson Pollock during a photocall at the Royal Academy of Arts, London

PA

17/30 19 September 2016

Art installation The Refusal of Time, a collaboration with Philip Miller, Catherine Meyburgh and Peter Galison, which features as part of the William Kentridge exhibition Thick Time, showing from 21 September to 15 January at the Whitechapel Gallery in London

PA

18/30 18 September 2016

Artists creating one off designs at the Mm6 Maison Margiela presentation during London Fashion Week Spring/Summer collections 2017 in London

Getty Images

19/30 18 September 2016

Bethenny Frankel attends the special screening of Disney's "Beauty and the Beast" to celebrate the 25th Anniversary Edition release on Blu-Ray and DVD in New York City

Getty Images for Walt Disney Stu

20/30 17 September 2016

Visitors attend the 2016 Oktoberfest beer festival at Theresienwiese in Munich, Germany

Getty Images

21/30 16 September 2016

Visitors looks at British artist Damien Hirst work of art 'The Incomplete Truth', during the 13th Yalta Annual Meeting entitled 'The World, Europe and Ukraine: storms of changes', organised by the Yalta European Strategy (YES) in partnership with the Victor Pinchuk Foundation at the Mystetsky Arsenal Art Center in Kiev

AP

22/30 16 September 2016

Tracey Emin's "My Bed" is exhibited at the Tate Liverpool as part of the exhibition Tracey Emin And William Blake In Focus, which highlights surprising links between the two artists

Getty Images

23/30 15 September 2016

Musician Dave Grohl (L) joins musician Tom Morello of Prophets of Rage onstage at the Forum in Inglewood, California

Getty Images

24/30 14 September 2016

Model feebee poses as part of art installation "Narcissism : Dazzle room" made by artist Shigeki Matsuyama at rooms33 fashion and design exhibition in Tokyo. Matsuyama's installation features a strong contrast of black and white, which he learned from dazzle camouflage used mainly in World War I

AP

25/30 13 September 2016

Visitors look at artworks by Chinese painter Cui Ruzhuo during the exhibition 'Glossiness of Uncarved Jade' held at the exhibition hall 'Manezh' in St. Petersburg, Russia. More than 200 paintings by the Chinese artist are presented until 25 September

EPA

26/30 12 September 2016

A visitor looks at Raphael's painting 'Extase de Sainte Cecile', 1515, from the Uffizi Gallery in Florence during the opening of a Raphael exhibition at the Pushkin State Museum of Fine Arts in Moscow, Russia. The first Russian exhibition of the works of the Italian Renaissance artist Raffaello Sanzio da Urbino includes eight paintings and three drawings which come from Italy. Th exhibit opens to the public from 13 September to 11 December

EPA

27/30 11 September 2016

Steve Cropper and Eddie Floyd perform during Otis Redding 75th Birthday Celebration - Rehearsals at the Macon City Auditorium in Macon, Georgia

Getty Images for Otis Redding 75

28/30 10 September 2016

Sakari Oramo conducting the BBC Symphony Orchestra, the BBC Symphony Chorus and the BBC Singers at the Last Night of the Proms 2016 at the Royal Albert Hall in London

PA

29/30 9 September 2016

A visitor walks past a piece entitled "Fruitcake" by Joana Vasconcelo, during the Beyond Limits selling exhibition at Chatsworth House near Bakewell

REUTERS

30/30 8 September 2016

A sculpture of a crescent standing on the 2,140 meters high mountain 'Freiheit' (German for 'freedom'), in the Alpstein region of the Appenzell alps, eastern Switzerland. The sculpture is lighted during the nights by means of solar panels. The 38-year-old Swiss artist and atheist Christian Meier set the crescent on the peak to start a debate on the meaning of religious symbols - as summit crosses - on mountains. 'Because so many peaks have crosses on them, it struck me as a great idea to put up an equally absurd contrast'. 'Naturally I wanted to provoke in a fun way. But it goes beyond that. The actions of an artist should be food for thought, both visually and in content'

EPA
Williams returned to the US in 1969, at which point all federal charges against him by the government had been dropped. Rather than assume the leadership of the Black Power movement, Williams (who died in 1996) instead opted for a new career as an academic in Chinese Studies.
Significantly, the legacy of Parks and Williams for black communities and their demands for racial justice resulted in new opportunities amid unprecedented global shifts. Moreover, they challenge us to take a closer look at the political heirs to the lady on the bus and the uncompromising black man.
Post-industrial black ghetto
Since the 1970s, the US black population has been characterised by an affluent and growing middle class. This is both a legacy of, and an enduring testament to, the hard-fought achievements of the civil rights movement. But the existence of a large and expanding black urban underclass attests to the disproportionate impact of globalisation during the past half century.
Historically, the black American ghetto comprised the working poor and a small middle class. However, deindustrialisation and hyperghettoisation transformed these neighbourhoods into enclaves of extreme poverty, joblessness and welfare dependency.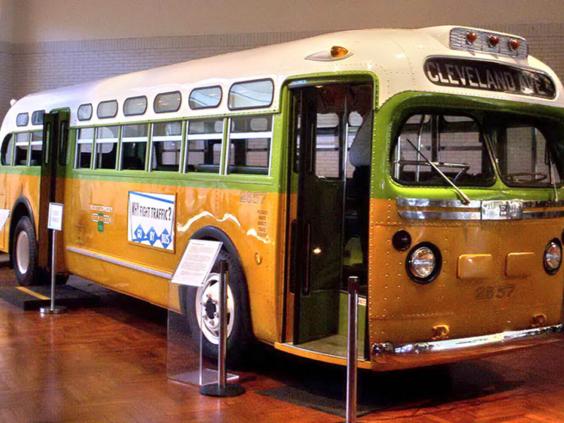 By the 1980s, heavy industry had all but disappeared in America's black metropolises, creating armies of jobless and impoverished young men. The surge in demand for crack cocaine during the mid 1980s and early 1990s provided much-needed economic opportunities. But this also led to significant increases in the rates of addiction and imprisonment in black ghetto neighbourhoods.
Criminalisation of poverty
For the past four decades, poor black communities have also had to contend with the "punitive turn" of social policy. Federal government, through legislation and increased spending, led on tackling racial inequality during the civil rights era. But by the 1980s and 1990s, welfare reform and tough law and order had become the twin obsessions of US domestic policymakers. The Reagan and Clinton administrations' war on drugs and urban crime has, according to law professor civil rights advocate Michelle Alexander, created the "New Jim Crow".
An array of local, state and federal laws targeting drug crimes has led to a prison crisis among young black males. In 1980, the US prison population stood at about 500,000. By 2008, the total number of people imprisoned had quadrupled to 2.3 million – almost 50 per cent of them black.
Alongside the problem of mass incarceration are the toxic issues of police racism and brutality. Nearly 40 years of "tough on crime" policies have created a national policing culture in which  racial profiling and stop and frisks without basis have become the norm. Meanwhile, the weapons and tactics deployed by law enforcement agencies in poor black neighbourhoods have become increasingly aggressive in both appearance and design.
A new civil rights era
Globalisation and the neoliberal domestic agenda have eroded some of the gains of the civil rights era. As the incarceration rates and incidences of lethal police violence indicate, the criminal justice arena is now the main battlefield in the fight against this "new Jim Crow".
Today, we're seeing a resurgent "new civil rights movement" with Black Lives Matter dominating the narrative. However, the legacies of Parks and Williams remind us that black movements for social justice have always been, and continue to be, contested sites of political resistance.
There are a multitude of black community-based groups and online protest movements concerned with bringing about social change in the US. They include non-violent organisations such as Baltimore's 300 Men March movement; 2020 Leaders of America; Campaign Zero, and the more radical #WeWillShootBack and New Black Panther Party.
While not as well chronicled as those political programmes focusing on racial integration, black separatist ideologies also have a long history within the US. The New Black Panther Party has a claim to a lineage that predates modern civil rights and nationalist leaders such as Malcolm X and Stokely Carmichael. Its intellectual and ideological legacy goes through Marcus Garvey in the 1920s, right back to the late 1700s.
Consequently, these new movements are more than just alternatives to Black Lives Matter. They are also a continuation of the longstanding parallel and competing struggles for integration and black nationalism in America.
This article first appeared on The Conversation (theconversation.com). Anthony Gunter is a principal lecturer in criminology, at the University of East London
Reuse content