The Russian government has dismissed allegations that the country's intelligence officials were in repeated contact with Donald Trump's team ahead of the US election.
"Let's not believe anonymous information," Vladimir Putin's spokesman Dmitry Peskov told reporters.
"It's a newspaper report which is not based on any facts."
Vladimir Jabbarov, a Russian senator, told state media the latest claims were part of an intelligence community conspiracy to have the President impeached.
"This is a common tactic to try to discredit a particular person," he added.
Russian officials struck a combative stance with the US on issues including the Ukrainian conflict, after the White House said Mr Trump "expects the Russian government to de-escalate violence in Ukraine and return Crimea".
The peninsula was annexed by Russia in 2014, prompting the US and EU to impose continuing sanctions on Russia and plunging relations with the Kremlin to their worst level since the end of the Cold War.
Maria Zakharova, a spokesperson for the Russian foreign ministry, told a press briefing the occupied territory would not be relinquished.
"We don't give back our own territory," she told a news briefing. "Crimea is territory belonging to the Russian Federation."
The Ukrainian conflict was one of the key areas of discord between Russia and the Obama administration, including Mr Putin's backing for Syrian President Bashar al-Assad and increasing tensions with Nato.
But the new President has made more friendly overtures to his Russian counterpart, dismissing allegations of Russian interference in the US election and calling Mr Putin "very smart" and a "great" leader.
The pair have vowed to repair ties between the US and Russia and have spoken on the phone ahead of a meeting expected later this year.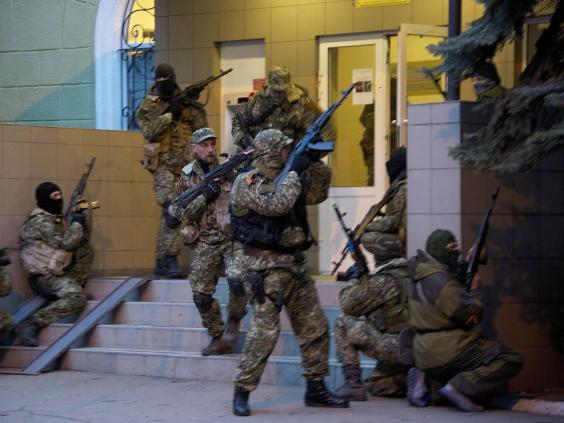 There has been no comment from the White House or American security services on allegations published by the New York Times of "repeated contacts" between Mr Trump's campaign staff and associates and senior Russian intelligence operatives in the year leading up to the election.
The President's representatives have previously denied any untoward contact with the Kremlin but fresh claims have emerged in the wake of a separate scandal that caused the national security advisor's resignation.
American law enforcement and intelligence agencies reportedly intercepted communications at the same time evidence of Russian involvement in the Democratic National Committee (DNC) hack was discovered, although officials said they found no evidence of the Trump team "colluding" with Russia on efforts to influence the result.
Officials did not say to what extent the contacts may have been about business, the New York Times reported, and did not disclose details of what was discussed or how many people were involved.
Sean Spicer, the White House spokesman, repeated denials of improper contact between Trump aides and Russia at a press briefing before report emerged on Tuesday.
He described phone calls with the Russian ambassador that caused the resignation of Michael Flynn as an "isolated incident", where he gave "incomplete information" to the Vice President over whether sanctions were discussed.
Trump Inauguration protests around the World
Trump Inauguration protests around the World
1/14

Activists from Greenpeace display a message reading "Mr President, walls divide. Build Bridges!" along the Berlin wall in Berlin on January 20, 2017 to coincide with the inauguration of Donald Trump as the 45th president of the United State

Getty

2/14

An activist holds up a sign at the "We Stand United" rally on the eve of US President-elect Donald Trump's inauguration outside Trump International Hotel and Tower in New York on January 19, 2017 in New York

Getty

3/14

Protesters burn a U.S. flag and a mock flag with pictures of U.S. President-elect Donald Trump outside the U.S. embassy in metro Manila, Philippines

Getty

4/14

Filipino protestors hold placcards during a protest rally in front of the US embassy in Manila, Philippines, 20 January 2017. On the eve of President-elect Donald Trump's inaguration as the 45th president of the United States, Filipinos and Fil-Americans held a protest in front of the US embassy in Manila to denounce the incoming US president.

Getty

5/14

Hong Kong police officers and security guards look on as an anarchist protester belonging to the Disrupt J20 movement sits after using a heavy duty D-lock and motorcycle lock to chain himself to a railing at the entrance gate to the Consulate General of the United States of America in Hong Kong to protest the inauguration of United States President-elect Donald Trump, Hong Kong, China, 20 January 2017. Two activists were arrested and taken away by Hong Kong police during the demonstration.

Getty

6/14

A banner is unfurled on London's Tower Bridge, organised by Bridges Not Walls - a partnership between grassroots activists and campaigners working on a range of issues, formed in the wake of Donald Trump's election, which aims to build bridges to a world free from hatred and oppression.

Getty

7/14

Protesters chain themselves to an entry point prior at the inauguration of U.S. President-elect Donald Trump in Washington, DC, U.S.

Getty

8/14

Bridges Not Walls banner dropped from Molenbeek bridge in Brussels, Belgium, 20 January 2017, in an Greenpeace action part of protests Wolrd protest in solidarity with people in the US, the day Donald Trump sworn in as the 45th President of the United States.

Getty

9/14

A woman holds an anti-U.S. President-elect Donald Trump placard during a rally in Tokyo, Japan,

Getty

10/14

A Palestinian protester holds a placard during a demonstration against the construction of Jewish settlements in the occupied West Bank and against US President-elect Donald Trump, on January 20, 2017, near the settlement of Maale Adumim, east of Jerusalem

Getty

11/14

Banners on North Bridge in Edinburgh as part of the Bridges Not Walls protest against US President Donald Trump on the day of his inauguration

Getty

12/14

Russian artist Vasily Slonov (L) and his assistant carry a life-sized cutout, which is an artwork created by Slonov and titled "Siberian Inauguration", before its presentation on the occasion of the inauguration of U.S. President-elect Donald Trump, in a street in Krasnoyarsk, Russia

Getty

13/14

A woman holds a banner during a march to thank outgoing President Barack Obama and reject US President-elect Donald Trump before his inauguration at a park in Tokyo, Japan, 20 January 2017.

EPA

14/14

Palestinian demonstrators protesting this week against a promise by Donald Trump to re-locate the US embassy to Jerusalem

Reuters
Asked whether the Trump administration was undertaking efforts to examine contacts with Russia, Mr Spicer said there was "no new information".
When challenged specifically on discussions held during the campaign, Mr Spicer said: "There's nothing that would conclude me…that anything different has changed with respect to that time period."
Mike Pence, the Vice President, also denied contact had taken place with Russia before the election in a Fox News interview on Sunday.
"Of course not. Why would there be any contact between the campaign?" he said. "This is all a distraction, and it's all part of a narrative to delegitimise the election."
In November, Russia's deputy foreign minister Sergei Ryabkov said there had been communication between the Russian government and members of Mr Trump's political team.
"There were contacts," he told Interfax. "We are doing this and have been doing this during the election campaign."
But Hope Hicks, the spokesperson for the President's campaign, issued a denial saying members "had no contact with Russian officials".