Two police officers accused of corroborating an allegedly false narrative about the deadly shooting of a motorist in Cincinnati were previously cited in the death of an unarmed and mentally ill black man, it has been revealed.
A report in the Guardian said the two men were among a group of seven University of Cincinnati officers who "rushed" a man who had been placed in a seclusion room after suffering a psychotic episode. Kelly Brinson, a 45-year-old mental health patient, was then shocked with a Taser three times by an officer and died the following day.
The report said that in court documents filed by Mr Brinson's family in a civil suit against the campus police force and the hospital, all seven officers were accused of using excessive force and "acted with deliberate indifference to the serious medical and security needs of Mr Brinson".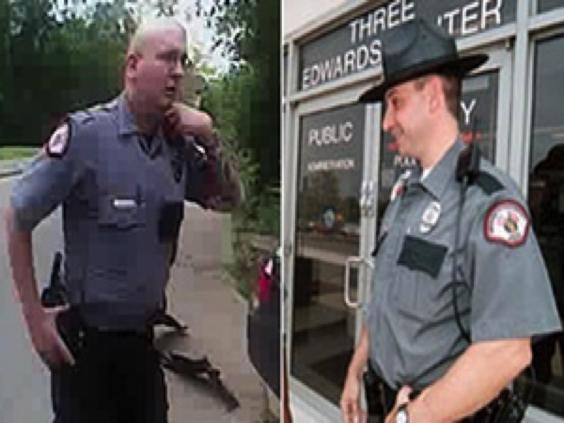 According to the lawsuit, before Mr Brinson was placed in restraints in the incident five years ago he "repeatedly yelled that slavery was over and he repeatedly pleaded not to be shackled and not to be treated like a slave".
The report said that among the seven officers were Eric Weibel and Phillip Kidd, the men who supported fellow officer Ray Tensing's claim that he was "dragged" by a vehicle whose driver -  Samuel DuBose - he allegedly shot dead in a separate incident on July 19.
Mr Tensing's account that he was "dragged" was used as justification for the lethal use of force. He has since been charged with murder. Officers Weibel and Kidd have been placed on administrative leave.
Mr Brinson's family eventually settled a federal civil court case with the hospital and the police department for $638,000. All University of Cincinnati campus police officers were removed from patrolling the psychiatric wards at the hospital after his death, the report said.
Mr Brinson's brother, Kelly, told the newspaper that a settlement had been reached about the death of the father-of-one.
"But what happened was because we had an out-of-court settlement, they had immunity and they couldn't be prosecuted," he said.
"If something had been done in 2010, I don't think this wouldn't have happened."
Reuse content