Police in Texas have released footage showing a police officer appearing to threaten Sandra Bland with a Taser and shout: "I will light you up" as she was arrested.
The black civil rights activist was found dead three days later in her jail cell. Authorities said she had hanged herself but supporters dispute the claim and an investigation has been launched.
The Texas Department of Public Safety (DPS) has released a 52-minute video showing Ms Bland being pulled over and arrested on 10 July.
Dashcam footage shows Ms  Bland moving over to the right-hand lane as the police car approaches at speed and then stopping.
Trooper Brian Encinia is seen getting out of his car and speaking through the passenger window to tell the 28-year-old, who he addresses as "ma'am" that she was stopped for "failing to signal in a lane change".
She gives her details, answers his questions and the police officer leaves to prepare a ticket, returning with it minutes later.
After Mr Encinia says she "seems irritated", Ms Bland replies: "I was getting out of your way. You were speeding up, tailing on me, so I move over and you stop me. So yeah, I am a little irritated, but that doesn't stop you giving me a ticket."
The altercation escalates when he asks the 28-year-old to put her cigarette out. When she asks why, he orders her to get out of the car.
As he repeats that Ms Bland should "step out or I will remove you", he leans in the car while saying: "I'm going to yank you out of here."
She resists and the police officer appears to pull a Taser and shout: "I will light you up. Get out. Now."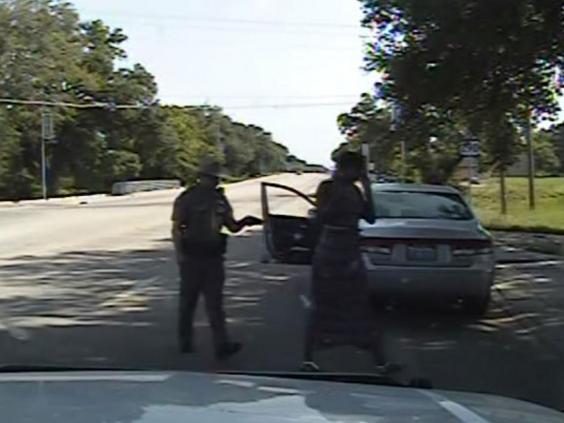 Ms Bland is seen leaving the car with her hands up as Mr Encinia points an object at her back and they move out of view.
As the driver continues to ask why she is being apprehended, she is heard being handcuffed while saying: "I cannot wait until we go to court."
A scuffle off camera can be heard, with Ms Bland screaming that her wrist is going to break and asking Mr Encinia and another officer to stop while starting to cry.
Separate footage caught by a passer-by showed the two officers restraining her face-down on the ground.
After Ms Bland is restrained, Mr Encinia and two other officers can be seen searching her car, with him telling them: "She started yanking away and then kicked me, so I took her straight to the ground."
In a phone call captured by the dash cam later he is heard urging someone to prosecute Ms Bland for assault, saying he was "trying to calm her down" and had been kicked and elbowed.
An affidavit said Mr Encinia used force "to subdue Bland to the ground" and that after she continued to resist he arrested her for assault on a public servant.
The state trooper has been put on administrative leave for alleged violations of traffic stops procedure and the department's courtesy policy.
Ms Bland was taken to the Waller County Jail about 60 miles from Houston and found dead on 13 July.
Footage released from outside her cell suggested no one entered or left between bringing her breakfast and finding her unconscious.
Although a medical examiner has ruled the death a suicide, supporters insist she was upbeat and looking forward to a new job at Prairie View A&M University, where she graduated in 2009.
Ms Bland had posted a video to her Facebook page in March, saying she was suffering from "a little bit of depression as well as PTSD" - post-traumatic stress disorder – although relatives have said nothing in her background suggested she was mentally troubled.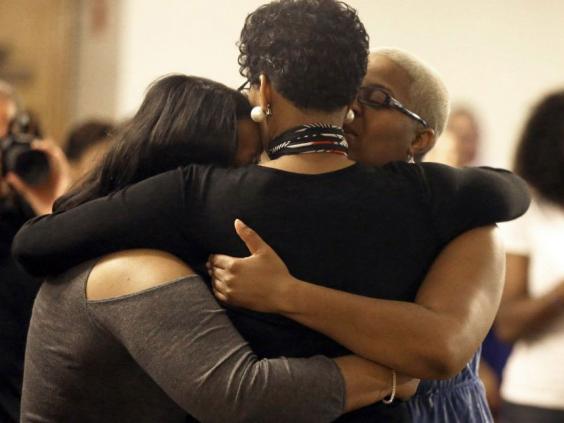 Her friend Cheryl Nanton told The Independent that she feared foul play was involved.
"I don't think she killed herself," she said. "It is very sad...We look out for our young men because there are so many incidents, but we don't  expect this to happen to our daughters. People want to know what happened."
Ms Bland filled her Facebook page with videos in which she made observations about the issue of race in America under the title "Sandy Speaks".
"Being a black person in America is very, very hard," she wrote in a recent post. "Show me in American history where all lives matter."
Her death comes after nearly a year of heightened national scrutiny of cases in which African Americans have been killed by police officers.
Still going strong! #SandraBland #WhatHappenedToSandraBland pic.twitter.com/JRnbF0REeC

— Rhys (@rhysism_) July 17, 2015
The case has sparked protests and resonated on social media, with posts questioning the official account and featuring the hashtags #JusticeForSandy and #WhatHappenedToSandyBland.
Steven McCraw, director of the DPS, said it had been working with Ms Bland's family and "extends our sincere condolences for their tragic loss."
He added: "This team of investigators is committed to conducting a thorough and impartial investigation."
The FBI and Texas Rangers are investigating Ms Bland's death and their findings will be handed to the District Attorney for a review before a grand jury decides whether to prosecute.
Additional reporting by PA
Reuse content