Sean Spicer has been drawn into a public row with reporters over whether Donald Trump's vision of a "big, beautiful wall" along the Mexican border is actually just a fence.
Journalists gathered at the daily White House press briefing were unimpressed by a series of slides prepared by the press secretary showing different types of barriers.
Charlie Spiering, whose employer Breitbart has prolifically supported Mr Trump, asked why the President was not "fighting for the wall he promised" as funding proposals were turned down in a government-wide budget.
Mr Spicer argued that the current barrier was "porous" after more than 9,000 breaches in five years, showing images of broken fences, tunnels and ramps going over the top, adding: "To replace this with a 20-foot high bollard wall will protect our country."
But Mr Spiering questioned the images, showing one barrier comprised of steel poles and another low concrete wall with railings along the top, asking whether they were "fences or walls". 
"That is called a bollard wall - that is called a levee wall," Mr Spicer replied, pointing at the slides.
"There are various types of walls that can be built…that's what it's actually called.  That's the name of it."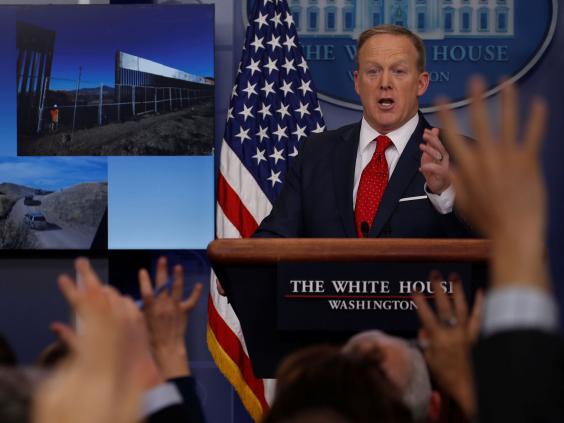 Mr Spiering continued to argue his case, saying Mr Trump was expecting supporters to be satisfied with "tough-guy fencing" replacing chain-link fence along 40 miles of the US' southern border.
"The President said he was going to build the wall and he's doing it, and he's using the best technology…to keep people out, to stop drugs, to stop cartels, to stop human trafficking, and to prevent illegal immigration," Mr Spicer replied.
The row came day after the press secretary walked out of his own briefing without answering any questions, as incredulous reporters called out "Sean, come on Sean!". 
His adversary has since continued the debate online, highlighting a page of the House of Representatives budget agreement referring to "steel bollard designs".
The proposals were part of a $1.1tr (£853bn) government-wide spending bill, which has been endorsed by the White House, top congressional Democrats, and House Speaker Paul Ryan.
It provides Mr Trump with an increase in the Pentagon budget but denies the President's request for $1bn (£780m) for construction along the 2,000 mile US-Mexico border.
The budget instead awards $341m (£264m) for replacement fencing, $170m (£132m) for communications and surveillance, $100m (£78m) for access roads and $1.5bn (£1.3bn) for border security.
Donald Trump's first 100 days: in cartoons
Donald Trump's first 100 days: in cartoons
1/33

Donald Trump's first 100 days in office were marred by a string of scandals, many of which caught the eye of the Independent's cartoonists

2/33

Trump's first 100 days have seen him aggressively ramp up tensions with his nuclear rivals in North Korea

3/33

Mr Trump has warned of a "major, major conflict" with the pariah nation lead by Kim Jong Un

4/33

Mr Trump dropped the "mother of all bombs" on alleged ISIS-linked militants in Afghanistan, amid an escalation of US military intervention around the globe

5/33

Mr Trump has been accused of falling short of the standards set by his predecessors in the Oval Office, including Franklin D Roosevelt

6/33

The tycoon's ascension to the White House came at a time when the balance of power is shifting away from Western nations like those in the G7 group

7/33

Western politicians, including the British Conservative party, have been accused of falling in line behind Mr Trump's proposals

8/33

Brexit is seen to have weakened Britain, reducing still further any political will to resist American leadership

9/33

Mr Trump's leadership has been marked by sudden and unexpected shifts in global policy

10/33

Trump's controversial missile strike on Syria, which killed several citizens, was seen by some analysts as an attempt to distract from his policy elsewhere

11/33

The President has also spent a large majority of his weekends golfing, rather than attending to matters of state

12/33

Though free of gaffes, a visit from Chinese president Xi Jinping spotlighted trade tensions between the two states

13/33

One major and unexpected setback came when Mr Trump's Healthcare Bill was struck down by members of his own party

14/33

Mr Trump has been a figure of fun in the media, with his approval at record lows

15/33

A string of revelations about Mr Trump's financial indiscretions did not mar his surge to the White House

16/33

Outgoing President Barack Obama was accused of wiretapping Trump Tower by his successor in America's highest office

17/33

The alleged involvement of Russian intelligence operatives in securing Mr Trump the presidency prompted harsh criticism

18/33

The explosive resignation of Security Adviser Michael Flynn, who lied about his links to the Russian ambassador, was just one scandal to hit the President

19/33

Many scandals, such as the accusation Barack Obama was implicated in phone-hacking, first broke on Mr Trump's Twitter feed

20/33

Donald Trump's election provoked mass protests in the UK, with millions signing a petition to ban him from the country

21/33

Donald Trump cited a non-existent terror attack in Sweden during a campaign rally

22/33

Donald Trump stands accused of stoking regional tensions in Eastern Asia

23/33

North Korea has launched a number of failed nuclear tests since Mr Trump took power

24/33

Theresa May formally rejected the petition calling for Mr Trump to be banned from the UK

25/33

When Mr Trump's initial so-called Muslim ban was struck down by a federal justice, the President mocked the 69-year-old as a "ridiculous", "so-called judge"

26/33

A week after his inauguration, Theresa May met with Mr Trump at the White House

27/33

Donald Trump's first days in office were marked by a hasty attempt to follow through on many of his campaign promises, including the so-called Muslim ban

28/33

Donald Trump's decision to ban citizens of many majority-Muslim countries from the US sparked mass protests

29/33

Revelations about Donald Trump's sexual improprieties were not enough to keep him from being elected President

30/33

British PM Theresa May was criticised by many in the press for cosying up to the new President

31/33

One of Mr Trump's top aides, Kelly Anne Conway, was mocked for describing mistruths as "alternative facts"

32/33

British PM Theresa May was quick to demonstrate that her political aims did not hugely differ from Mr Trump's

33/33

Donald Trump's inauguration, on 20 January 2017, sparked protests both at home and abroad
The bill was passed by the House of Representatives on Wednesday, being passed on to the Senate.
It buys just five months of funding while Mr Trump and his allies battle with congressional Democrats over spending cuts and funding for the wall.
Republicans were surprised by tweets from the President on Tuesday that suggested he was initially unhappy with the measure and might provoke a government "shutdown" in autumn in the hope of getting his way on the wall and other demands. 
Mr Trump repeatedly promised his "big, beautiful wall" would be financed by Mexico, which swiftly rejected the notion.
"This includes swiftly replacing ineffective and failing fences and walls with an unbreakable barrier," the President said during a Rose Garden ceremony. 
"And we're putting up a lot of new walls in certain areas. We're putting up a tremendous amount of money to fix the existing structures that we have…make no mistake, we are beginning to build the wall." 
But when addressing the National Rifle Association in Atlanta last week, the President admitted the wall would not run continuously along the entire border, but in "certain areas", because of rivers.
Most of the existing barriers were built under the Bush administration as part of the 2006 Secure Fence Act, though some of the construction was completed under Barack Obama, when a steel fencing project was started in El Paso. 
Additional reporting by AP
Reuse content