Police have praised the bravery of a student who disarmed a gunman after he killed one person and wounded three others at a US university.
Jon Meis, 22, overcame the attacker at Seattle Pacific University as he tried to reload, officers said. Pepper spray was used to subdue the gunman, named as Aaron Ybarra, 26, who was in custody tonight.
Police said the actions of Mr Meis, and others who came to his aid, prevented a more serious tragedy. A 19-year-old man was fatally shot and two other people were wounded after Ybarra allegedly entered the foyer of a university building and started shooting on Thursday afternoon. When he paused to reload, police said, Mr Meis, an electrical engineering student who was not injured in the attack, managed to disarm him.
"He is a hero," fellow student Matt Garcia wrote on Twitter. "I'm proud of [his] selfless actions."
The university's president, Daniel Martin, told the Seattle Times newspaper that the students who overpowered the gunman "acted without regard to their own safety on behalf of others".
"We are a community and we care for others," Mr Martin was quoted as saying. "Those that were involved did just that."
"There are a number of heroes in this," added Paul McDonagh, Seattle's assistant police chief. "The people around [the gunman] stepped up."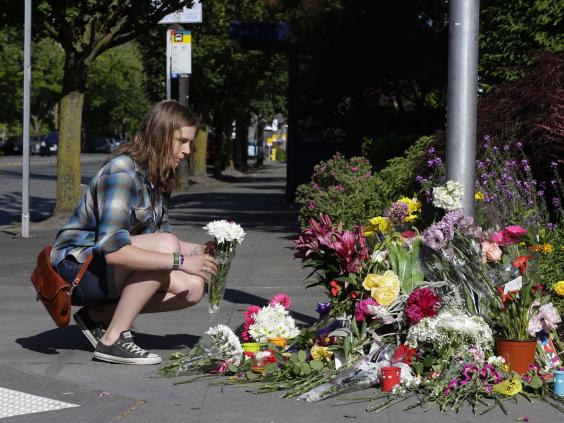 The gunman had additional rounds and a knife, Mr McDonagh said, adding that he was not a student at the school.
Four people, including the young man who died, were taken to Harborview Medical Centre. A 20-year-old woman was in intensive care after five hours in surgery. Another man, 24, suffered "pellet-type wounds" to his neck and chest. He was said to be in a stable condition.
The Mayor of Seattle, Ed Murray, noting previous mass shootings in the city, said: "Once again the epidemic of gun violence has come to Seattle."
Police said they entered a house that was believed to be linked to Ybarra in the north Seattle suburb of Mountlake Terrace. The Seattle Times said the suspect's father, Ambrose Ybarra, knew nothing about the shooting.
Mr Meis, who was on patrol as a security monitor, reportedly pepper-sprayed Ybarra as he stopped to reload, then put him in a choke-hold and forced him to the ground. "It was super-terrifying," said fellow student Kharis Lund. "There were a lot of people crying and calling their parents."
Student Chris Howard was at Otto Miller Hall on the campus when the attack took place. He saw the wounded woman on the floor being tended by a classmate. Her chest was bloodied, her phone was covered in blood, but she asked her helpers to look through her phone for her mother, aunt and best friend. "She was panicking," Mr Howard said. "She said: 'I think I'm going to die.'"
Police were on the scene quickly but by then the suspect had been subdued. Mr Howard ran outside and back through the lobby where he saw the man pinned on the floor. "The suspect was calm. Not speaking. Not moving. Not struggling. Just there," he said.
It was the latest in a spate of shootings on or near college campuses. Last month, Elliot Rodger killed six people and injured seven in a series of shootings in Isla Vista, California, near two universities. He then turned his gun on himself.
Seven people were killed and three hurt when a 43-year-old former student opened fire at Oikos University in Oakland, California, in 2012. A gunman killed five people and injured 18 when he opened fire in a Northern Illinois University lecture hall in 2008. In 2007, 32 people were fatally shot in a dormitory and classroom at Virginia Tech in Blacksburg, Virginia, before the gunman killed himself. 
AP