The first drilling rig was met by a flotilla. On kayaks and other improvised rafts, hundreds of protesters took to the waters of Elliot Bay to oppose Royal Dutch Shell's plans to drill for oil in the Arctic.
A second rig is expected in Seattle this week as part of the oil company's efforts to use the city's port as a base where the rigs can be outfitted before being taken to the Chukchi Sea off Alaska. So, too, are more protests as "kayaktivism" campaigners vow to fight Shell's plans on land and sea, warning of an impending "ecological catastrophe".
The protests offered another reminder of the unresolved tensions in the US between seeking energy independence and caring for the climate.
The energy giant was buoyed last week when the US Energy Department gave it a provisional go-ahead to begin exploratory drilling in a sliver of the Arctic Ocean off the north coast of Alaska. The company must still secure seven additional federal and state permits before it can go forward with plans to drill this summer. In the meantime, it has the wrath of the environmental lobby to contend with.
Biggest oil producers (IEA figures)
Biggest oil producers (IEA figures)
1/10 1. USA (12.35 million barrels per day)

Getty

2/10 2. Russia (10.95 million barrels per day)

Getty

3/10 3. Saudi Arabia (9.51 million barrels per day)

Getty

4/10 4. (4.21 million barrels per day)

Rex

5/10 5. China (4.13 million barrels per day)

Getty

6/10 6. Iraq (3.38 million barrels per day)

Getty

7/10 7. Iran (2.76 million barrels per day)

Getty

8/10 8. UAE (2.71 million barrels per day)

Getty

9/10 9. Kuwait (2.66 million barrels per day)

Getty

10/10 10. Mexico (2.64 million barrels per day)

Getty
"This weekend is another opportunity for the people to demand that their voices be heard," Alli Harvey, the Alaska representative for the Sierra Club's Our Wild America campaign, said of the Seattle protest. "Science is as clear as day when it comes to drilling in the Arctic – the only safe place for these dirty fuels is in the ground." Further protests and acts of civil disobedience are planned for today.
After launching from two local parks, most of the protesters paddled together towards a giant Shell rig that is now in dock in Seattle's harbour but is destined, with a sister rig, to travel to the Arctic when the ice melts.
The company, which has spent $6bn (£3.8bn) on its Arctic plans, won the necessary leases in 2008. But a first attempt at drilling had to be suspended after a fire on one rig and other safety mishaps.
The company says the Arctic is integral to sating the world's hunger for oil. According to its website, the Arctic has about 30 per cent of the world's undiscovered natural gas and 13 per cent of its oil. "This amounts to around 400 billion barrels of oil equivalent, 10 times the total oil and gas produced in the North Sea to date," Shell says. "Developing Arctic resources could be essential to securing energy supplies for the future, but it will mean balancing economic, environmental and social challenges."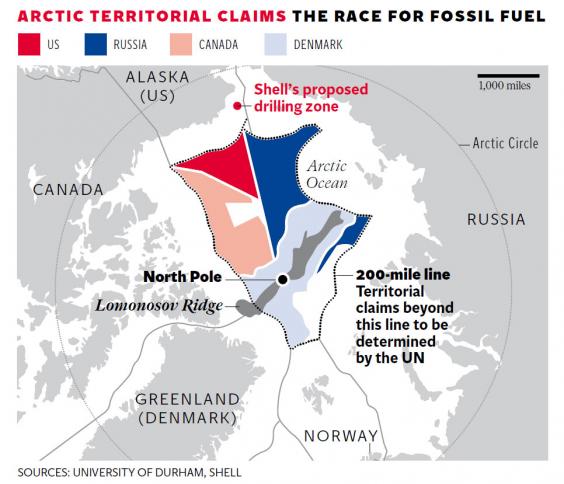 The trauma of the BP Gulf of Mexico oil spill in 2010, has left the administration of Barack Obama ambivalent about giving the industry any new rein to find oil and gas, particularly where offshore operations are involved. Earlier this year, Mr Obama declared the Arctic National Wildlife Preserve a no-go for the industry, for example.
Mr Obama has been similarly cautious on the planned Keystone XL pipeline to connect production from Canada's oil sands in Alberta to terminals on the Gulf Coast of the US. The stand that he taken has been turned by the environmental lobby into a litmus test of his commitment to stopping climate change. It now seems likely he will delay any decision until after Canada's parliamentary elections in October.
And as she starts her run for president, Hillary Clinton has come under pressure to make her position on future energy exploration clear. She has notably declined to state whether she supports the construction of the XL Pipeline.
The struggle over energy policy, which is likely to become increasingly fractious as the 2016 race for the White House picks up, comes against a background of a production boom for the US, principally driven by fracking that resulted in output soaring in Texas and North Dakota.
Even though falling oil prices have seen some idling of the fracking wells, the States, according to the latest annual estimate report from the US Energy Information Administration, is set to become energy independent by 2030, meaning its exports would overtake its imports.
But any bonanza in production in the Arctic could bring that date forward significantly. Energy independence could have a profound effect on international relationships with producers like Saudi Arabia. It could also put the US in a position to export growing volumes of natural gas to European nations seeking to lessen their dependence on energy from Russia. Denmark, Russia, Canada and the US have territorial claims in the Arctic.
On the waters of Seattle's harbour on Saturday, paddlers held up signs with messages like "Shell No!", "Climate Justice", "Oil-Free Future" and "Seattle Draws the Line". There were speeches denouncing Shell as well as live music from a floating 4,000sq ft stage dubbed the "People's Platform".
Allison Warden, 42, said she travelled from Alaska to represent her native Inupiaq tribe, which makes its home in the Arctic. She said whales central to the tribe's culture are particularly vulnerable to oil spills. "I don't know what our culture would be without whaling," she told Reuters.
Opponents of the rigs docking in Seattle, a city known for its environmental causes, include Mayor Ed Murray and the city council. Many want the company to go elsewhere with its rigs.