When Bernice Madigan died earlier this month, she was the fifth oldest person in the world.
The 115-year-old from the US state of Massachusetts, who enjoyed playing the piano and reading books, put her longevity down to a glass of wine with every meal and the fact that she had not had children.
According to a report in her local newspaper, the Berkshire Eagle she also stressed the importance of positive thinking. "It's your attitude," she said a few years earlier. "If you have a happy attitude and a good life, you're lucky."
Remarkably, despite the death of Ms Madigan, USA Today said this week that there are still five people alive – all of them women – who were born in the 1800s and whose lives have spread across three centuries. These are their stories:
Misao Okawa. Japan. DoB: March 5, 1898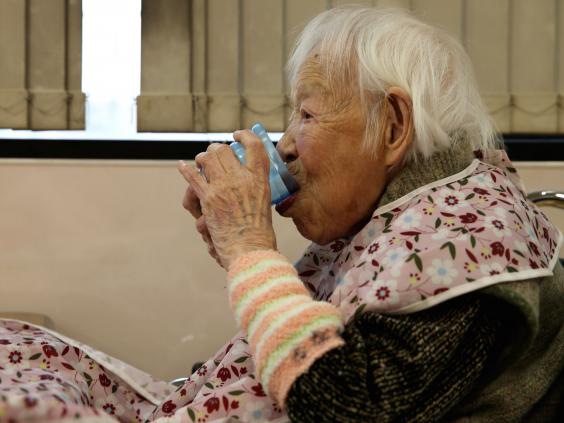 Ms Okawa, who celebrated celebrated her 116th birthday last March, is now officially the world's oldest person. At 122, Jeanne Calment of France, who died in 1997, was by some measure the oldest person to have ever lived, based on verified records. One woman, Leandra Becerra Lumbreras, from north east Mexico, claims to have been born on August 31 1887,  meaning she would be 127, but she has no records.
Ms Okawa, who lives in an old people's community in Osaka, says the secret of her long life is exercise, rest and good genes. She was married in 1919, though her husband died in 1931. She had three children, two of whom are still living and are in their 90s.
Gertrude Weaver. US. DoB: July 4, 1898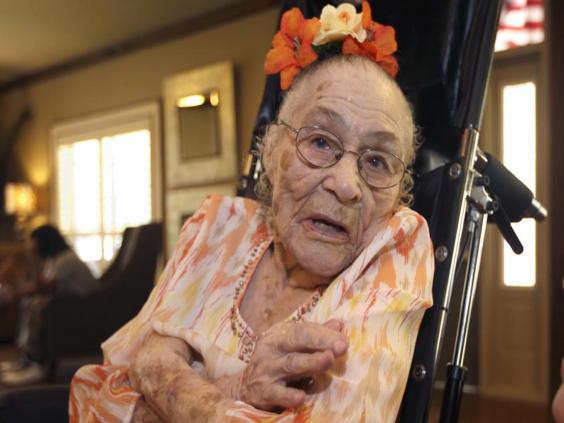 The second-oldest person in the world also is the oldest American. The daughter of sharecroppers who witnessed the Civil War, Gertrude Weaver was born in southwest Arkansas near the border with Texas and was married in 1915. She and her husband had four children, all of whom have died except for a son, now in his 90s.
"Trusting in the Lord, hard work and loving everybody," the 116-year-old told  the Associated Press, explaining her long time.
Jeralean Talley. US. DoB: May 23, 1899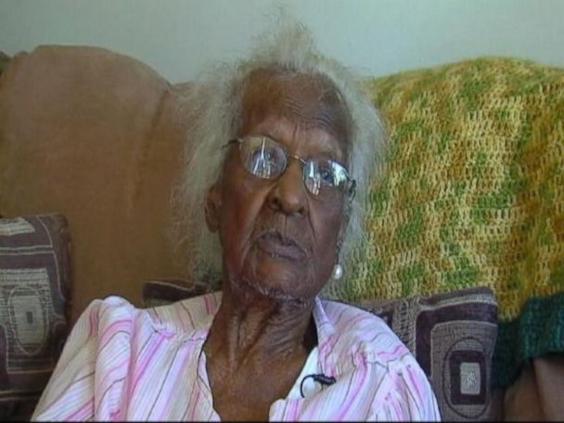 It was only last year that it was confirmed that Gertrude Weaver had been born in 1898 and until then Ms Talley, of Inkster, Michigan, was listed as the world's second-oldest person. She is now listed as the third.
Born Jeralean Kurtz, one of 11 children in in Montrose, Georgia, the African American woman grew up on a farm where her family grew peanuts and cotton. She once urged people to make the best use of their common sense. "I don't have much education but what little sense I got, I try to use it"," she said.
Susannah Mushatt Jones. US. DoB: July 6, 1899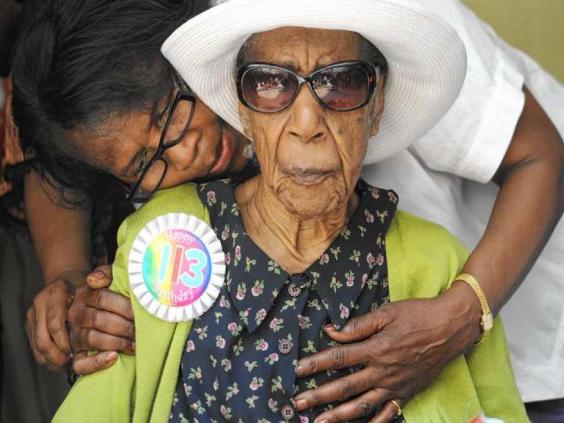 Born in Alabama, the third-oldest of 11 children of sharecroppers, "Miss Susie" Mushatt Jones moved to New York York in 1923. After attending a private boarding school in Alabama she was to have joined the Tuskegee Institute, but her parents did not have the money.
"She's kind, has a tremendous work ethic and enjoys life," Ms Jones' niece, Lavilla Watson, 80, told the New York Daily News.
Ms Jones, who is also African American and has been blind for 12 years, never smoked or drank alcohol, but she continues to love barbecued chicken and bacon. "I don't have a secret," she told Time magazine. "Believe in the Lord."
Emma Morano. Italy. DoB: November 29, 1899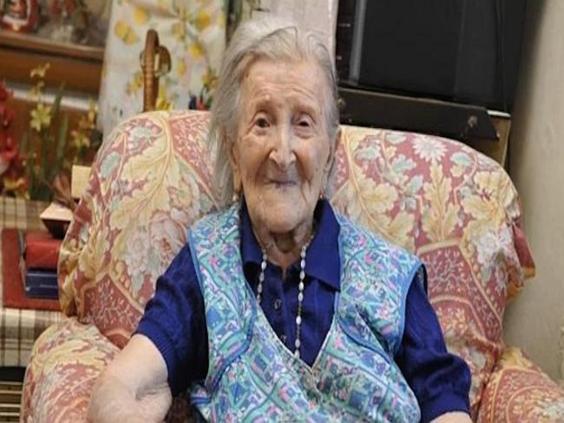 Ms Morano, from northern Italy, is Europe's oldest living person and somehow still lives alone and takes care of herself. Her sister, Angela Morano, died four years ago at the age of 102.
When asked about the secret of her longevity by La Stampa newspaper, she first mentioned her daily glass of homemade brandy. She also said she believed that eating raw eggs was important in proving her energy.
"During the day I eat two eggs — one raw and one cooked — just like the doctor recommended when I was 20 years old," said the woman, who is believed to be the second oldest Italian ever to have lived. "For lunch I'll eat pasta and minced meat then for dinner, I'll have just a glass of milk."
Gladys Hooper. UK. DoB: January 18 1902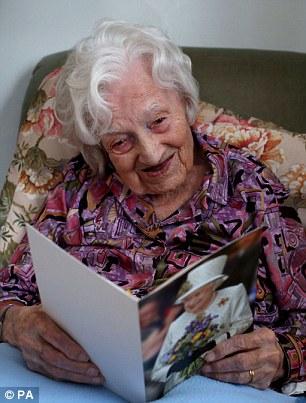 The relative youngster, who is just 112, became Britain's oldest person earlier this year following the death of 114-year-old Ethel Lang, said she felt no different than when she was turned 70.
"I have always lived a straight life, never done stupid things, I have never gone beyond the limit," said Ms Hooper, who lives in the Isle of Wight.  I have always been active, I think always being active keeps you young. I have done what I wanted to do and helped others as much as I could."
Reuse content