Finally we mount the platform on the top floor of Barnes & Noble on Union Square as if we were graduates collecting diplomas. Surrounded by minders, a familiar woman with a smile as bright as her long fuchsia jacket has just got to her feet, no longer comfortable seated. Her writing hand is in constant motion. "Hillary", she signs over and over.
Mostly, there's time only for a pleasantry. But the person ahead of me has to say it. "I really hope you will run for president," she blurts. Like all of us, she been shuffling for five hours in a queue that had begun on the street outside for her four seconds with the author, who, in turn, looks up and replies sweetly: "That's so nice of you to say that."
This was not just the launch of Hillary Clinton's new book, Hard Choices, about her four years as Secretary of State. It was the launch also of a process that may or may not be seen to its completion. Even in the book's pages, she insists that whether or not she will run for president in 2016 is a decision she will not be making imminently.
The sense of expectation, though, is palpable even if the omens in this, the largest bookshop in New York, were possibly mixed. An assembly of literary icons immortalized in a frieze one floor below betrayed none of the enthusiasm of Mrs Clinton's fans. Shaw appeared utterly despondent while Wilde was slumped on a table, pallid with fatigue. Was it Hard Choices itself they had just perused or the dreadful reviews that it seems to be provoking?
But, well, you can't expect a book that was most likely written by committee – among those known to have given a helping hand include Dan Schwerin and Ethan Gelber, both former aides, and Ted Widmer, a Clinton adviser – to read like the Bard. Politics doesn't make for easy sonnets. It is Mrs Clinton being nice about the right people, offering some repentance where repentance is due. To run or not to run...
Turnout is what matters in book-selling and, above all, politics. Eight years ago Barack Obama came to this same bookshop to plug his book at that time, The Audacity of Hope. We were perhaps two hundred that day, easily finding chairs here on the top floor. He was a senator and talk of him running for president was really only a whisper. He had time even to read  us a chapter.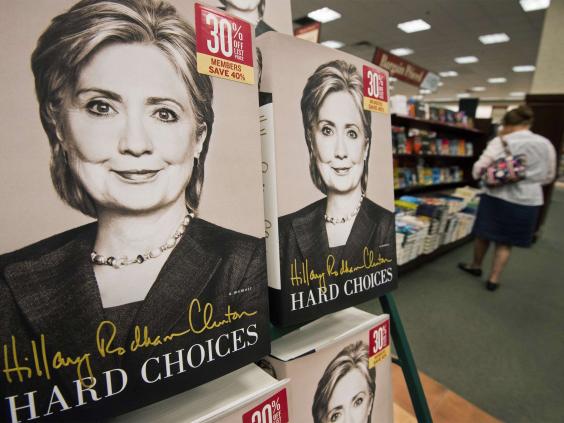 Mrs Clinton is starting from a rather different spot. Everyone is talking about her running in 2016. But turnout here was surely very good indeed. Didn't she herself think so? "It's wonderful" she said, holding this reporter's hand and releasing a smile even brighter than before and emitting a quick laugh. "It's a lot of people!" The bookshop had promised to give 1,000 fans wristbands for a signed book. (You had to pay for a copy to be allowed upstairs.)
And if she can't say it's a campaign already, there is no stopping her fans from deciding so. One of the two Political Action Committees, PACs, already established to push for a Clinton run in 2016, ReadyforHillary.com, had parked their bus outside the shop's main doors. "Join the Movement", it blared down its side. The rear of the bus carried that picture we all know of Mrs Clinton as Secretary of State aboard a plane (as she always was in those days) in dark glasses studying her phone. 'Don't Text and Drive," it offers wittily to anyone who might be following.
Inside, many of those in the queue have picked up "Ready for Hillary" stickers and are wearing them on their chest. It doesn't quite feel like a campaign event – even if she had declared, there is no opponent yet – but something close to it. When she first enters the room, a loud "whoop" erupts from everyone crammed in to see her. And then another and another. They are cheering for her to run, not cheering her book-writing abilities.
Demographically, it is a mixed, fairly typical New York crowd, perhaps slightly more female than male, but not by much, and certainly filled with young as well as mature people. It is, though, very white. Jee Yeon Baik, a research animal surgeon, had to negotiate with her boss at Mount Sinai Hospital to take the morning off to see the former First Lady. Even though the wait was longer than expected, she had no regrets. The cat and dog cadavers could wait.
"I think that Hillary Clinton is just a huge inspiration for all aspiring professional women," the 24-year-old resident of Queens, New York, said. "And I don't just mean in politics, I mean generally." She, like many others, seems minimally interested in the book itself, price $26.67. She knew what the event was really about. "I feel like this is a campaign stop in disguise," she says. Indeed.
For Josiane Roosetti, 70, a French native who has been living in the US for 35 years, it is more about the hoopla of it all. "I don't approve of everything she's done," she says, saying Mrs Clinton has been complicit in America's recent history of engaging in foreign wars. "But I like what she tried to do on health care and health insurance and I would like her to run for president. But I am really here mostly of curiosity."
'Hard Choices': Hillary on...
David Miliband
"He caused me to gulp  and smile simultaneously when he said 'My goodness, your predecessors have left you with a world of problems. It's a Herculean job, but I think you are the right  Hercules for the task.'"
"Young, energetic, smart, creative, and attractive with a ready smile."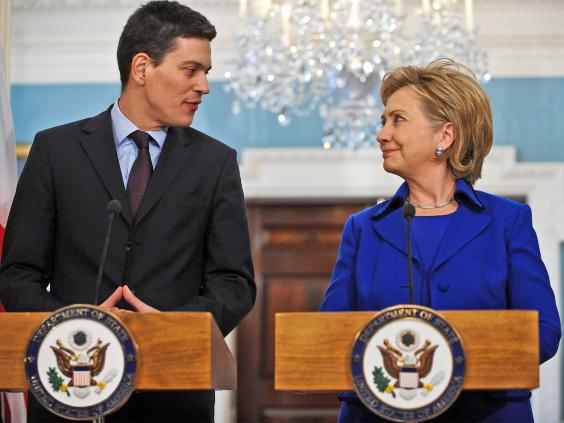 Gordon Brown
"An intelligent and dogged Scotsman."
"He was dealt a bad hand, including the baggage of Tony's unpopular support of Bush's decision to invade Iraq."  
William Hague
"A thoughtful statesman with good sense and good humour."
David Cameron
"Intellectually curious and  eager to exchange ideas."
Cameron and Obama
"Took to each other right off... they had an easy rapport and enjoy each other's company."
Bin Laden and al-Qa'ida
"After the election it was agreed that aggressively going after al Qa'ida was crucial to our national security and that there should be a renewed effort to find Bin Laden and bring him to justice."
Running for the presidency
"I haven't decided yet."
Reuse content