New York City is braced for 'historic' blizzard Winter Storm Juno this week (if you can talk about history in the future tense?), and while police issue warnings, governors of the city declare a state of emergency and everyone generally battens down the hatches, some people are just frolicking in the snow.
Snowflakes have been spotted falling in a rare symmetrical formation across the city, as if from a cartoon or desktop screensaver.
All snow falls roughly in this shape but it is not usually visible with the naked eye – these large ones are likely sector plates, which are snowflakes with cloud droplets frozen on them, forming a hexagonal structure often with a star-like shape in the centre.
When temperatures fall to -20 to -25C dendrite snowflakes form, the most eye-catching kind with a full tree-like structure.
"GUYS THE SNOW IS FALLING IN STAR FORMATION IM SO AMAZED" one Twitter user gasped.
Star shaped snow. #brownstonesteps #snowstorm #blizzard #homewithteaandspotify http://t.co/FMnyDs5kRH pic.twitter.com/cLJOwqaeKD

— Foladé (@alifeinboxes) January 26, 2015
Beautiful, star-shaped snow in Hell's Kitchen. #W42ST #snow pic.twitter.com/InQOVH8AZh

— Jennifer Roesch (@columbiajen) January 26, 2015
#Snowflakes from yesterday. After noticing the shapes I couldn't stop seeing them on the... http://t.co/wWNxKhjOBp pic.twitter.com/UFMxsUnCOl

— Jae Jamal (@jaejamal24) January 27, 2015
I saw them in Times Square sooo cool RT @sportie517: @GMA Look at these snowflakes in Staten Island pic.twitter.com/FKobc0egGT

— Amy Freeze (@AmyFreeze7) January 27, 2015
Star shaped snow! http://t.co/9LNItjCdxX pic.twitter.com/UE9hH8YOPi

— Cody (@codynewyorkcity) January 27, 2015
Other snow-based revelry in the city includes wandering down deserted avenues, as all non-emergency vehicles have been banned from the streets.
One group of friends on First Avenue even set up a beer pong table at the crossroads.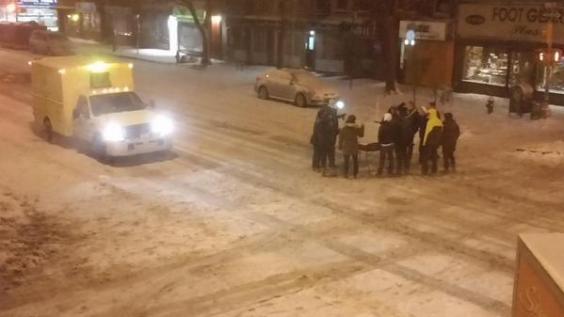 A state of emergency was declared by governors in New York, New Jersey, Connecticut, Rhode Island, Massachusetts and New Hampshire as the snow blast threatened to affect up to 60 million people in nearly a dozen states.
New York City Mayor Bill de Blasio warned the city it was facing "one of the largest snowstorms in the history of this city".
The National Weather Service warned of "life-threatening blizzard" conditions and "crippling snowfall amounts" of up to 30 inches (76 cm) of snow on parts of the region. It said wind gusts could reach up to 55 mph (80 kph) around New York City.