Further proof that Earth will eventually just become one big coffee and muffin dispensary, Arlington, Virginia is to get a third Starbucks branch within a one block radius.
The opening of a new TargetExpress store in Rossyln will bring another Starbucks at 1500 Wilson Blvd, from which customers will be able to look out of its big glass windows at two other Starbucks across the street - one inside a Safeway (1501 17th Street N.) and another freestanding one at 1525 Wilson Blvd.
Walk a quarter of a mile down the hill of N. Lynn Street, and you'll also find another Starbucks.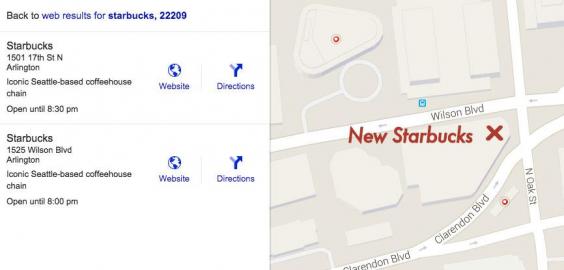 Arlington is known for its insatiable appetite for caffeine, its number of Starbucks branches previously being lampooned in a widely-shared 'Arlington rap'.
"As a standard course of business, Starbucks continually evaluates our store portfolio, using various criteria to ensure we are meeting the needs of our customers," a Starbucks spokeswoman very dryly told ARLnow.com.
Starbucks currently has 22,551 stores operating worldwide.
Reuse content