A family has threatened to sue an entire school district for sexual harassment after receiving a dress code letter for graduation.
Bri Burtop, an 18-year-old senior at Biglerville High School in Pennsylvania, told ABC News that she received a letter issued by the school that urges female students to choose "modest attire" with "no bellies" or "sausage rolls."
"They also said that they don't want to be looking at our sausage rolls. And as you get dressed you should remember you can't put ten pounds of mud into a five pound bag," she said.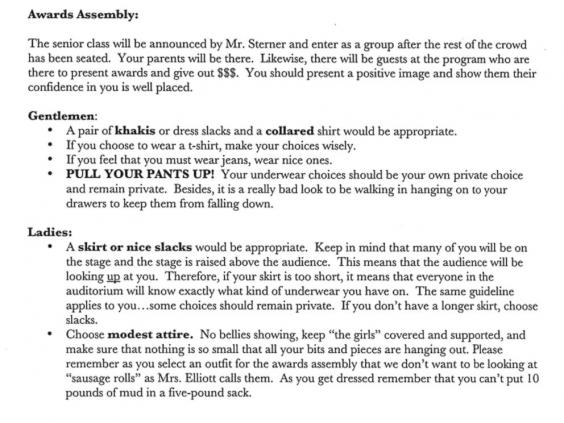 The student's family said that the dress code only gave female students specific restrictions.
"We're supposed to feel safe and comfortable here and from a letter like that to come from the administration is appalling," she told ABC News.
The Upper Adams School District has issued a statement claiming that the teacher who penned the document has retired and the document was retired — despite being administered several days prior.
"The Administration acknowledges that some individuals have found certain language in the document to be inappropriate or in poor taste. The document was drafted years ago, and the author of the original document has since retired," the document said.
"The document does not reflect the high standards of the Upper Adams School District, and the Administration will take appropriate action to address the issue. While we regret that the document contained some unfortunate word choices, we do respect all students and hope this does not distract from the dignity of the graduation ceremony and the accomplishments of our graduating class."
Reuse content