With a surprising lack of drama, the terrifying reign of Pennsylvania's real-life Rambo is over. Eric Frein, for whom the manhunt in the Pocono Mountains had lasted seven long weeks, was captured near an abandoned aircraft hanger on Thursday night.
The survivalist, who is the sole suspect in the shooting of two state troopers outside a barracks in eastern Pennsylvania which left one officer dead and the other seriously wounded, was reported to have "meekly" given himself up to police officers. Prosecutors said they would seek the death penalty for him. "He did not just give up because he was tired," said state police Commissioner Frank Noonan. "He gave up because he was caught."
His capture was confirmed in an email to reporters from Pennsylvania State Police. At his initial court appearance yesterday crowds outside jeered as he entered.
State police said they did not know whether Mr Frein, who was unarmed when captured, had been using the hangar as a shelter during his 48 days on the run. He was held in the handcuffs of the trooper he is accused of killing.
Reports said Mr Frein, 31, had knelt and put his hands up when marshals approached him. The arrest brought an end to weeks of tension and turmoil in the area: authorities had, at times, closed schools, cancelled outdoor events and blockaded roads to pursue him. Residents had wearied of hearing helicopters overhead, while small businesses had lost money and town supervisors had cancelled a popular Halloween parade.
This week, police had sent up a huge helium balloon equipped with day- and night-time cameras in the hope of glimpsing their quarry as the leaves began to fall. Mr Frein, who had been placed on the FBI's Top Ten Most Wanted List, will be charged with killing Cpl Bryon Dickson and wounding Trooper Alex Douglass outside the Pennsylvania State Police barracks in Blooming Grove.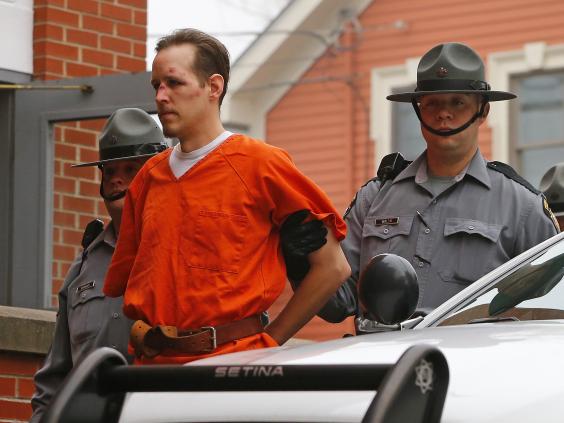 Police believe he picked them out with a sniper rifle. Ammunition that matched the weapon were found days later in a car registered to Mr Frein that was found half submerged in a local swamp.
Police faced numerous difficulties trying to track him through dense forest, always aware that booby traps may have been laid. Just as he was their target, they were his. Among their discoveries were two pipe bombs he was thought to have built.
They also found used diapers, leading to his being called the "Diaper Sniper" by some, cigarette butts and a journal with a chilling account of the barracks shootings.
Helen Blackmore, who lives in the heart of the search zone in Cresco, said: "It was very crazy here. The helicopters were out all the time. Nobody was sleeping. Even today they were out," she said. "We're very relieved. We want things to get back to normal."
Reuse content