A man charged with killing a Houston police officer allegedly fired a total of 15 times, CBS News reported.
Shannon J Miles, 30, appeared in court on Monday for his arraignment in the fatal shooting of Deputy Darren Goforth, 47.
"He runs up behind Deputy Goforth and puts the gun to the back of his head and shoots. Deputy Goforth hits the ground and then he continues to unload his gun, shooting repeatedly into the back of Deputy Goforth," Devon Anderson, the Harris County District Attorney said, describing surveillance video shown in court.
The suspect shot the deputy in the head, then unloaded his gun, firing a total of 15 shots. The shell casings reportedly match a .40-caliber Smith and Wesson handgun found inside Mr Miles' home, and the man was taken into police custody on Saturday.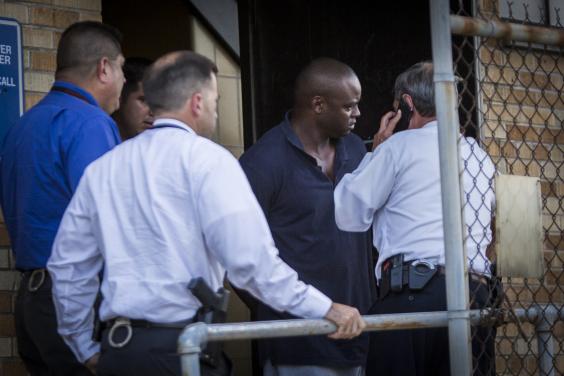 Investigators said they have found no motive regarding the killing. However, the suspect's mother provided him with an alibi before he was officially charged, KPRC reported. She said that they were shopping together at the time of the shooting.
"We got back, we couldn't get on our street. So after we couldn't get on our street, when we came back, the back way to our house and then that's when we (were) faced with SWAT and dogs and cops and guns and they handcuffed him."
The lack of motive has caused Harris County sheriff Ron Hickman to speculate the unprovoked killing: "We've heard black lives matter; all lives matter. Well, cops' lives matter too," he said during a press conference, the Associated Press reports. "At any point where the rhetoric ramps up to the point where calculated cold-blooded assassination of police officers happens this rhetoric has gotten out of control."
Conservative pundits have ran with the comments and blamed the senseless killings on the Black Lives Matter movement, who have vehemently expressed their disgust with the killing, simply because the suspect is black.
Mr Miles' next court date is 5 October.
Reuse content