Relatives of a black woman suffering from mental health issues who died after police responded to an emergency call by her family have filed a legal action against of Cleveland – alleging that her constitutional rights were violated.
The family of Tanisha Anderson has named two police officers who responded to an emergency call last November that ultimately led to the death of the 37-year-old. The lawsuit accuses the officer and the city government of use of excessive force, wrongful death and violating the Americans with Disabilities Act. It calls for a trial and an unspecified amount in damages.
"The death of this joyful, loving, unarmed 37 year old woman in the midst of a mental health crisis is part of the pattern and practice of excessive force by Cleveland Police Division officers," the lawsuit says.
Ms Anderson died after her family called the emergency services and explained that the woman, who suffered from bipolar disorder and schizophrenia, was causing a disturbance. The family agreed to allow police to take her to a charity-run medical centre for a check-up.
Police claim that after officers escorted her from the family home, Ms Anderson started to kick the officers. But Ms Anderson's brother, Joell, claimed he watched as an officer forced her to the floor, place his knee on her back and put her in handcuffs. Soon afterwards she stopped moving.
Last week officials ruled that Ms Andersen's death was an unlawful killing and said she had been a victim of "homicide by legal intervention". Her death was caused by "physical restraint in a prone position in association with ischemic heart disease and bipolar disorder with agitation," said the Cuyahoga County Medical Examiner's Office.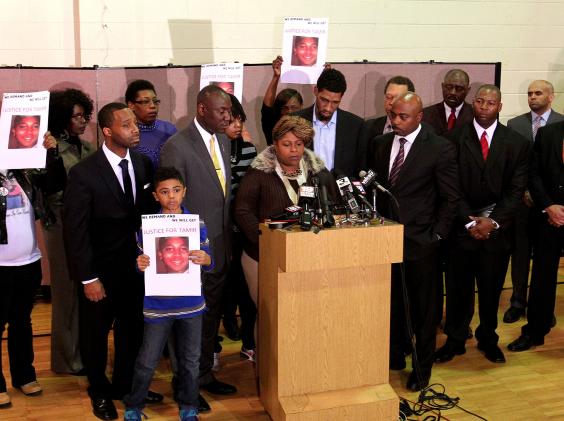 Some activists said they believed Ms Anderson's death had been similar to that of Eric Garner, a 46-year-old black man from Staten Island, New York, who died after police placed him in a choke-hold after he was arrested for the allegedly illegal sale of cigarettes.
The death of Mr Garner, and the subsequent decision by prosecutors not to charge the police officers involved, was one of several incidents that triggered protests across the country by people angered about the treatment of black suspects by some police.
Her death was one of several in Cleveland to trigger outrage. Also in November, 12-year-old Tamir Rice, who was shot and killed by officers responding to reports of a black male with a handgun. The caller had said the gun was probably fake. As it was, Tamir had been playing in a park with a plastic toy pistol.
The legal action filed by the family of Ms Anderson is a federal civil rights lawsuit, the Plain Dealer reported. It follows an federal probe by the Justice Department that concluded the Cleveland police force engaged "in a pattern or practice of the use of excessive force" and said outside monitoring of officers was required.
The family of Ms Anderson is due to hold a press conference on Thursday to explain further details of the lawsuit. The city of Cleveland administration said it would not comment on ongoing litigation.
Reuse content