An estranged husband tried to murder his wife by putting poison into her toothpaste, in a move she said also endangered the lives of their children.
Fred Wortman attempted to murder his spouse, Staci Wortman, two more times, by trying to hire a hitman and by offering to pay a prison inmate £7,000 to kill her.
The 39-year-old from Tennessee pleaded guilty to all three attempts of murder and was sentenced to 30 years in jail in November
But Ms Wortman revealed the toothpaste murder plot in an interview with The Commercial Appeal.
She remembered a "burning sensation" when brushing her teeth, which her oldest daughter felt too after using the same toothpaste.
Ms Wortman said she thought it was merely a "bad tube".
A few weeks later, Collierville Police visited her at her home, which she shared with her former husband, to inform her they suspected him of trying to kill her.
According to the Mirror, the police said they had been tipped off that Wortman was using his work computers to research various poisons,and how to hire a hitman using Bitcoin, a digital currency.
They concluded Ms Wortman to be the target because there was a photograph of her on the computer he used.
Upon hearing the news about her husband's sudden interest in poison, Ms Wortman remembered the tube of toothpaste and handed it over for testing.
The toothpaste came back positive for Aconitum, a plant-based toxin that causes headaches and a burning sensation in small doses, but in large doses, kills the victim almost instantaneously.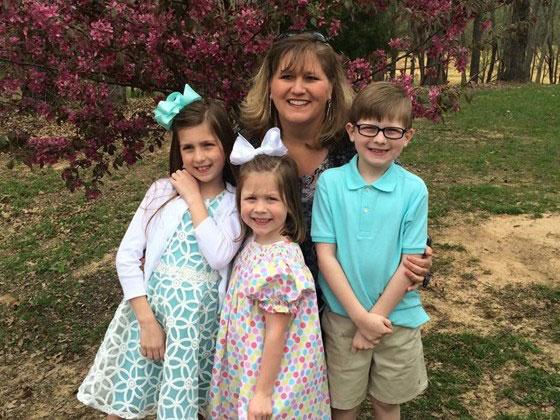 Ms Wortman said she filed a restraining order against her husband to protect herself and her children.
But according to the Knoxville News Sentinel, an affidavit from the Tennessee Bureau of Investigation said Wortman subsequently paid a "hitman" and gave him detailed instructions on how to kill his wife, saying he had already done a "trial run".
The hitman was actually an undercover agent in a sting operation that led to Wortman's arrest. He was charged with solicitation of first-degree murder.
Ms Wortman told The Commercial Appeal that just hours earlier, Wortman had video-called her children to wish their six-year-old daughter happy birthday.
She said: "He FaceTimed them that morning. I'll never forget that… then what, four hours later? He was sitting in a car trying to plan my death."
Wortman was indicted in June on charges of attempted murder and aggravated child endangerment, and his law licence was suspended.
However, on July 1, Wortman was accused of attempting to hire another inmate to kill his wife from inside jail in Fayette County. He reportedly offered the inmate £7,000 to murder Ms Wortman.
She said she had filed for divorce after 14 years of marriage, claiming her husband had been unfaithful.
Shelby County Assistant District Attorney, Paul Hagerman, prosecuting, called Wortman's actions a "pattern of darkness".
Wortman pleaded guilty to attempted murder on three different occasions, and apologised to his wife and children in November.
He admitted to poisoning Ms Wortman's toothpaste, hiring an undercover investigator as a hitman, and later attempting to bribe an inmate to kill her, according to prosecutors.
According to WMC-TV, he said: "No apology I offer will be sufficient to all who I have disappointed, let down and hurt. I do apologise to Staci, the Joneses, my parents, my family.
"Most of all I apologise to my three precious children."
An crowdfund has been set up by Ms Wortman's friends and family to raise money for the family, as "she has been left with no child support, alimony or any financial assistance from her estranged husband".
Reuse content