A Mexican national has been executed in Texas for killing a police officer, despite pleas from the Mexican government and an unusual intervention by the US Foreign Secretary.
A lethal injection was administered to 46-year-old Edgar Tamayo on Wednesday, but was delayed by more than three hours while the US Supreme Court considered last-day appeals.
Mr Tamayo was found guilty of shooting Houston police officer Guy Gaddis, who was 24-years-old at the time of the incident in 1994.
Mr Gaddis was driving Mr Tamayo and another man from a robbery scene when he was shot three times in the head and neck.
The Mexican government said it "strongly opposed" the execution, and the US government had also attempted to intervene because of claims it breached an international agreement stipulating that Mr Tamayo could receive legal help from the Mexican consulate following his arrest.
However, Texas officials spurned arguments that Mr Tamayo's case was tainted because he wasn't informed of the agreement.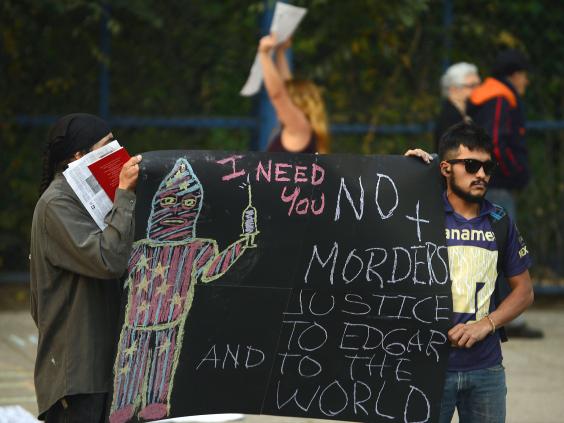 Euclides Del Moral Arbona, a Director in the Mexican Ministry of Foreign Affairs, told reporters outside the prison: "The issue of fundamental importance in this case is the respect for the right of access to protection provided by our consulates to Mexicans abroad."
Last autumn, Secretary of State John Kerry asked Attorney General Greg Abbott to delay Tamayo's punishment, saying it "could impact the way American citizens are treated in other countries."
The State Department reiterated Mr Kerry's sentiments earlier on Wednesday, but had no immediate comment following Mr Tamayo's death.
Mr Tamayo's was among more than four dozen Mexican nationals awaiting execution in the US in 2004 when the International Court of Justice ruled they hadn't been advised properly of their consular rights.
His lawyers, Sandra L. Babcock and Maurie Levin, issued a statement after the Supreme Court's ruling, saying Governor Perry and Attorney Abbott "ignored promises they made to our nation's leaders that they would ensure review of Mr Tamayo's consular rights violation."
"The execution of Mr  Tamayo violates the United States' treaty commitments, threatens the nation's foreign policy interests, and undermines the safety of all Americans abroad," Ms Babcock and Ms Levin also said.
His lawyers had also unsuccessfully argued that Mr Tamayo was mentally impaired and therefore ineligible for execution.
Lucy Nashed, spokeswoman for Texan Governor Rick Perry, said: "It doesn't matter where you're from, if you commit a despicable crime like this in Texas, you are subject to our state laws, including a fair trial by jury and the ultimate penalty."
Mr Gaddis' mother and two brothers watched through a window as Mr Tamayo was given a lethal dose of pentobarbital. Mr Tamayo had no witnesses present.
Additional reporting by AP