They have suffered death and devastation, ruined homes and wrecked lives.
Now the the people of the flooded southern US are confronting another challenge – snakes, alligators and other creatures that people rarely come face to to face with.
With the death toll from the floods caused by a record deluge standing at 17, and will many people still unaccounted for, Reuters reported that wildlife officials have said the water in Texas and Oklahoma is causing snakes, alligators and other reptiles to seek dry land in populated areas.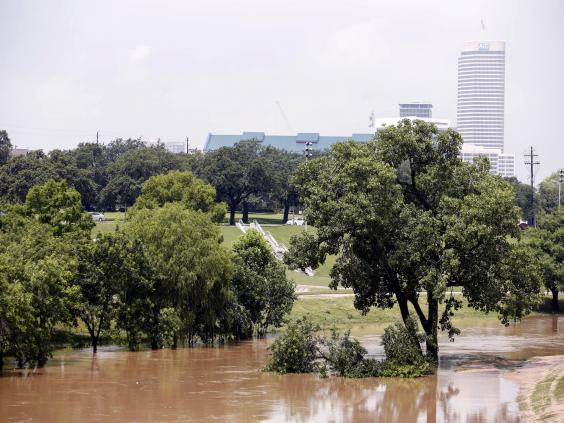 The news agency quoted one resident of the town of Edmond, near Oklahoma City, Jeff Lara, who said he found a rat snake measuring four feet in his home in his barbecue.
"I opened my grill cover and he jumped at me," said Mr Lara. "The snake coiled back up, and I took a shovel, scooped him up and tossed him in the yard. He just slithered away."
Non-venomous rat snakes, which can grow up to six feet in length and frequent states including Texas, Louisiana, Arkansas and Oklahoma, help keep the rodent population down. But flooding has displaced the creatures, with removal services such as 911 Wildlife, which has contracts with several Texas cities, receiving reports of more than 1 000 of the snakes in North Texas and Houston homes.
"The important thing is not to try and kill the snake because that's how people get bitten. If you're trying to hit it with something, then the snake is going to strike and defend itself," said Bonnie Bradshaw, with 911 Wildlife.
Police have also warned parents to keep their children clear of flood waters because it is mating season for alligators, creating hazards for anyone nearby.
"Alligators travel great distances this time of year and having more water to do it in certainly facilitates it," said Major Chad Norvell with Fort Bend County Sheriff's Department in Texas.
Another threat lurking in flood waters is stinging fire ants, according to Ms Bradshaw. "They will form a mat on the surface of the water," she said.
She added: "If people see something that looks like a brown rug floating, that's a nest. Stay away."
The Dallas Morning News said that there are four venomous snakes in Texas - rattlesnakes, copperheads, water moccasins and coral snakes. But the vast majority, such as rat snakes water snakes, are non-venomous.
Andrew Gluesenkamp, of the Texas Department of Parks and Wildlife, said: "The vast majority of snakes in Texas and the vast majority of snakes people encounter in Dallas are nonvenomous.
He added: "I know people tend to panic, and people tend to panic more easily when there's a disaster going on. ... I would worry much more about how my neighbours are doing rather than the snake on my porch."
Reuse content