A modest and well-thumbed book of psalms printed in the New England wilderness by early colonists could become the most expensive written volume ever sold at auction.
The Bay Psalm Book - one of just 11 still in existence - is expected to fetch up to £18m ($30m) when it goes under the hammer at Sotheby's in New York on Tuesday.
Printed as an act of rebellion against the religious leaders of the mother country by the puritan settlers just 20 years after the sailing of the Mayflower, it is the first manuscript to have been written or printed in what is now the United States of America.
The simple English language tome harks back to the original Hebrew translations of the psalms in a bitter rejection of the Latin tradition which the pilgrims left behind.
The original 1,700 copies helped pave the way not just for a separation of churches but eventually sowed the intellectual seeds for Thomas Paine's Common Sense and full blown American independence.
If it reaches its expected upper price tag it would shatter the previous record held by The Birds of America by John James Audubon, a copy of which sold for £7.12m in 2010.
David Redden, chairman of Sotheby's worldwide books, said it would almost certainly remain in the US. "This was a new translation created in an act of defiance of the Church of England," he said.
"It was a very complicated procedure. They were there literally in the wilderness producing a 300-page book. It was designed to be carried in the pocket and taken to church. It is a simple book - not elaborate but designed to be used. In fact they were used to such an extent that many would have simply fallen to pieces," he added.
The book, whose formal title is The Whole Booke of Psalmes Faithfully Translated into English Metre, is one of five originally acquired by the historic Old South Church in Boston, Massachusetts where Benjamin Franklin was baptised. It is selling one of its two remaining copies to fund building and charity work.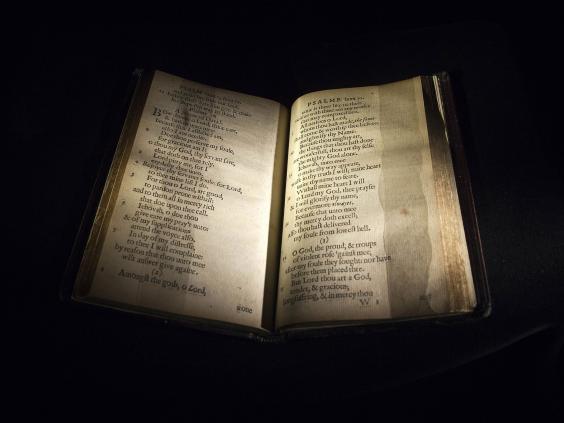 The printing press was brought to British North America by a Calvinist minister Josse Glover who died on the long voyage across the Atlantic. Work began in 1639 and was rapidly taken up by local congregations.  Massachusetts soon outstripped Oxford and Cambridge to be the largest English language printing centre next to London.
There are a number of errors. The word "psalm" is spelt differently on opposing pages and the work has been described by one expert as "rather shoddy done".
More than 50 editions were later produced as it grew in popularity. However, a copy of the psalms, described as "too rare to collect" has not been sold since 1947 when it set a record outstripping copies of the Gutenberg Bible and Shakespeare's First Folio.
The most recent discovery was in Ireland in the 1930s although other unknown copies are believed to be in existence.
The Bodleian Library in Oxford has a copy. It belonged to Church of England Bishop Thomas Tanner and was one of a number of titles that is said to have been dropped overboard when he was moving his library by riverboat to Oxford. It has since been rebound in green leather. Other copies are held in The Library of Congress, The New York Public Library, Yale University Library and Harvard College Library.
Reuse content