A dog, that was found with her mouth taped so tightly shut that she needed surgery, is on-the-mend and will not require any more procedures, animal society officials have confirmed.
Caitlyn – a 15-month-old Staffordshire bull terrier mix from Charleston, South Carolina in the U.S. – was found in May on a doorstep with the electrical tape wrapped tightly around her muzzle for three days, Fox Carolina reported.
41-year-old William Leonard Dodson was, this month, arrested, charged with animal cruelty, had bail set at $50,000 over the incident and was ordered to surrender another dog at his home.
An investigator for the Charleston Animal Society (CAS), Aldwin Roman, said it was the worst cases of animal cruelty he'd ever seen and added: "Her life is not going to be easy, even if she completely recovers.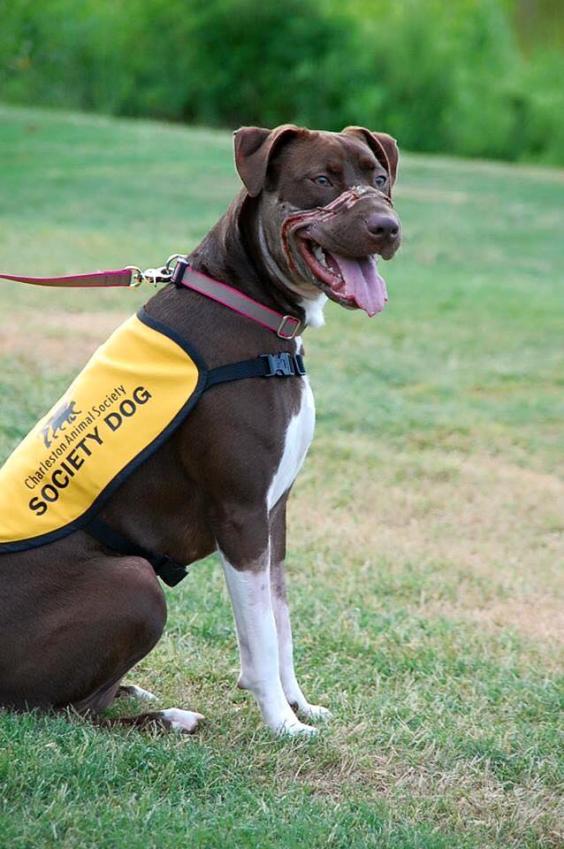 "Caitlyn is going to be permanently disfigured and permanently disabled for the rest of her life. She's healing, but the damage is done."
Court documents stated that Mr Dodson – who 'laughed' over the incident – bought the dog at the end of May for $20 and told the woman he bought Caitlyn from that he taped her snout because she 'would not stop barking'.
The documents also described that, when Caitlyn was taken in, her snout was swollen and her tongue was also "significantly swollen, significantly bruised, discolored (dark purple) and oozing blood."
When Caitlyn was first brought in to the CAS, the group's senior director of veterinary care, Dr Lucy Fuller, said a large portion of her tongue might have to be removed because it had become trapped between her teeth and lost blood flow.
However, Caitlyn had been receiving hyperbaric and cold laser treatment to save damaged tissue in her mouth and has since been showing signs of progress.
Dr Henry Bianucci, who has been treating Caitlyn, said she is continuing to recover but has a way to go. He added that the dog is responding well to treatment for pain, but and will need reconstructive surgery on one side of her face.
Staff at the CAS are hopeful that Caitlyn will eventually be placed with a foster family.
Reuse content