There has been a mixed reaction to Sony's decision to cancel the release of The Interview due to an anonymous security threat, but one Texas cinema's response has been outstandingly, quintessentially American.
Several major cinema chains across the US had said they would not be showing Seth Rogen and James Franco's film  the plot of which focuses on a mission to assassinate Kim Jong-Un – after a group of hackers invoked the 9/11 attacks and promised "a bitter fate" to those attending the Christmas Day release.
That prompted Sony Pictures to pull the plug on the film altogether, while the threat has been subject to an intensive investigation from the FBI – while may come out blaming North Korea for the hacks later today.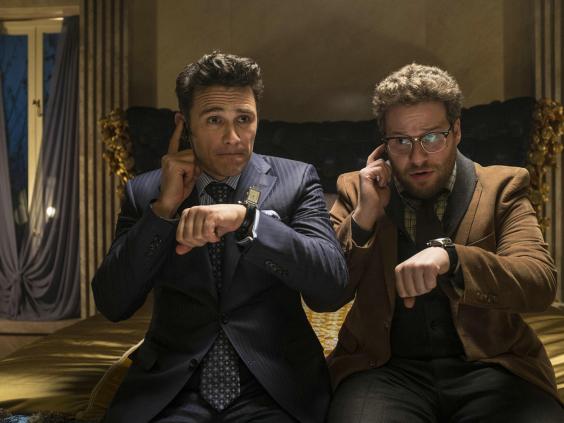 The Alamo Drafthouse in Texas was one independent cinema willing to brave the threat and show the film regardless, it said. But now that it has been cancelled, they have decided to put on a showing of Team America: World Police instead.
The cinema hailed that movie – which is about a North Korean plot to destroy the world and features Kim's father Jong-Il – as "THE GREATEST MOVIE MADE ABOUT AMERICAN PATRIOTISM EVER".
The showing on 27 December will be a free-to-attend, sing-along affair, and the cinema says it will be providing enough red, white and blue paraphernalia for everyone.
The cinema doesn't seem to acknowledge the satirical nature of South Park creators Trey Parker and Matt Stone's film – which opens with the Team America "World Police" saving Paris from terrorists by destroying all its major landmarks.
FOR THE RECORD: We were still going to show #TheInterviewMovie…

— Alamo Drafthouse DFW (@AlamoDFW) December 17, 2014
…but now we'll be showing TEAM AMERICA in it's place…for FREE(DOM). Because AMERICA, F YEAH. http://t.co/7A7p6ApIIE pic.twitter.com/U3EEqQU1Px

— Alamo Drafthouse DFW (@AlamoDFW) December 17, 2014
But the new listing on the Alamo Drafthouse's website is a glorious display of American defiance and pride in "independence".
It reads as follows: "Sure, you can celebrate your independence the usual way: slow sipping a beer as you stand over a grill while people you have only mild contempt for wait inside for their free meal. OR you can join The Action Pack as we celebrate the GREATEST MOVIE MADE ABOUT AMERICAN PATRIOTISM EVER and celebrate its 10th anniversary!
Sony Cyber Attack: The Worst Affected In Hollywood
Sony Cyber Attack: The Worst Affected In Hollywood
1/13 Leonardo DiCaprio

The actor's 'horrible behaviour' over Steve Jobs biopic was branded 'actually despicable' in leaked Sony executive emails

Getty Images

2/13 Seth Rogen

Seth Rogen and James Franco cancel Interview (North Korea-baiting film) press appearances after Sony hackers' threats

3/13 James Franco

Seth Rogen and James Franco cancel Interview press appearances after Sony hackers' threats

AP

4/13 Aaron Sorkin

The screenwriter has said that the people who hacked into Sony Entertainment Pictures and released private emails are 'threatening the lives of whole families'

Theo Wargo | Getty Images for Nantucket Film Festival

5/13 Amy Pascal

Also leaked: Sony Pictures co-chair Amy Pascal's email joking about President Barack Obama's race

Getty Images

6/13 George Clooney

Leaked email chain between Pascal and George Clooney appeared to reveal just how much the actor struggled to cope with the criticism of his The Monuments Men

Getty

7/13 Barack Obama

Sony executives Scott Rudin and Amy Pascal's leaked email exchange jokes about Barack Obama favouring films with black actors

Getty

8/13 Channing Tatum

Channing Tatum's leaked Sony executive email responding to the success of 22 Jump Street with Jonah Hill, which became the highest grossing R-rated comedy ever when it opened in June this year

Getty Images

9/13 Jaden and Willow Smith

Will Smith and Jada Pinkett Smith's children Willow and Jaden Smith found themselves in the Sony inbox as well

Getty

10/13 Mark Gordon

DiCaprio's exchange with Jobs TV producer Mark Gordon (pictured) was leaked too

Getty Images

11/13 Princess Beatrice

Sony hackers linked to North Korea revealed Princess Beatrice earns $30,000 a year

12/13 Michael Fassbender

Aaron Sorkin's leaked emails claimed he had no idea who actor Michael Fassbender (pictured) was

Getty Images

13/13 Scott Rudin

Information leaked has also included embarrassing emails involving high profile producer Scott Rudin attacking Angelina Jolie

Getty Images
"The world is different in 2014 than it was in 2004. Kim Jong Il is gone. I don't know if Michael Moore is still around or not. But a lot of the brilliance in TEAM AMERICA is timeless. Acting is still the greatest gift any human being can possess, and it's the only way to save America from the terrorists. Puppet f***ing is still awesome. And Matt Damon is still Matt Damon.
"So celebrate your indendence [sic] this year with the Action Pack. We'll have subtitles for all the songs and all of our favorite quotes, so you'll have plenty of opportunities to scream out "AMERICA! F*** YEAH!" at the top of your lungs. And yeah, we will have American flags, red white and blue streamers, balloons, and more for everyone. And THAT is how true American heroes will be celebrating this year, but if you want to let the terrorists win...well, that's your prerogative."
Reuse content