On Saturday night at the Staples Center in Los Angeles, the LA Clippers will take on Oakland's Golden State Warriors in the seventh and deciding game of their regional NBA play-off series. It would be a big game in any season – especially for the Clippers, who have historically enjoyed far less success than their neighbours, the Los Angeles Lakers. But this particular play-off tie also takes place under the spotlight of controversy.
This week the team's owner, Donald Sterling, was banned for life by the NBA, the sport's ruling body, after an audio recording emerged in which the 80-year-old real-estate mogul made offensive comments about black people. Sterling was also fined $2.5m (£1.5m), the maximum penalty permitted in the NBA constitution, making his the most severe punishment ever meted out by the organisation to a team owner. NBA commissioner Adam Silver made clear that he will do all he can to see that Sterling is forced to sell the Clippers altogether.
On the tape, Sterling allegedly confronts his 20-something model friend V Stiviano about posting pictures of herself on Instagram with black friends.
"It bothers me a lot that you want to broadcast that you're associating with black people," Sterling can be heard saying. "You can sleep with [black people]. You can bring them in, you can do whatever you want. The little I ask you is not to promote it... and not to bring them to my games."
Viewing figures for Clippers games have spiked since the controversy began, but sponsors such as State Farm and Kia have fled the franchise. On Thursday the president of the LA branch of the National Association for the Advancement of Coloured People became a victim of the fallout: Leon Jenkins resigned over the NAACP's decision to honour Sterling with a lifetime achievement award. The gala ceremony, which had been planned for later this month, has been cancelled.
Sterling's recent outburst was not an isolated incident. The former lawyer bought the Clippers in 1981 and is the longest-standing owner in the NBA. Over those three decades he has faced several discrimination lawsuits unrelated to basketball, and as recently as 2009 he paid a settlement of $2.73m (£1.62m) over allegations that he had refused to rent apartments to minority tenants.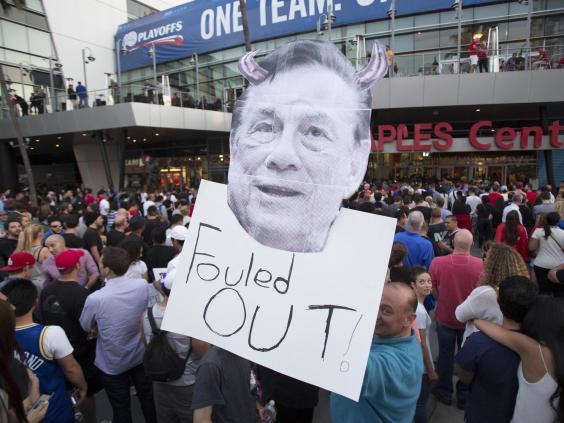 In an earlier lawsuit, which resulted in a confidential settlement in 2005, one of the billionaire's property supervisors testified that Sterling had said black people are "not clean", and that he wanted to "get them out" of his properties.
The Clippers team roster is made up almost entirely of non-white players. The team's coach, Doc Rivers, is black. According to figures from The Institute for Diversity and Ethics in Sport, more than 75 per cent of NBA players in 2013 were African-American, as well as almost half of coaches. Yet of the league's majority owners, just one was non-white: Michael Jordan, chairman of the Charlotte Bobcats. On the offending audio recording, Ms Stiviano asks, "Do you know that you have a whole team that's black, that plays for you?" Sterling replies: "I support them and give them food, and clothes, and cars, and houses. Who gives it to them? Does someone else give it to them? … Who makes the game? Do I make the game, or do they make the game?"
Writing for the BBC, retired basketball player John Amaechi explained: "A plantation mentality still exists with some owners and administrators [in the NBA] … it is not just black people being treated badly but women, homosexuals and other ethnic minorities."
Throughout the past century, sport has been central to racial progress in America. It is impossible to overestimate the impact of Jackie Robinson, who first broke Major League Baseball's colour barrier by going out to bat for the Brooklyn (now Los Angeles) Dodgers in 1947. The heavyweight boxing legend Joe Louis spent 140 consecutive months as world champion between 1937 and 1949; many consider him America's first non-white national hero.
After Sterling's remarks became public, his players staged a silent protest, turning their jerseys inside out before a game to obscure the Clippers logo.
The support shown for the players and the widespread condemnation of Sterling's remarks demonstrate just how unacceptable such views now are to the majority of people in the US. But even as sport helps to break down barriers, it also echoes and amplifies the less palatable attitudes still at large in American society.
The NFL is in the middle of its own rumbling racial controversy over the name of Washington DC's football team , the Redskins.
In spite of protests from Native American groups and others about the insensitive term, the team's owner, Dan Snyder, has steadfastly refused to change it. Several big media outlets now refer to the team obliquely as, for instance, "Washington's NFL team".
Baseball teams the Atlanta Braves and Cleveland Indians have also resisted calls to alter their names.
Ray Halbritter, a representative of the Oneida Native American nation in New York state, has been leading the campaign for a Redskins name-change.
He praised the NBA for its swift action in dealing with Sterling.
"In taking such appropriate disciplinary action, the NBA has shown leagues like the NFL that they have a moral responsibility to take disciplinary action against people like Dan Snyder, who also continues to proudly promote bigotry with the use of a dictionary-defined racial slur as his team's name," Mr Halbritter said in a statement.
Perhaps the least diverse of all US sports is Nascar: though the motor-racing discipline has several top women racers, there are thought to be no minority drivers currently competing at Nascar's top level.
Meanwhile, many Nascar fans still proudly display the Confederate flag at events.
The flag, flown by the Southern states during the American Civil War, remains a potent symbol of racial division – so much so that in 2001, US college sports authority the NCAA banned South Carolina and Mississippi from hosting post-season sporting events, including the annual national "March Madness" college basketball tournament, because both states still fly the Confederate flag at their state capitols.
Then again, European sports fans can hardly look across the water and claim that their own pastimes are free of such sentiments.
Sterling's racist remarks became public on the same weekend that a football fan threw a banana at Barcelona star Dani Alves during a match – a disturbingly common occurrence. Yet in an example of the power of sport and sportsmen to counter racism, Alves bent down, picked up the banana, and ate it.
Reuse content