All of New York is titillated by the topic and the city's allegedly progressive mayor, Bill De Blasio, is straining to keep abreast. What is to be done with "las desnudas", the name given to the small band of women "entertainers" who have been soliciting tips on Times Square with nary a stitch on their chests?
The boob brouhaha took hold when complaints apparently began to pour in that the topless trade being plied on the pedestrian plaza that much of Times Square was turned into by the last mayor, Michael Bloomberg, was causing offence to tourists and office workers alike. The rest of the world may be caught in the headlights by collapsing equity markets and the new terrorist threat on the rails, but in New York this is still most pressing. How to reconcile existing laws that explicitly allow women to go bare-chested in its streets –just as men are – with a Puritan instinct to prevent the plainly indecent in public places?
The gradual transformation of Times Square and other previously vehicular streets in Manhattan into pedestrian plazas has been a source of friction before. Innocently ambling tourists are a tempting target for "performers" seeking a soft-touch buck. At the "Crossroads of the World", that often means men dressed in superhero costumes, posing for pictures before demanding compensation.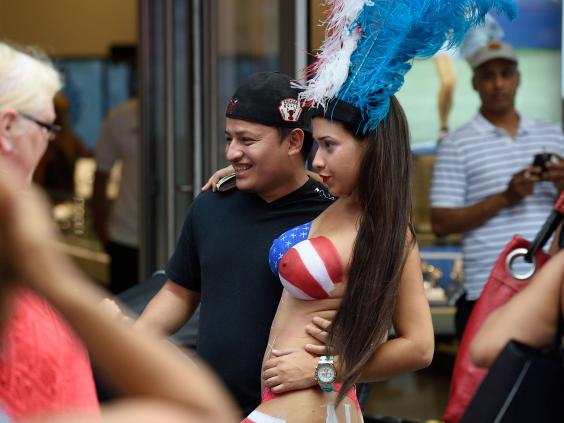 For years the most daring has been the Naked Cowboy, who surfaces in summer to strut his physique and pluck his guitar. "Las desnudas" appear to have no such musical talent, but wander about wearing bikini bottoms and feather head-dresses, seeking to crouch with visitors for naughty selfie-photographs for money. Their breasts are bare but painted in patriotic red, white and blue.
Mr De Blasio, elected as a liberal antidote to Mr Bloomberg, has shown an unexpectedly prudish streak by declaring that one solution might be to tear up Times Square's plaza and let the traffic back in. His police commissioner, William Bratton, wants to send in the bulldozers without delay, to curtail the undesirables.
Among less drastic solutions, the simplest would be just to wait a week or three for colder weather to return. There will be no breast conundrum to face in December. Or, the flaunting women could be prosecuted for disturbing, or offending, the peace.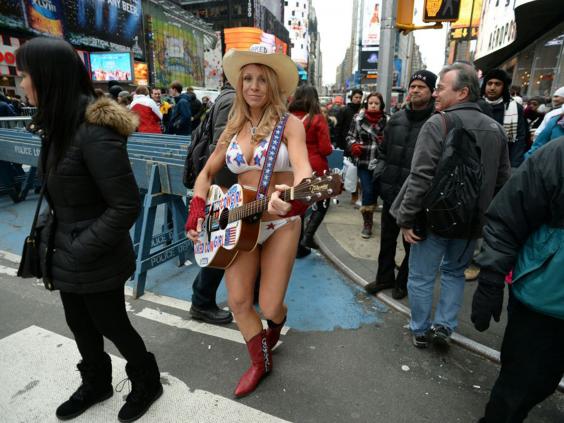 The latter, though, is problematic: in 1992 the New York State court affirmed the right of women to go about shirtless should they so choose. This was what two dozen women sought to defend by staging a topless weekend march, via Times Square, to the giggling astonishment of tourists.
There may be some wiggle room in the law, however.  According to some legal scholars, the right of women to wear nothing on top if they choose becomes void if they seek to turn their choice into a financial proposition.
Mr De Blasio is now setting up an "inter-agency" panel to investigate how to deal with the "desnudas", and members of the city council say they will pass new regulations forcing them to button up if they want to perform publicly. So when to comes to nipples on parade, New Yorkers will have to stay tuned. And if they, or anyone watching the dispute, are perplexed, they need only remember one thing: it's August.
Reuse content