A very lucky escape.
That is all that can be said about a reporter from Northern California and his cameraman who narrowly missed being hit by a careering car while broadcasting live on air.
A recording of the incident showed KTVU reporter Alex Savidge reporting on air before his report is interrupted by a loud bang and then the sound of cameraman Chip Vaughan telling him to beware.
Grateful... Well that was truly the most frightening thing that's ever happened to me! And I want to make sure everyone understands how important the person is who's standing behind that camera. I'm not sure what would have happened if my photographer Chip hadn't yelled at me to move at the last second...he had my back and I'm so thankful for that. I also appreciate everyone checking in on me today...I'm doing pretty good all things considered...your love and support means the world! #FeelingGrateful

Posted by Alex Savidge KTVU on Tuesday, 8 March 2016
The reporter jumped out of the way just as a white car plowed into the spot where he had been standing.
Mr Savidge later on his Twitter feed that his heart was racing, but that he was not hurt.
The men were reporting on a commuter train derailment that injured nine people on Monday night.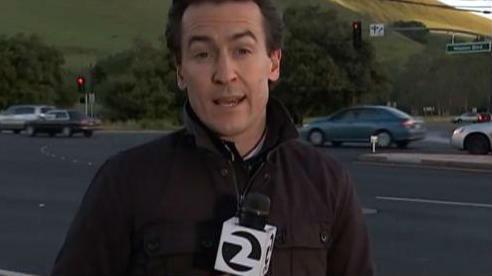 "My photographer screamed at me to get out of the way and I did, I jumped out of the ≠way in the very last minute," Mr Savidge said in a Facebook post.
"Feeling incredibly grateful that Chip and I are OK. I appreciate everyone's well wishes, love and support. It means the world to me."